Articles
User's Guide for Underwater Video with the Canon 5D Mark III and Magic Lantern

Eight years ago, the Canon EOS 5D Mark II revolutionized DSLR video, and its successor, the 5D Mark III remains one of the best DSLRs for professional footage. However, as always, there is room for improvement. Combining the Canon 5D Mark III with Magic Lantern firmware takes the camera's abilities to a whole new level.

The 5D Mark III and Magic Lantern for Underwater Videography
Now standard with many DSLRs like the 5D Mark III, H.264 is a reasonable codec in well lit and relatively low dynamic range environments. However, it just doesn't have the flexibility to stand up to the demands of high quality underwater filming and color correction.
Yes, a GoPro or any other camera that can be put in a housing will produce decent video with the built-in H.264 codec, but it is often monochromatic with the highlights blown out and flat colors. That might suffice for some but that's not what many—myself included—are satisfied with.

One of the main advantages of shooting in RAW with Magic Lantern is the ability to fine-tune color correction, highlights, shadows and more

So after a lot of research I decided to go for the 5D Mark III specifically to use the Magic Lantern firmware. Magic Lantern is a third-party firmware that adds a host of upgrades to your DSLR, most notably the ability to shoot in 14-bit RAW. Note that although completely safe to use with a spectrum of Canon DSLRs, it does void the warranty that accompanies the camera.
It was a daunting prospect—taking a $3,500 camera and immediately invalidating the warranty. The gamble has been worth it, however. Fortunately, the camera did not instantly turn into an expensive paperweight, and I've used it on a large number of professional projects and gigs without any problems. Producers have sought stock shots with it and it gets used a lot in high-end productions.
In the process of researching the system and using it for over two years, I've found certain things that may possibly help other underwater shooters. Some of the tips that follow are specific to the 5D Mark III, but some are applicable to any Canon DSLR running on Magic Lantern.

In this highlight reel, you can see the professional capabilities inherited by combining the Canon 5D Mark III and Magic Lantern software
Choosing the Right Storage
Possibly one of the biggest make-or-break components are memory cards. When recording RAW with Magic Lantern, you are running the camera at about 95 percent capacity. The processor is working extremely hard and the output is high, at about 100MB/s. You need memory cards that will be able to keep up with this output and processor speed.
I use the Lexar 128GB UDMA 7 1066x CF for media acquisition. These will still fill up quite quickly, so have a few available for a full day of shooting. For running the firmware, I use the Lexar 16GB Class 10 SD card and do not write anything else to it other than Magic Lantern.

Magic Lantern Underwater Video Camera Settings
Magic Lantern enables a whole host of abilities not standard on the 5D Mark III, but I use it mainly for time-lapse and RAW video. The camera is capable of filming RAW at 29.97 fps in 1920x1080. However, there is very little wiggle room at that level and I choose instead to back it off a little and shoot at 24 fps. At this frame rate, the camera isn't running at maximum and it is less likely that it will fail or miss frames.
At this slightly reduced frame rate, screen overlay can also be used for focus peaking, even when increasing the frame size to 1920x1290. At this frame size, however, the camera will start to max out and using focus peaking at the same time might lead to dropped frames—so tread carefully.

Shooting at a frame rate of 24 frames per second minimizes the risk of missing frames and allows for the use of advanced features like focus peaking
5D Mark III Setup for Underwater Videography
The small form factor of the 5D Mark III is ideal for tight traveling restrictions and ease-of-use underwater. However, this smaller form factor translates to less inertia, and thus less stability when shooting.
The first step to compensate for this is having the ability to dive smoothly and to keep your composition, even in challenging conditions. Secondly, you need a setup that is as close to neutrally buoyant at depth as possible. Float arms, whether they are the hollow carbon tube variety or the sealed foam type, work well—and they also serve as stabilizers.
Wide arms for your video lights increase the inertia of the rig and dampen the wobble. On occasion I have used a Gates tripod mounted via the screw on the base of the housing for wide-angle work in mid water. I've extended the rear leg towards me as I shoot, bracing against my chest for a third anchor point. It makes for a large system but the stability it provides is very good.
For underwater time-lapses or macro images, you need to stabilize the setup on the sea floor with extra weight. I use zip ties and extra lead weights to accomplish this.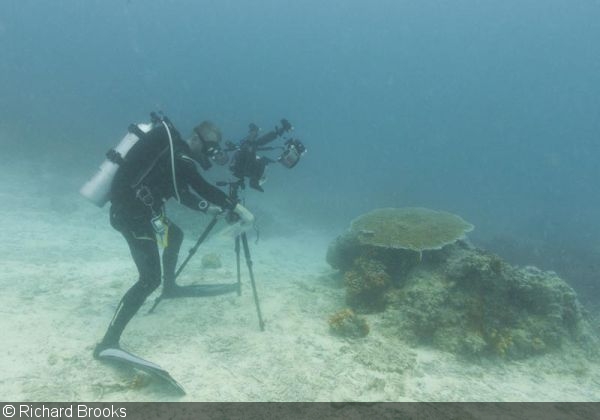 Richard uses a tripod for shooting time-lapse, macro, and also to stabilize the rig when swimming through open water
Post-Production of Magic Lantern RAW files for Underwater Video
When you start out, the huge files and thousands of frames might seem daunting and a decent computer with a good processor and plenty of RAM is advised. To translate those thousands of RAW images into an editable video format, you'll need to use the RAW2DNG program. This will produce a folder of .dng files and a ProRes .mov file of each clip.
The ProRes can be used for editing sequences, while the .dng files can be exported to focus on the color, saturation, and exposure. Once the RAW2DNG program has extracted the .dng files from the RAW, I open them in Adobe Bridge. Color correction of one frame is done in Adobe Camera RAW and then the settings copied and pasted to the rest of the frames through the Develop Settings option.
Finally, if you want to maintain 16bit quality, export them to a .psd file and assemble them in a 24fps DSLR Premiere Pro project with each .psd having a duration of one frame. Export to whatever format you like after that.

The before and after images: RAW frames can be color-corrected in Camera Raw before being compiled to form video clips
Who Should Use Magic Lantern with the 5D Mark III?
The great flexibility of this system is a true bonus for both still and video imager. No, you cannot capture 4K video with this setup, but the output quality is so good that it is arguably more advantageous than many other HD and 4K systems.
The compact nature of the system is also extremely useful for filming in remote locations. I've climbed waterfalls, trekked through jungles and lived on remote atolls with this rig being the only camera I needed. The ability to switch between stills and video with both being of the highest quality is invaluable.
Most cameras can produce nice looking footage with a load of artificial light thrown at the subject at a close range. However, what defines a truly great HDSLR camera is its ability to take solid wide-angle footage. And in this realm, it's hard to be disappointed with the combo of the 5D Mark III and Magic Lantern software. There are a lot of 5D Mark III users out there that might not be fully satisfied with the underwater video produced by the camera alone. It's amazing what can be improved with just a little research and a free firmware upgrade.

A short film, shot using the Canon 5D Mark III and Magic Lantern software, of Palau's beauty, both above and below the waves

---

About the Author: Richard Brooks is an underwater cameraman based in the Republic of Palau and is the owner/operator of Lightning Strike Media Productions. He has been filming underwater there for nine years with clients ranging from local businesses to national government and international broadcast entities. Learn more about Richard's work on his official website.
RELATED ARTICLES Apr 27, 2021 8:24 PM
Sandy Queenta
wrote:
<a href="https://megacanabisdispensary.com/product/dime-carts/"> Are you looking for where to order dime carts?</a>
<a href="https://megacanabisdispensary.com/product/exotic-carts/"> Best place to buy exotic carts near me.</a>
<a href="https://megacanabisdispensary.com/product/gold-coast-clear/"> Best gold coast clear online.</a>
<a href="https://megacanabisdispensary.com/product/buy-glo-extracts/"> Ultimate glo extracts.</a>
<a href="https://megacanabisdispensary.com/product/icecapz/"> Where to order icecapz online?</a>
<a href="https://megacanabisdispensary.com/product/jungle-boys-strains/"> Best place to buy jungle boys.</a>
<a href="https://megacanabisdispensary.com/product/king-pen-gelato-500mg/"> Are you looking for king pen gelato?</a>
<a href="https://megacanabisdispensary.com/product/krt-carts/"> Best krt carts near me.</a>
<a href="https://megacanabisdispensary.com/product/lions-breath-carts/"> Best lions breath carts near me.</a>
<a href="https://megacanabisdispensary.com/product/lsd-drug/"> Ultimate lsd drug online.</a>
<a href="https://megacanabisdispensary.com/product/smart-carts/"> Where to buy smart carts online?</a>
<a href="https://megacanabisdispensary.com/product/skyhigh-carts/"> Best skyhigh carts online.</a>
<a href="https://megacanabisdispensary.com/product/smartbud/"> Ultimate smartbuds.</a> Jun 18, 2021 4:43 AM
Math Crinon
wrote:
Seems hard to find such a good camera
Newsletter
Travel with us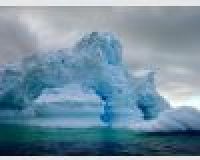 Antarctica
Plan Your Adventure >
Featured Photographer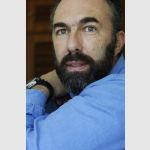 Luis Quinta
Expert Photographer
Luis Quinta was born in Lisbon on March 6, 1965. When he was 14, he began wandering underwater in Sesimbra and in 1988 he took his first underwater photos. During his 18-year career he published around a thousand articles,...