Articles
Videographer of the Month – Steve De Neef
A mako shark swims into the late afternoon light off the Baja California coast

Steve De Neef is a cinematographer, director and photographer based in Maine. He specializes in ocean related stories and is equally at home filming deep underneath the surface, swimming in big surf or flying drones from boats to capture the beauty of our blue planet.
Steve often works with scientists, NGOs and ocean communities in the hopes of inspiring positive change and getting research and conservation efforts seen by a broader audience. He has worked with numerous magazines, NGOs and production companies, including National Geographic, BBC, Hakai Magazine, The Pew Charitable Trust, Discovery Channel, New York Times, TIME, BioGraphic, Asian Geographic, Ocean Geographic, Concern Worldwide, Red Cross, and many more.
As a broadcast cinematographer, Steve has filmed for the BBC Natural History Unit series "Shark"; shot multiple shows for National Geographic, including the 2017 documentary "Sea of Hope"; and worked extensively on a four-part series on whales coming in 2021. Steve's images and films have won awards in numerous competitions and festivals, such as Nature's Best Photography, Outdoor Photographer of the Year, Beneath the Sea, Beneath the Waves Film Festival, Wildlife Conservation and Film Festival, San Fransisco Ocean Film Festival, Ocean Art, ADEX Photographer of the Year, Oasis, and more. We recently caught up with Steve to find out more about his latest projects and take a look at some of his favorite films.

Steve's highlight reel

DPG: How did you first get into underwater videography?
I've always been interested in photography; my dad was a photographer and we used to have a darkroom in our basement that seemed like this magical place to me. I started to get really serious about it when I started to travel in my early 20s. Once DSLRs started incorporating video, I jump right into videography and never really looked back.

DPG: Can you tell us the story behind your most memorable underwater footage?
There are so many incredible moments, but one that still sticks with me today was a day off Mafia Island in Tanzania filming and photographing the resident whale sharks unique to this place. A wall of sea sawdust (Trichodesmium) had formed: I had never even heard about this phenomenon but underwater it looked surreal. The sea sawdust had all sorts of different hues of red, orange and blue, and the whale sharks kept swimming in and out of it while feeding on shrimp. I don't think I'll ever get to see that again.

DPG: Where is your favorite place to shoot?
At the moment, I'm really enjoying exploring the kelp forests where I live in Maine. There's still so much to discover here. I love diving in cold and temperate waters, especially when those places have hardly been explored. There's something about being one of the first people to ever see what a particular place looks like underwater.

Sunrise at the shallow reef near the Tubbataha Reefs Ranger station in the Philippines

A town built on shark tourism, Donsol, Philippines

DPG: What camera equipment are you currently using?
Right now, I'm using a Canon EOS 1D X Mark II mainly for photos and occasionally video. I'm using a Canon C200 for all my main video work and have just purchased a Canon EOS R5 that I will use for both photo and video.

DPG: What has been the most exciting point of your career so far?
Over the past three years, I got to work on a National Geographic project about whales. It's been amazing traveling all over the world and seeing these incredible animals. Being a cinematographer filming for this upcoming series has definitely been a highlight.

National Geographic whale project, Dominica

DPG: Have you ever missed an epic shot due to unforeseen circumstances?
I wish I could say "no" to this! But, of course, when you're dealing with Mother Nature, there's often unforeseen circumstances and missed opportunities. I've had my gear delayed on flights when on assignment, and of course, the day I was without gear, we had a tiger shark on one of the dives—exactly what I was trying to capture in that particular location. The rest of the trip we never saw it again.

DPG: Do you still enjoy shooting stills?
I still love shooting stills. Nowadays, I shoot stills more for fun whenever I'm not on assignments. I don't try to capture stills and video on the same dives, as I feel this often leads to missed opportunities in terms of telling the full story, and you end up with both mediocre stills and video.

A whale shark swims into the light—a surreal scene near the coast of Tanzania

Mako project, Baja, Mexico

DPG: Have you any advice that you'd like to give aspiring underwater videographers?
Just shoot a lot. Look at what's around where you live—doesn't matter if your backyard is the Philippines or a lake in Minnesota. Talk to scientists and learn as much about your subject as possible. This often helps in creating a sequence that tells a story, which is so important in video.

DPG: Is there any particular footage that you are still after?
Seeing a sperm whale feed at depth would be pretty amazing, but pretty much impossible to do in person. It's good stories with a human element to them that really inspire me more at the moment, not any particular footage.

Steve in action

To see more of Steve's work and stay up to date with his latest projects, check out his website www.stevedeneef.com.
RELATED ARTICLES
Be the first to add a comment to this article.
Newsletter
Travel with us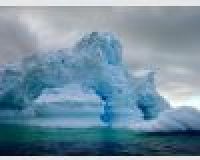 Antarctica
Plan Your Adventure >
Featured Photographer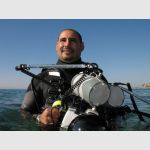 Noam Kortler
Expert Photographer
Noam Kortler is connected to the sea since he can remember him self. he was born on the coast of the Mediterranean sea of Israel and was diving and surfing when ever he could He moved to Eilat, the south popint of israel to...