Articles
Videographer of the Month – Simone Piccoli
Oceanic whitetip shark with pilot fish, Red Sea

Born in Italy in 1974, Simone Piccoli moved to Egypt in 2003 to follow his dream of becoming a diving instructor and underwater videographer. After a few years working in the diving industry, he created his own production company and dedicated all his time to filmmaking and capturing the amazing underwater world. He has produced a number of excellent short films of iconic marine life such as sharks, dolphins and humpback whales. It wasn't until 2019 that he decided to share his work and enter one of his films, Whale Totem, into international film contests, which resulted in numerous awards.
Simone now runs workshops and lectures to share his knowledge with enthusiasts and experts alike. On his tours, he specializes in underwater and wildlife videography, and provides tips and techniques for getting the best shots in challenging locations. We recently spoke to Simone to find out more about his work and take a look at some of his favorite films.

A compilation of Simone's best shots from the Red Sea

DPG: How did you get into underwater videography?
I started to enjoy underwater videography around 15 years ago, when I had the opportunity to move to Egypt and work as an instructor in the diving industry. At the beginning it was just a passion and hobby. I bought my first pro camera (Sony H1 with a SubSpace housing and monitor) and then, a few years later, I created my production company, and from that moment onwards things changed completely. Before, I was taking pictures and video, but later on I decided to concentrate only on videography. I studied and watched thousands of tutorials and different movies, and then I put what I saw into practice. I never stopped, and, still today, I love watching movies and getting inspiration from other producers.

DPG: Can you tell us the story behind your most memorable underwater footage?
Let's say that I was extremely lucky to enjoy many epic underwater encounters, and the Red Sea in particluar has given me a lot of opportunities. But I think my most memorable footage was shot two years ago when I went to Tonga to shoot humpback whales. It was my dream since childhood to swim with these gentle giants, and it was an unbelievable experience. Swimming with whales and listening to their songs is something that is very difficult to explain, and being alone with them in the middle of the ocean is beyond comparison. I have had the opportunity to film many species of sharks and other large animals, but the whales captured my soul.

Swimming with Tonga's humpback whales is one of Simone's most treasured encounters

DPG: Where is your favorite place to shoot?
I don't really have a favorite place to shoot. You need to find inspiration in each new place and try to exploit it. Do I have a destination wish list!? Of course! I hope one day to have the chance to shoot penguins and sea lions. But, more generally, I hope to discover all the places on my wish list before it is too late. I love to shoot big animals, but even coral landscapes and small animals are fascinating, so let's just say that any destination I can dive is my favorite place. My biggest dream is to travel to New Zealand and make a documentary both on land and underwater.

DPG: What has been the most exciting point of your career so far?
I'd never participated in a film festival before, but after the whale experience in Tonga, I decided to create my first movie, Whale Totem. The result was outstanding! It received many awards all around world, and the most exciting part of my career was launched. I used to have thousands of hours of footage on my hard drive that I'd never used for anything other than my business projects, but the success of the movie gave me the motivation to create more projects and start to build new stories. I've never put myself in the public eye like that before, but now every shoot is a challenge, a new motivation to create increasingly better films.

Simone's award-winning video, Whale Totem

DPG: What camera equipment are you currently using?
I'm currentlly using a Panasonic GH5 and GH5S, using a Nauticam housing. I also use an Atomos Ninja V monitor/recorder, and for the lighting system I'm using four Scubalamp Supe V6K Pro (12,000 lumen each) with blue filters. I shoot with three lenses: wide with an Olympus 7–14mm, medium with a Panasonic 12–35mm, and macro with a 45mm Leica, all in manual focus. I always have two GoPro HERO7s (in Carbonarm housings) with me for backups or certain difficult shots.

DPG: Do you also shoot stills? If so, how do you balance the two?
I think that when you plan your dive, you have to choose whether you want to take stills or video. It is hard to shoot both because they are two different worlds and they require different equipment. Before starting my video work I only took pictures underwater. Taking photographs helped guide me to plan my shots, but now the only pictures I take are selfies with particular creatures taken with my GoPro, which is always connected to my housing.

Dugong in black and white, Red Sea

DPG: Have you ever missed an epic shot due to unforeseen circumstances?
I'm always my own worst critic! Even if I have a good shot, I'm always looking for a better one. Underwater it's not as easy to get the right shot as it is on land where you can experiment more and try the same thing over and over again. Underwater you often have just one chance to come back with a good shot, but I have got used to working under pressure and I normally return with the shots I wanted.

DPG: Is there any particular footage that you are still after?
I always feel that I am at the beginning of my career and there is plenty of footage that I'd still like to capture and many more places to explore and new stories to tell. I am still young, and the sky is the limit! I'm very excited about future travel plans and opportunities.

Never forget the dream moments! A video about sharing happy memories with your children

A motivational video: A New Challenge

DPG: Have you any advice that you'd like to give aspiring underwater videographers?
Yes! Never think that you already know everything about diving or underwater filming—you can always learn something new. Watch as many videos as you can—not only underwater movies—and take inspiration from them, but try to create your own style and stories and do not just copy the work of your competitors, who I like to call "colleagues" instead! Prepare storyboards before every shoot, and try to film as many clips as you can, approaching from different angles and try to be original. One of the reasons I love my job is because there's nothing to limit your creativity, and sometimes I like to experiment with new things.

Simone having fun at work!

Check out more of Simone's awesome videos on his Vimeo channel or on his Instagram account. Simone is an Aqualung Egypt Ambassador and Scubalamp Ambassador.
RELATED ARTICLES
Be the first to add a comment to this article.
Newsletter
Travel with us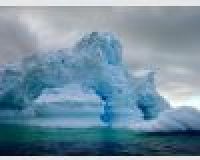 Antarctica
Plan Your Adventure >
Featured Photographer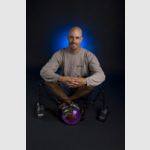 Ethan Daniels
Expert Photographer
Ethan's interest in marine ecology and photography began during the summers of his youth in Cape Cod, Massachusetts. Upon completing his graduate degree in biology at the University of Guam Marine Lab he made the permanent...