Articles
Videographer of the Month – Scott Portelli
By Ian Bongso-Seldrup, May 18, 2018 @ 04:00 AM (EST)

If the name Scott Portelli means anything to you, it's probably because either this archetypal amiable Aussie is a good mate, or you've feasted your eyes on his exceptional images. Over the years, this consummate pro has picked up numerous awards for his underwater photography, including the Natural History Museum's Wildlife Photographer of the Year and national winner at the Sony World Photography Awards.
But Scott doesn't just trek to some of the world's remotest corners with only still imagery in mind. He's also an accomplished underwater videographer who has filmed everything from leopard seals in Antarctica and humpbacks in Tonga to whale sharks in Papua New Guinea and, of course, the spectacular landscapes and seascapes Down Under. Oh, and if you need majestic aerial views of the planet's extreme places, Scott's also got you covered: He's a licenced UAV pilot, too.
What ties together all of Scott's work, however, is an impressive storytelling ability that allows him to capture succinctly the essence of his creature subjects, whether it's in the single frame of a photo or the moving pictures of just one or two minutes of film.

Scott has spent two decades filming humpback whales in Tonga, often capturing behavior that has never been seen before. Last season, he managed to capture some unique aerial and underwater footage of the dramatic events that take place in a heat run, when multiple whales compete for a female

DPG: How did you get into underwater videography?
I think as a photographer I realized early on that telling the story in a more engaging way meant that I had to look at capturing this through motion, so I started to produce video pieces that showed wildlife behaviour, or set a scene for a destination. Now I shoot and edit for a number of tourist destinations, brands and clients.
DPG: Can you tell us the story behind your most memorable underwater footage?
This past season in Tonga, I managed to capture a truly epic sequence. We had 15 humpback whales in what is known as a "heat run," when males pursue a female with the intention of mating, which can last hours or even days. I had over 30 drops with this fast-moving pod of whales over a period of four hours. I managed to capture all perspectives—underwater, topside and aerial footage—to really piece together a cohesive representation of one of nature's great events. Truly some amazing never-before-seen footage!

DPG: Where is your favorite place to shoot?
Its hard to pinpoint only one place, but I must admit Antarctica takes the cake—diving and just simply being in the region is a life-changing experience. The diving is unique and the chance of wildlife such as leopard seals, penguins or even whales being around while in the water is exhilarating. I love the abundance of wildlife and the dramatic landscape that changes each and every year. I don't know of too many places on the planet like this.
DPG: What camera equipment are you currently using?
I use a Canon EOS 1D X Mark II in Seacam housing with DS-161 strobes. For various jobs, I also use the Olympus OM-D E-M1 Mark II for its compact capabilities and ability to output 4K video in such a small device. I use a lot of different equipment to shoot various scenarios—gimbals, drones, DSLRs, mirrorless, and so on.

The sub-Antarctic is an area that has been rarely explored, especially beneath the waves. Scott spent many months over the last few years working across the region, trying to film marine mammals that have had little to no interaction in their natural environment. This film focuses on elephant seals and their behavior

Scott produces lots of video content for tourist destinations in Australia and around the world, and one of his favorite places to film is Lord Howe Island, a World Heritage listed location and a world-class diving destination

DPG: What has been the most exciting point of your career?
Working with a number of renowned filmmakers and professionals and helping facilitate the means for them to capture scenes that have never been filmed before is very rewarding and definitely an ongoing highlight of my career. But personally, I would say having my documentary Saving the Planet One Cause at a Time winning two awards at the Marseille film festival a few years back was one of those career-changing moments.
DPG: Have you ever missed an epic shot due to unforeseen circumstances?
Always! I miss amazing shots sometimes because conditions change, cameras are not set up ready to go, or simply you were not expecting something to happen. But the main thing is not to think that you "missed something"—otherwise you will let it eat you up! The best thing is to know what you are looking for next time and then get the shot.
DPG: How do you balance shooting stills and video?
I often need to change mindsets when switching between video and stills. I usually know when a moment requires video, like a whale breaching next to me underwater, or cuttlefish in an intense fighting embrace. It's hard to show the drama of something or the outcome if you don't know the story from beginning to end, so I'm often looking at understanding behavior in order to predict what I need to shoot, video or stills.

DPG: Have you any advice that you'd like to give aspiring underwater videographers?
Be patient, learn the basic fundamentals of shooting video, vary your portfolio and show a range of capabilities. This will help you improve and help others see your range.
DPG: Is there any particular footage that you are still after?
Yes, I have many ideas in my head and many subjects that I think really need to be captured in a unique way. But I will have to tell you what they are once I get the shot. Can't let the cat out of the bag just yet!

Scott spending a month visiting a number of regions around Papua New Guinea to produce a diverse range of content for tourism and local businesses

Scott Portelli

See more of Scott's work in the video section of his website, www.scottportelli.com. Click here for a character profile on Scott. Also check out DPG's Photographer of the Week article on Portelli and his work.
RELATED ARTICLES
Be the first to add a comment to this article.
Newsletter
Travel with us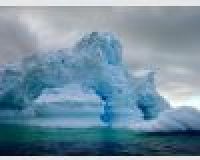 Antarctica
Plan Your Adventure >
Featured Photographer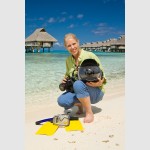 Michele Westmorland
Expert Photographer
Freelance photographer with a variety of photographic skills. Michele photographs the marinelife and topside beauty of many exotic locations. Here images have appeared in a variety of national and international publications....