Articles
Videographer of the Month – Alex del Olmo
Bargibanti pygmy seahorse on a sea fan, filmed in Raja Ampat

Born and raised in Barcelona, Spain, Alex del Olmo started diving in the Mediterranean at a young age, soon becoming a dive instructor with a keen interest in underwater filmmaking. In 2017, he decided to take an extended break from his occupation as a PhD cinema professor at the University of Barcelona to focus on his passion for diving and videography. He traveled to Indonesia for the first time, where his life changed dramatically when he was offered the position of Cruise Director of The Seven Seas liveaboard.
The Seven Seas travels all over the region to some of the world's best and most diverse dive sites, and Alex now has the opportunity to regularly dive and film in Bali, Komodo, Raja Ampat and other amazing locations within the Coral Triangle. His "Out of the Black and into the Blue" series currently consists of 14 short films, shot mostly in Indonesia, plus some other popular destinations such as the Philippines and Palau. They all feature awesome footage from above as well as below the surface. He is comfortable shooting all kinds of marine life and environments, including wide-angle shots of big animals, or super-macro clips of tiny critters.
We recently spoke to Alex to learn more about his career as a filmmaker and took a closer look at some of his work.

Out of the Black and into the Blue: Komodo

DPG: How did you get into underwater videography?
It was a natural evolution. I worked for TV as a cameraman and filmmaker for many years, and I wanted to combine my profession with my passion for diving. When I was in my mid-twenties, I was looking for a secondhand underwater housing for my camcorder back then, a Sony PD 150, and finally, after more than a year searching the Internet and dive forums, the opportunity popped up: an Amphibico housing with external monitor and two Green Force Squid HID 250 lights. I flew to Palma de Mallorca—I am from Barcelona—to test the equipment and buy it. From there I started my first steps as an underwater cameraman.

DPG: Can you tell us the story behind your most memorable underwater footage?
I have been extremely lucky to witness multiple encounters that could be described as memorable. But I always think that the most memorable underwater footage is yet to come. That helps me to always try to get better images in search for that memorable moment. But the footage I am most proud of—because of its difficulty—was filming a Lembeh seadragon in Sulawesi working with the SMC-1 macro lens with no tripod, following the subject and using manual focus—yes, I am an "old school" cameraman! It took me three attempts in two different countries to get that shot.

DPG: Where is your favorite place to shoot?
That is a very difficult question to answer! But I'll definitely stick with Indonesia. Each person has its preferences. There are those who like pelagics, others macro. Indonesia has all that, including my favorite subject, corals. In fact, the Coral Triangle is my favorite area, due to its extraordinary variety of lush corals, giving you infinite possibilities when it comes to underwater filming.

A healthy coral reef in the Forgetten Islands, Indonesia

DPG: What camera equipment are you currently using?
I am currently working with a Panasonic GH5 and Panasonic GH5S in a Nauticam housing. I also use a SmallHD 502B monitor in a Nauticam housing, two Keldan 8X FLUX lights, Inon LF800-N snoot, XIT404 tripod, Nauticam WWL-1 and SMC-1, and various ports and lenses. I shoot with the Olympus 8mm f/1.8 PRO fisheye, Olympus 60mm f/2.8 Macro and the Olympus 14–42mm f/3.5–5.6 II R. And I use the Panasonic 7–14mm f/4 and Panasonic 12–35mm f/2.8. For this incoming season, I just got the new EMWL from Nauticam with the 130º lens. I'm looking forward to using it as soon as I return to Indonesia.

DPG: What has been the most exciting point of your career?
For sure, it was to be able to change my former life to become an underwater filmmaker. I was nearly 40 years old, with a good status and a good job. I left my country, my job, my family and my friends to follow my passion in life with no contacts whatsoever! It was a leap of faith. I am very proud to have made that step forward and made possible what I wanted to do since I was a teenager—become an underwater filmmaker and be able to see my work broadcast on several TV channels and documentaries and have the chance to send my short movies to underwater film festivals.

Out of the Black and into the Blue: Bali

Out of the Black and into the Blue: Philippines

DPG: Have you ever missed an epic shot due to unforeseen circumstances?
For sure! Several times! It is something that has happened to all of us. And whoever denies it is lying! The last time was about two years ago in Raja Ampat. I remember it like it was yesterday. I wanted to film a nice school of sweetlips that is often surrounded by loads of sweepers. When I arrived at the spot, the sweetlips were there and the sweepers as well. Then, sadly, I realized that when I changed the wide-angle lens for the fisheye, I forgot to change the dome as well. You can imagine the fantastic vignetting I had surrounding the whole scene!

DPG: Do you also shoot stills? And if so, how do you balance the two?
No, I don't take pictures. I tried it once many years ago with a good friend of mine and the result was awful! I always say that I am a very bad photographer. I never had the patience or interest to understand how strobes really work. I've never really been interested in taking pictures, which is why I decided to study audiovisual communication and cinema instead of photography.

Out of the Black and into the Blue: Forgotten Islands

DPG: Have you any advice that you'd like to give aspiring underwater videographers?
I have plenty… but I will reduce it to two pieces of advice. First, I will tell you the same thing I used to say to my students back when I taught cinema at the university. Watch as many underwater movies and short movies as you can, get soaked, learn by observing the work of others, follow them, try to learn from them, let them inspire you, and imagine yourself filming the same subjects and think how you would do it. The second is to shoot as much as you can as often as can. The only way to improve your shooting skills is by shooting a lot!

DPG: Is there any particular footage that you are still after?
Yes, plenty! But something that would excite me the most right now is being able to film the psychedelic frogfish. Last season, I wanted to go to Ambon when they sometimes appear, and for work reasons I couldn't. But a good friend was able to go and took some great images. So, for the time being, I will have to wait, but patience is a good teacher!

Alex del Olmo after a day shooting in Lembeh Strait

Check out more of Alex's awesome videos and other chapters from the "Out of the Black and into the Blue" series on his Vimeo channel or on his Instagram account.
RELATED ARTICLES
Newsletter
Travel with us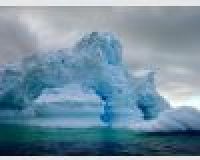 Antarctica
Plan Your Adventure >
Featured Photographer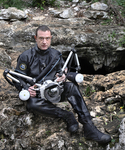 Anatoly Beloshchin
Expert Photographer
Trimix Instructor trainer IANTD Full cave diver IANTD, NACD Side mount NSS Vice President *International Wing Chun Organization*