Articles
The Underwater Project
June 17, 2010 @ 02:05 AM (EST)
Editor's Note-
I was recently introduced to a creative new project by documentary photographer Mark Tipple -- The Underwater Project. Mark comes from a surfing background and became curious as to what the waves looked like from a different angle. He got off the surfboard and, armed with a camera and housing, went underwater to capture the waves. The result is a unique and original set of images that shows the ocean and people from an angle not commonly seen. Below is some words from Mark on how the project came to be, as well as some the imagery. You can see more of the project in his featured pro gallery and on his webpage.
Mark Tipple -
The Underwater Project came about by my frustration with not being able to capture what I wanted while trying to surf and shoot at the same time. With a small video camera strapped to my head I tried to get in the impact zone while others were surfing, but my board limited how far I could go.
It was fun to be able to surf and shoot at the same time, some of the images I got are not only ingrained in my memory as well as on film, but it wasn't what I was looking for. It wasn't until I moved to Sydney two years ago where the surf isn't all that good that I stared to just shoot without the board. This got me to be where I needed to be.
I had always been a fan of Clark Little's surf work from a landscape/nature point of view, and when I first moved to Sydney there was a pretty fun shore-break down the road from my house that produced images like Clarke's which were pretty cool. Personally, though, I am a portrait guy and the images still weren't what I was looking for.
At one point, I was out of position as a wave came through amongst a number of swimmers and as we dove under I turned the camera on them and shot this one kid trying to escape from the wave above. At the time I didn't think much about it and bailed home soon after. When reviewing the images on computer I'm pretty sure my jaw dropped to my desk and I just stared at the image for an hour. That one image was pretty much what I was looking for over the past 4 years.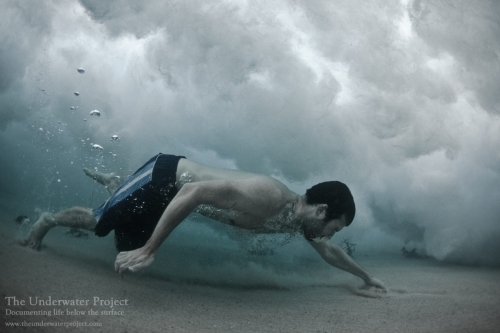 A week later, after countless phone calls and emails with a good friend Mike Hemus, I was back in South Australia to work through some pretty heavily story-boarded ideas, which in a few days produced about 8 images in the series.
Now we're shooting most days and planning the next trip for late July. Although it's meant both of us getting off the board, it's reverted us back to the simplicity of swimming and bodysurfing.


In my documentary work it takes time until the camera loses it's presence. It could be a week or a month until the people I'm documenting don't notice the camera or hear the shutter's click. It's an amazing experience to work closely with people who aren't aware of the camera, be it in developing countries or social justice organizations in Australia, because the emotion is apparent and real regardless of the camera being so close. Similar to the Underwater Project where the camera is present and close, but the emotion of the people is real. The "comfort" time is somewhat fast tracked due to the waves' ferocity and the underwater elements.
RELATED ARTICLES
Be the first to add a comment to this article.
Newsletter
Travel with us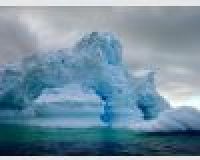 Antarctica
Plan Your Adventure >
Featured Photographer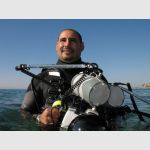 Noam Kortler
Expert Photographer
Noam Kortler is connected to the sea since he can remember him self. he was born on the coast of the Mediterranean sea of Israel and was diving and surfing when ever he could He moved to Eilat, the south popint of israel to...