Articles
The Underwater Camera Collector
By DPG Editorial Staff, May 6, 2016 @ 04:00 AM (EST)
In this latest article in The Guide, DPG talks to Andrés Clarós, who is almost single-handedly preserving the history of underwater cameras and housings.

Andrés Clarós with Beuchat's Tarzan housing (1948)—the first commercially available underwater camera housing

I always try to get the best ones, if possible in "new box" condition.
—Andrés Clarós
We've come a long way since the first-ever underwater photographs were taken, exactly 160 years ago, when a certain William Thompson immersed a camera in a metal box into the waters of Weymouth Bay in England. The shutter was activated by a line from the surface, with exposures made on 4-inch by 5-inch glass plates. It was 1856, and the first image taken whilst diving was still almost four decades away.
The man credited with being the first underwater photographer was a Frenchman named Louis Boutan. Using a surface-supplied hard hat, Boutan captured those early photographs using a crude housing he'd developed for a small detective-type camera. A scientist, he was way ahead of his time, quickly understanding the challenges of shooting in natural light at depth, and became a pioneer in the use of what were essentially the world's first strobes—oxygen-filled vessels containing a magnesium-coated ribbon.
The lists of firsts in the early days of underwater photography kept coming—the first underwater movie in 1916, the first underwater color photos in 1923—but these pursuits were still the preserve of an elite group of inventors, explorers and men of science. It wasn't until 1948, with the arrival of Beuchat's "Tarzan," that an underwater camera housing first became commercially available. This would then pave the way for the earliest amphibious 35mm underwater cameras, and finally, the famous Nikonos in 1963.

Andrés has just moved his collection to a new, larger place in order to accommodate its growing size

Andrés with a Pentax Marine underwater housing (1979)

If there's one man who appreciates those trailblazers and their early technology, it's Andrés Clarós. Over many decades, he has amassed an astonishing collection—"probably the largest in the world," Andrés reckons—of over 1,000 underwater cameras and housings. With various flashes, accessories, parts, tools, and books, it amounts to more than 4,000 items—and, he stresses, "all of them not digital!"
Andrés' forays into underwater photography began in 1978. When he wasn't peering into the ears, noses, and throats of the good people of his community (he's an ENT doctor), he was out shooting underwater. Though he obtained a few cameras over the years, from 1978 forward, it was not until 2007 that his housings really started to pile up.
The Spanish native may be in possession of a vast hoard, but he's no common hoarder. Andrés has the refined taste of a serious and studied collector, buying only vintage underwater film cameras and housings. He takes particular care to get the "best ones," and if possible, in "new box" condition, so that he doesn't have to spend time repairing them.

The collection comprises more than 1,000 vintage underwater cameras and housings

Some of the collection on display at the Maritime Museum of Barcelona, Spain

Andrés' oldest authentic camera dates back to 1935, and he is the proud owner of one of only six replicas of the Louis Boutan housing from 1893. Tending towards the rare and historical are his aim when purchasing new pieces, and protecting and maintaining a portion of photographic history is his objective in preserving and restoring so many cameras.
The collector is always keen to find ways to share his pride and joy with fellow enthusiasts, having already put together the world's first underwater camera exhibition at the Maritime Museum of Barcelona, from October 2014 to April 2015. He is now preparing two new events: a 2016–17 exhibition at the Cinema Museum, Girona, Spain, on the "centenary of the first underwater film in the world and the early evolution of the underwater movies"; and another exhibition on underwater cameras for the Paris International Dive Show (Le Salon de la Plongée) in 2017.
So if you're considering upgrading your camera, or you find an old housing lying around and you don't know what to do with it, contact Andrés (yes, he actually told us to write this), and don't even think about throwing it away. The consummate "vintage" collector will consider almost anything—just make sure it's not digital.

Andrés with some Rolleimarin housings (1954) from the collection
RELATED ARTICLES
Be the first to add a comment to this article.
Newsletter
Travel with us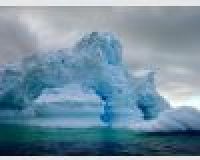 Antarctica
Plan Your Adventure >
Featured Photographer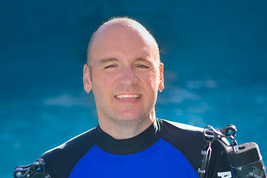 Alex Mustard
Expert Photographer
Alexander Mustard, 30 from the UK, has been an underwater photographer since he was nine years old, and is a total digital convert, currently shooting with a Nikon D2X in a Subal housing with Subtronic strobes. Alex's...