Articles
An Underwater Photographer's Sojourn in French Polynesia
At the Shark Sanctuary at Fakarava, dozens of individuals patrol the channel

The popular islands of Bora Bora, Tahiti and Moorea are usually the ones that get all of the glamorous press, but for many underwater photographers, the Tuamotu Archipelago, a group of almost 80 islands and atolls stretching from the northwest to the southeast, are the crown jewels of French Polynesia. Sprawling across a vast area the size of Western Europe and forming the largest chain of atolls in the world, the Tuamotus offer some of most breathtaking dives anywhere in the world.
We had the privilege of being among the first to experience this far-flung stretch of paradise aboard the newly launched French Polynesia Master, which cruises between the two largest atolls of the group, Rangiroa to Fakarava, in the archipelago's northwestern corner. With none other than the founder of parent company Worldwide Dive and Sail, Frank Van der Linde, on hand to ensure everything ran smoothly, we knew we'd be treated to exceptional comforts, service, and cuisine—and, most importantly, world-class diving.

Blacktips zoom through the shallows at Tiputa Pass, Rangiroa

These raccoon butterflyfish, abundant in the Tuamotus, look so pretty against the deep blue backdrop

Each atoll delivered its own little flavor of "awesome," and the dives were fresh and exhilarating day after day. I could barely wait to dive the famous Tiputa Pass, Rangiroa's signature dive, known for its incredible underwater action. The current was perfect—strong, just the way I like it—and brought the big stuff out to play, including blacktip sharks and massive schools of fish. Apataki Atoll had a corner reminiscent of Palau's famed Blue Corner, with big schools of barracuda, jacks, surgeonfish, butterflyfish, bigeyes, Napoleon wrasse, and more. At Apataki Pass, there were at least 100 sharks just cruising or hovering in the blazing current—an astonishing sight.
Toau Atoll has two notable sites called Faka Ta Huna Pass and Otugi Pass. Here, the sun burst through the deep blue water to a white sandy bottom as manta rays soared overhead, and we were greeted by endless schools of fish and sharks at every turn. At Fakarava North, there reside large populations of sharks, and huge schools of purple anthias, blotcheye soldierfish, groupers, and snappers. Fakarava South was equally impressive, with sharks surrounding us on every dive and eagle rays emerging from the blue. At the unforgettable Shark Sanctuary, an army of sharks, uniformed in gray, patrolled the channel—far too numerous to count.

Blotcheye soldierfish form a delightful blanket of red at Toau Atoll

At Toau Atoll, a blacktip shark glides gracefully past

On the last dive of the trip at Fakarava South, we were confronted by what could only be called a "wall of sharks"—one of the most jaw-dropping scenes I have ever witnessed, and I was poised to record the entire spectacle. I got into position and dialed in my settings, strobes juiced-up on full power, and pulled the trigger, and… nothing. My camera had died at the most critical moment of my dive career! I can't explain the feeling of utter dread and frustration. Frank—evidently noticing my distress—finned towards me, tapped me on the arm and pointed toward the wall with a big boyish grin. For the first time in a very long time, I lowered my camera and took in the sharks in all their glory.
When people dive an amazing location, they always say they'll go back. But with all the exceptional dives out there, I wonder if they ever do. For me, French Polynesia's Tuamotu Archipelago really is one of those places I'll return to, because there's some mind-blowing underwater scenery I have yet to capture.

A school of longfin bannerfish at Apataki Atoll

Manta rays can show up at any time in the Tuamotus

Worldwide Dive and Sail boss Frank Van der Linde

---

To see more of Christina's work, visit her website, www.christinahepburn.com. Christina shoots exclusively with a Canon EOS 5DS R and for Aquatica Digital underwater housings.
RELATED ARTICLES
Be the first to add a comment to this article.
Newsletter
Travel with us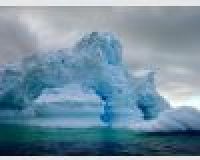 Antarctica
Plan Your Adventure >
Featured Photographer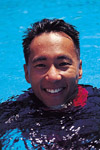 Tony Wu
Expert Photographer
Since having his toe pinched by a crab as a child, Tony has been obsessed with the inhabitants and ecosystems of the sea. Combining this with his love of visual art, Tony has been photographing marine life since he acquired his...