Articles
Guadalupe: Shot on iPhone
A great white shark shot on iPhone from a submersible cage

When people have a look at my underwater images, the very first question I am asked is: What camera do you use? There is probably no question a photographer hates more, and at the same time, no question any photographer gets asked the most.
Three weeks ago, I was in Mexico City in the middle of board meetings and working sessions with all sorts of lawyers, with a decision already made in my mind: I would step down as CEO of Pelagic Fleet—the company to which I had devoted myself 24 hours a day, seven days a week, for the past five years. By the time the Socorro Vortex was officially launched, the project had consumed two entire years of my life.
The most powerful liveaboard ever to roam the oceans: That was my description for a ship that didn't even exist, and yet I knew what it was way before going shopping for a new boat. I stuck to my brief, and it came at too high a price. My quest for perfection meant going back to the drawing board many times, tearing down structural work way too often, and rebuilding until it was just right. It meant going overbudget and behind schedule. It meant cancelling 16 trips that were already sold out, and countless arguments with my business partners. In the end, the dream came true, and the many fights I fought paid off. All the resilience, stubbornness, and the unwillingness to cut corners resulted in setting the bar at an all-time high for luxury liveaboards—at least the seaworthy ones that actually have to make it to remote locations.
As I realized I needed more salt and less drama, more sharks and fewer lawyers—and the same amount of espressos, but with a nicer view—it was only fair and somewhat poetic, too, to say goodbye to my position as the head of Pelagic Fleet with one last trip on the Vortex. I had already been on the boat twice before, when we sailed from the shipyard in Ensenada down to Cabo to start with the Socorro season (but the boat was still a war zone so it doesn't count), and on a private charter to the Sea of Cortez. Neither of those trips were standard itineraries, so I needed to be on a "real" Vortex trip for the first—and perhaps last—time.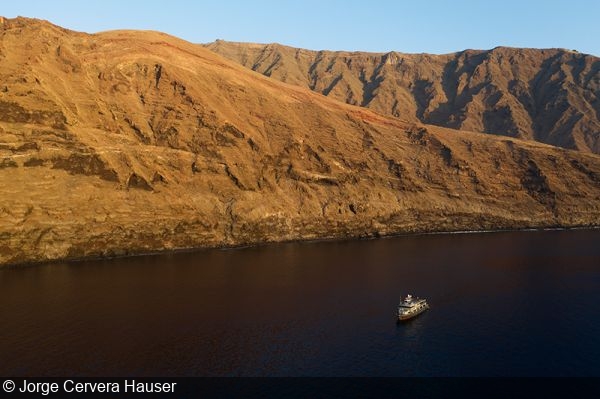 The Vortex off Guadalupe Island

It was a spur of the moment decision, and like I said, I was in Mexico City, while all my gear was back home in Cabo. I flew straight to San Diego less than 24 hours before the trip, and there were three things I could get ahold of at such short notice: a Kraken Sports underwater housing for my iPhone X, a DJI Mavic 2 Pro drone, and a GoPro HERO7 Black action cam.
It's worth mentioning that I've had every single DJI drone since the first Phantom came out, and way before you could get one at Best Buy. I always flew each one of them once, and then after almost losing or crashing the thing, I would get too scared and back to the case it went. It happened to me with every new model I'd buy, but this time was different. The Vortex trip was the perfect opportunity to force myself to develop my drone skills, specially since I have been to the island so many times, and lucky enough to dive outside of the cage and even freedive with Guadalupe's great whites.
Still, being part fish myself, my natural place to be is below the surface, and that's the reason I bought the Kraken housing—that and the fact that I'm cocky enough to challenge the "What camera do you use?" question and take the #shotoniphone hashtag to places it hasn't been before. (I already did it, by accident, with a blue whale that ended up on Apple's official Instagram account.)

The Guadalupe shoreline

On the Vortex I stayed in Clarion, my usual stateroom and one of the two smallest ones on the boat. The crossing was pretty calm, and pretty fast (because Vortex), making it to the island in a little under 16 hours. Captain Israel was in command of the ship, Jake and Mathias were our divemasters and two of the best I know, and Chef Luis Savín was in charge of spoiling our bellies with delicious food. Down in the engine room, Chief Juan Carlos, Adán and Luigi made sure the boat ran as it should, and Takayoshi, the all-time Vortex deckhand, was helping in many places at the same time as if he could clone himself.
I used my iPhone X with the Kraken housing, and a wide-angle adapter. The first challenge I encountered was the sun. Being in the surface cages, the hard light and the water stopped me from seeing what was happening on the smartphone's LED display. The quality of the image and the way the adapter brought an almost fisheye feel to the images were great, but I was shooting blind. Despite everything, I got lucky once or twice.

A great white captured from the submersible cage using a wide-angle adaptor

Being back on the boat meant doing some flight time. Drones have come a long way since the very first Phantom, when the GPS was flawed and your main flying instrument was the camera, which by the way delivered a crappy signal. Now it's sensors everywhere, and features to take off and land automatically.
After getting a few tips from fellow passenger and orthopedic surgeon Khurram, I was able to change the settings to remove the height and range limits and take the drone where I wanted to go. I have been lucky enough to get off on the island and explore it on foot a couple of times, and I know of a beach that is home to an elephant seal colony. So I ventured my brand new $1,200-plus toy a mile away from the boat over that particular beach—with practically zero flying experience—and I was able to get the drone back home safe. I even got a couple of interesting shots.
The next day, I decided to get intimate with the elephant seals, and basically landed the drone in the middle of the colony, thousands of feet away from the boat. At one point, the dominant bull charged at the device and was very close to bringing it down, but somehow I managed to dodge disaster and bring the bird back with photos and video that could've been the point of view of one of the many lazy elephants resting on the beach.

Mountain meets ocean at Guadalupe

Elephant seals relaxing on the beach

A bull elephant seal going for a swim

The dominant bull and his harem

Elephant seals captured by the Mavic Pro 2 almost at ground level from a mile away

On the last day, I headed up to the sundeck at sunrise and sent my Mavic soaring with a Howard Hughes kind of confidence, taking a couple of snaps of the island and the boat, right before going back to the surface cages, now with the GoPro. We all know that GoPro delivers when shooting video, but how does it fare when you need to capture a still image at the decisive moment?
I went in the water with a full battery, which lasted for a little less than two hours. After you click, it takes the camera a couple of seconds to actually capture the image. To make it work, you have to anticipate your subject's movements in order to get the photo you want, and it can get tricky. Also, you have to consider the fact that I am super-spoiled with my camera of choice being the uber-fast Canon EOS 1D X. Later on, after a delicious poke bowl we had for lunch, I headed upstairs again with my drone battery fully charged once again, and focused on capturing landscapes of the ocean clashing with that majestic mountain called Guadalupe.

It shoots stills, too: A great white photographed with the GoPro HERO7 Black

A breaching white shark captured with the GoPro HERO7 Black

To finish up on a high note, I went down on the submersible cage armed with my iPhone, but this time without the wide-angle adapter so I could get a true feeling of what Apple intended with their camera. At 30 feet of depth, the display issue was solved and I could perfectly see what I was shooting, but there was a different issue: color. The iPhone's native Camera app takes JPEGs and doesn't give you the option of shooting RAW files that would give you a wider range of color correction in post, let alone manually set the white balance. I had taken good quality, interesting images, but they were just too blue.
I have never been one of those people to overuse black and white for underwater photography; I only try to use monochrome when it is justified and makes the image better. Given my restrictions, however, a series of high-contrast black-and-white images seemed like a good idea, and I gave it a chance. I wanted the whites to be true whites and the blacks to be real blacks—I seriously hate mediocre washed-out gray photographs—and I wanted them to be gritty, raw, and far from pretty. When you're taking "simple" tools to the limit, you are not aiming for the perfect shot; what you want is some sort of beautiful imperfection. What I ended up with was a series of digital Polaroids that shed a new light (literally) on Guadalupe's oft-photographed man in a gray suit, a series of images I would dedicate an entire exhibit to—but I will let you be the judge of that…
As a fun fact, Apple actually reached out to me through their advertising agency, but the potential collaboration fell through as soon as they couldn't verify how the photos were taken—the Kraken housing uses its own photo app that controls the camera through Bluetooth, and apparently it alters the metadata.

A great white stalks the cage

Mackerel shot on iPhone

A mackerel photobomb makes for an interesting image

Up close with the iPhone

The gritty vibe gives a characteristic texture to the series

Ultimately, my trip was about going back to one of my favorite places on Earth with a new pair of eyes. Being out of my comfort zone forced me to improvise using relatively inexpensive gear and get the best out of it, while squeezing out all my creative juices. It was not only a challenge, but a healthy exercise that relied on one thing, and one thing only: a change of perspective. I shoved all of my preconceptions aside, and stood on top of my school desk as I screamed, "Oh Captain, my Captain!" at the top of my lungs. This exercise allowed me to capture images that I would've never taken otherwise, even if I kept coming back to the island twice a year. Not only that, but I took some of my favorite Guadalupe images ever.
I guess my conclusion is: If you can't afford fancy gear, you don't have an excuse not to be on top of the game. And if you're an insecure gear snob like me, don't be afraid to push your limits once in a while. You'll be surprised how it will make you a better shooter. So, let me ask you a question: What camera do you use?

The Vortex at the break of dawn—ready for more awesome white shark encounters

---
About the Author: Underwater photographer, award-winning film producer and ecotourism activist, Jorge Cervera Hauser has been sharing his love for the ocean and its creatures for the past decade. Through non-profit Pelagic Life, he has worked hand in hand with fishing communities in Baja to develop open ocean tourism as an alternative to fishing, and produced the award-winning documentary film Mexico Pelágico. Through his company, Pelagic Fleet, Jorge sits on the Advisory Board of the Revillagigedo National Park and the Guadalupe Island Biosphere Reserve, and designed the Socorro Vortex, a 140-foot liveaboard that together with the Solmar V take over 1,300 people to dive in ocean hope spots every year. As an underwater photographer, Jorge has documented unique, never-before-seen marine behavior. Swimming alongside orcas while they hunt pelagic rays in the Sea of Cortez, lurking amongst crocodiles and anacondas, or freediving with great white sharks off Guadalupe Island are just some of the moments that Jorge has captured in his breathtaking photographs. His work has been published by National Geographic, Wired, Apple, and Samsung, among many others. Jorge has been an ambassador for Discovery, Nauticam, and The Outdoor Journal, and is a two-time TEDx speaker. www.fishsaycheese.com
RELATED ARTICLES
Be the first to add a comment to this article.
Newsletter
Travel with us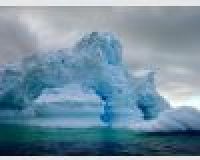 Antarctica
Plan Your Adventure >
Featured Photographer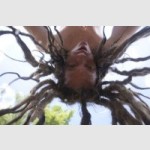 Ric Frazier
Expert Photographer
Born and raised in Texas, Ric's photographic journey began with participating in and shooting the skateboarding scene. Many scrapes and scars later, swimming with the sharks seemed like an equally stimulating experience....