Articles
Underwater Photography In The Arctic
December 9, 2009 @ 03:57 PM (EST)
By Rick Morris
The arctic is cold, barren and isolated -- not the place you would think of for a family vacation. For our four man team, however, on assignment for the Census of Marine Life and a National Geographic special series on the history of the oceans, it was the ultimate travel adventure.
The arctic is no easy diving destination. First you have to get there and since there are no roads to drive on and thousands of miles of open water and ice flows to deal with, the only real method of transport is on a Coast Guard icebreaker.
Our chariot was the Polar Sea, a 400 foot, 13,000 ton battle veteran built in 1973 and launched in 75. She has stood on station from pole to pole and is now based in Seattle, WA. The Polar Sea carries a crew or 140+ and with the science teams the numbers can approach 200. Polar Sea is actually a floating town and every amenity is covered within her steel boarders. She is driven by 6 diesel and 3 turbine engines and can burn more than 40,000 gallons of fuel in a single day when breaking serious ice. She also distills over 100,000 gallons of drinking water in a day and her galley generates over 500 meals each day, mind boggling to say the least.
Then there are the conditions of the outside environment to deal with. This was the most challenging diving experience of my life. The temps can range anywhere from 30 above to 30 below with the wind chill, and that also includes horizontal snow and knee-deep slush.
The water temperatures must be 29 degrees or less for good ice, and at these temperatures even with dry gloves and liners your fingers begin to go numb after about 20 minutes. As a member of a 4 person team you are also required to serve as the surface tender and safety diver so that means you are exposed to the surface conditions for hours, often times wet from a dive.
Trouble-shooting is also a requirement of this environment and we carried everything from spare regulators to thermos bottles of hot water that would unfreeze whatever became frozen, be it inflators, second stages, fingers or toes.
This type of diving also requires a fair amount of physical conditioning since you haul sleds of gear over difficult frozen and thawing terrain. In some instances for distances near 3/4 of a mile. Even those of us who seemed totally unaffected by anything else we encountered were completely exhausted from these treks.
What is amazing, however, is what you encounter after descending through your triangular portal. Crystal clear water and huge ice ridges are the first noticeable characteristic, then the sea life or, sometimes, lack there of.
What we did find are the effects of serious global warming, and in 35 days we were only able to dive 11 times due to poor ice conditions. Often, we would steam through miles of open sea where there should have been ice and when we did find it, it was too thin to dive...truly shocking. This also meant that the traditional animal life of the region is being devastated due to a lack of food or access to food.
As you can imagine, being an underwater photographer or videographer in these conditions is challenging. To provide you with a better idea of what it's like to shoot below the ice, I interviewed one of the members of our team, Shawn Harper.

Quiet and unassuming, Shawn Harper is a 33 year old researcher and grad student, from Wells Maine. He began diving and working under the ice while attending the University of Alaska in Fairbanks. Shawn has logged over 200 dives under the ice in both the Arctic and Antarctic and his love for this challenging environment continues to grow with each dive.

On our expedition, to study both polar bears and life above and under the ice, Shawn was the real workhorse of the 4 person team, and he covered every detail from packing the sleds we pulled across the ice to the dive sites to cutting the hole for our entries, and he enjoyed every laborious moment.
I asked Shawn how he learned to love photographing under the ice...


RELATED ARTICLES
Be the first to add a comment to this article.
Newsletter
Travel with us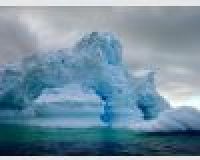 Antarctica
Plan Your Adventure >
Featured Photographer
Mauricio Handler
Expert Photographer
Mauricio Handler is a Caribbean based commercial and editorial underwater photographer. His body of work emphasizes his ongoing passion with unspoiled destinations and their unique marine wildlife. He is passionate about shark...