Articles
Photographer of the Week – Viktor Lyagushkin
By Ian Bongso-Seldrup, January 13, 2022 @ 06:00 AM (EST)
Sea angels (Clione limacina) are pelagic sea slugs that feed on their relatives, sea butterflies, White Sea, Russia

Back-rolling off a sun-drenched boat into balmy waters teeming with tropical fish may be most divers' idea of paradise, but our latest Photographer of the Week, Viktor Lyagushkin, isn't your regular diver. For this Moscow-born National Geographic photographer, "paradise" is his own special corner of the Arctic Ocean, Russia's White Sea.
To be sure, you'll have a hard time finding cerulean waters and kaleidoscopic reefs among Viktor's unique body of work. In the icy locales where you'll typically find this technical diver and award-winning shooter, the water appears green from tiny light-absorbing algae and the subjects are beluga whales, sea slugs, jellies, wrecks, and rocks—and of course, the ice itself, creating an imposing frozen sky or sculpted into mesmerizing formations.
But for the artists that comprise Lyagushkin's PHOTOTEAM.PRO—including his wife and principal collaborator, Bogdana—it's about much more than merely documenting extreme ecosystems. In one project, "Princess of Whales," Viktor captured world champion freediver Natalie Avseenko as she dove, naked, with belugas in below-freezing water beneath the ice. In another, "Until the Ice Melts," the team drew attention to the impact of climate change on the Arctic through various publications, lectures and exhibits, including the world's first photography exhibition under ice. As you'd imagine, Viktor pushes his imaging gear to its limits, and it's a testament to the quality of the brands that support him—Nikon, Subal and Ikelite, among others—that he's able to work in such harsh, technical conditions.
We're thrilled to be able to feature just some of the awe-inspiring photos that have resulted from Viktor's one-of-a-kind projects. Indeed, we're looking forward to seeing what adventures he embarks upon next. No doubt, they will open yet another fascinating window on Northern Asia's extreme underwater environments.

Petrovich the beluga is over 16 feet long and more than 20 years old. His curled front fins affirm the whale's considerable age—the older the white whale, the more twisted its fins

Bolinopsis infundibulum, the common northern comb jelly, flies overhead as tiny skeleton shrimps feed together, and squabble among one another, White Sea, Russia

A diver surveys the submerged trees in the flooded Lazurny Quarry in the Urals. The manmade markings on the "ice sky" allow divers to find their way back to the ice hole

Orda Cave, under Russia's Ural Mountains, is the longest underwater gypsum cave in the world

A local myth tells of the "Lady of the Orda Cave," an enchanting spirit, as mesmerizing as her chamber

The Accountant: A freediver sits at an office table under the ice at Konstantinovsky Quarry, Tver, Russia

Scuba diver Sergey Gorpinyuk collects samples of algae during a research project at the Blue Lake in the Caucasus Mountains, Russia

A diver swims under the ice hummocks of the White Sea. The tides here are so strong that they break the thick ice and create these stunning sculptures

Night swimming at the mysterious Blue Lake in Russia's Caucasus Mountains

World champion freediver Natalia Avseenko dives naked with white whales in the sub-zero waters of the White Sea, Russia

Diver Bogdana Vashchenko hovers over Beluga Whale Rock, covered with tousled Laminaria seaweed

A sea walnut floats past a photo of itself. Resembling a brain, the creature drifting under the ice of the White Sea is a comb jelly. It doesn't sting, but it is a carnivore, eating anything it can catch, including other comb jellies

Some mute swans spend winter on the Blue Lake in Russia's Caucasus Mountains, because the water never freezes. It's the same temperature, about 48°F, all year round. The birds aren't divers but they can use their long necks to reach the algae, their favorite food

Scuba divers check out Beluga Whale Rock, White Sea, Russia

Lyagushkin—in his element

To find out more about Viktor's work, head over to phototeam.pro, or for more of his breathtaking images, check out his Instagram and Facebook pages.
RELATED ARTICLES
Be the first to add a comment to this article.
Newsletter
Travel with us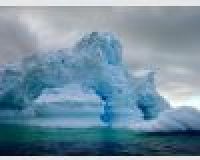 Antarctica
Plan Your Adventure >
Featured Photographer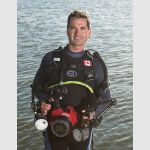 Todd Mintz
Expert Photographer
Todd Mintz is a multi award winning Canadian photographer who began photographing underwater in 1996. He attained his PADI Divemaster status in 1997 and since that time has traveled the world with his camera, never hitting the...