Articles
Photographer of the Week – Toru Kasuya
These golden gobies made a discarded bottle on the sea floor their home

When we dream up underwater photography destinations, the goal is usually to get as far away from cities and civilization as possible. That's not the case for Toru Kasuya.
The Japanese underwater photographer is drawn to the diversity that exists right under our noses, often shooting right off the beach near populous urban areas in the island nation. As such, he often captures shots of animals taking shelter in manmade products like glass bottles and other single-use plastics.
Toru's aesthetic is heavily influenced by 17th-century paintings and woodblock prints that communicate an appreciation for the natural world. In many ways, his photos are the modern-day equivalent—many local fishermen are blown away by the diversity of subjects featured in his images.
Toru's collection of urban underwater photography has garnered praise and critical acclaim. He was recently awarded the Grand Prize from the 6th Annual Nikkei National Geographic competition. Currently, he is displaying his work in a solo exhibition titled "Hidden Beauty Near the Shore" in New York City from June 6–9, 2018.

A species of tube anemone called murasakihanaginchaku waves its tentacles dynamically and elegantly with the current

The roe of shiwaikanago, a species of sand lance, is deposited on brown seaweed called akamoku

A golden goby makes a discarded bottle on the sea floor his home. Being so tiny, they are always living under the threat of their natural enemies

The giant Pacific octopus spreads its interbrachial membranes wide when pouncing on its prey or landing on the sea floor. The soft way it lands resembles a parachute coming down

The tiniest squid in the world (about two centimeters, or 0.8 inches long). The eggs deposited by the small body are as beautiful as crystals

As Toru was looking at the eggs closely through the lens, a parent came into view suddenly and caught him by surprise

Large pectoral fins of the oriental flying gunard remind Toru of airplane wings. The fish glides its way very low over the sea floor

The leaf of a mermaid's wine glass is about five millimeters in diameter. It is divided into dozens of rooms, each packed with numerous green spores

The sharp, white fangs of this wolffish are alarming and grotesque, conjuring up the image of a monster in a cave. However, they do not attack and are quite harmless

Early March is still winter in Rausu, Hokkaido, but while there's still plenty of snow across the monotone landscape, below the waterline, there is amazingly colorful kelp and seaweed

Toru Kasuya getting ready for a beach dive

For more of Toru's work, please visit his website, www.toru-kasuya.com. If you are interested in checking out his upcoming exhibit, more information is available here.
RELATED ARTICLES
Be the first to add a comment to this article.
Newsletter
Travel with us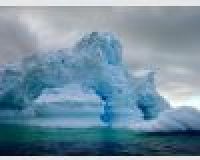 Antarctica
Plan Your Adventure >
Featured Photographer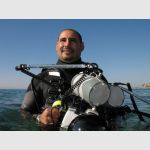 Noam Kortler
Expert Photographer
Noam Kortler is connected to the sea since he can remember him self. he was born on the coast of the Mediterranean sea of Israel and was diving and surfing when ever he could He moved to Eilat, the south popint of israel to...