Articles
Photographer of the Week – Tanya Houppermans

Everyone's path to underwater photography is different. For Tanya Houppermans, the journey to becoming a professional underwater photographer was one filled with twists and turns.
Tanya grew up wanting to be a cetologist—because that's every kids dream—and travel the world diving and exploring the oceans. That dream was put on hold with the birth of her autistic son Richard, who she raised while also attending school part time to earn a math degree and teaching skydiving on the weekends. It wasn't until age 35 that Tanya finally started the other type of diving, earning her Open Water Certification.
Last year, she finally picked up a camera for the first time and tried it out in a local quarry. Spurred on by her newfound passion, Tanya began booking every trip possible to practice on marine mammals and sharks.

A curious manatee approaches Tanya's son at Crystal River, Florida. Her son has autism, but loves the water and being around the animals. Tanya says, "I think they sense his kindness."

Diving and underwater exploration quickly became a family affair: Tanya's husband and son often join in on her underwater adventurers. "I'm also thrilled that my son is so comfortable in the water, and he loves to dive," says Tanya. "His having autism isn't an issue when we're diving; he's very relaxed, and he loves seeing marine animals."

Tanya took this photo while snorkeling off the coast of Rhode Island. It was her first time in the water with blue sharks. Tanya says, "I couldn't believe that their skin really is an iridescent blue/violet color."

Although sometimes a bit skittish, hammerheads are also very curious. They were constantly looking around, monitoring their surroundings as Tanya dove with them at night near Bimini

"I watched as these two tiger sharks approached each other at Tiger Beach, Bahamas," says Tanya. "I was sure they would turn away from each other. I was surprised when they intersected, making contact as they passed. Then each slowly continued on its way."

Hammerhead sharks are fascinating to watch. They can slowly glide along, and then almost instantly pivot around using their head to change direction

Tanya prefers to photograph at shallower depths, "where the ambient light can have some gorgeous effects as it slices through the water." In this image from Tiger Beach, a lone lemon shark glides through the sun rays just above the sea floor

"I remained still as this manatee in Crystal River came up to me several times and gently bumped my camera dome," says Tanya. "I don't know if she saw her reflection in the dome, or if she was simply curious."

A large female tiger shark swims just over the reef at Tiger Beach as a small grouper hides under the reef ledge. "That was a smart grouper," says Tanya. "I watched it stay in that same spot for half an hour hiding from the tiger, lemon, and reef sharks swimming above it."

Tanya says: "This one particular female tiger shark stayed with us for several hours at Tiger Beach. She was very comfortable around us, and made several close passes."

Tanya at Tiger Beach

For more information on Tanya Houppermans' work, visit her personal website. April is also National Autism Awareness month—for more information, please visit the Autism Society.
RELATED ARTICLES
Be the first to add a comment to this article.
Newsletter
Travel with us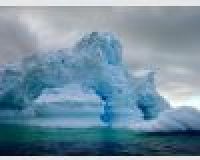 Antarctica
Plan Your Adventure >
Featured Photographer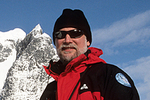 Chris Weaver
Expert Photographer
As a certified scuba diver since 1978, Chris Weaver has made hundreds of dives with his childhood friend Michael Salvarezza, taking photographs of their experiences in remote locations ranging from the temperate waters of Cocos...