Articles
Photographer of the Week – Ron Watkins
"Moment of Impact": As a rule, you shouldn't touch marine life, but when a large crocodile decides to come in and bump your dome port and smile, you don't have much choice other than to take a picture

You can't pigeonhole underwater photographer Ron Watkins. His portfolio is emblematic of that. More than just one technique, type of subject, or destination, Ron's work is a veritable highlight reel of the underwater photographer's wish list. Salmon sharks in Alaska? Check. Galápagos encounter with killer whales? Check. Black water macro photography off Kona, Hawaii? Check. Snapping an over-under of a crocodile in Cuba? Check. Up close with Humboldt squid? Check.
And then there is the fact that Ron is much more than an image maker: He is also an image teacher. It's a rare thing to find a photographer who gets as much of a rush from nailing a shot as teaching someone else how to do the same. Perhaps his passion for passing on knowledge comes from Ron's first scuba mentor, his father. Even after hanging up the weight belt, Ron's father still dives vicariously through his son's images.
Ron is thrilled to be the second Photographer of the Week in his household—joining his fiancée and fellow photographer Manomi Tennakoon.

"One in a Million": This photo was taken in Prince William Sound, Alaska, over an enormous moon jellyfish bloom with a single predatory lion's mane jellyfish rising above its prey. It was awarded in several international competitions including first place in Our World Underwater and the Photographer of the Year.

"Salmon Shark Rising": This is one of Ron's favorite photos of the elusive salmon shark because it showcases the distinctive features of this shark—the Dalmatian pattern, forward eyes, and smaller mouth than a great white shark. (Image captured at Ravencroft Lodge in Port Fidalgo)

"Out of This World Nudi": A commonly photographed Halgerda batangas nudibranch takes on an entirely new look when snooted, exposed and composed in a unique way

"Getting the Shot": What's better than swimming with humpbacks in Mo'orea, French Polynesia? Leading a trip and getting to share the experience with your good friends and see a unique and rarely photographed underwater behavior like this calf in its mother's bubbles with its mouth wide open. Fellow Photographer of the Week Renee Capazzola is well positioned to get the shot

"Balancing Act": A tiny shrimp balances on an anemone tentacle for a wild ride in the swift currents of Raja Ampat, Indonesia

"Leader of the Silk Pack": The Gardens of the Queen in Cuba is a great place to see silky sharks in the Caribbean. Ron's trips to Cuba also include presentations from marine biologists on this unique habitat

"Blue Steel": Rhode Island shark diving is an amazing trip for both mako and blue sharks and many of the top images of these two sharks are taken in those local waters. It's difficult to not overexpose the shiny mako, but by turning down the strobe power and having a really small aperture, Ron created a special effect

"Everybody Poops, Even Orcas": When a pod of orcas showed up at Darwin Island in the Galápagos, the trip instantly took on the status of "Epic Once in a lifetime Trip." After testing the waters for 15 minutes freediving with the orcas, Ron was able to convince the rest of the workshop participants to get in and experience it for themselves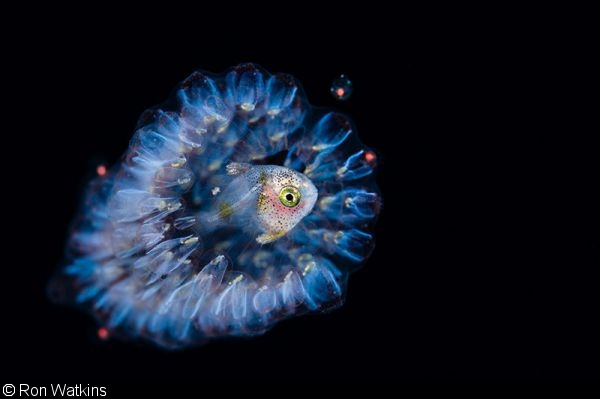 Off the Big Island of Hawaii, while dangling at 40 feet in 4,000 feet deep black water about four miles offshore, you can encounter crazy critters like this juvenile driftfish in a thumb-sized pyrosome

Deep water carnivorous Humboldt squid are known for their large size (this one over three feet long) and tentacles lined with razor-sharp teeth and sharp beak. This one is fending off other larger squid that are trying to attack it on the surface while it hunts

"Battle Scars": One of several blue sharks Ron encountered off the coast of Rhode Island with unwanted scars and souvenirs from shark fisherman. This was one of the lucky ones that got away

Ron captured by fellow Photographer of the Week (and fiancée) Manomi Tennakoon

For more of Ron's work, visit his website, www.ronwatkinsphotography.com. He's also active on Instagram and Facebook to help you keep tabs on his latest travels. Ron has recently teamed up with Backscatter to offer unique photo workshop trips to Fiji and other exciting destinations.
RELATED ARTICLES
Be the first to add a comment to this article.
Newsletter
Travel with us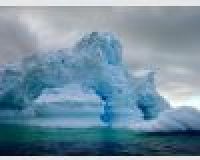 Antarctica
Plan Your Adventure >
Featured Photographer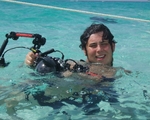 Joseph Tepper
Expert Photographer
I started diving at the age of ten and since that time have wanted to become a better photographer whether using a disposable Kodak waterproof (you know the blue ones) or my D300s. Last summer I received my dive-master in Grand...