Articles
Photographer of the Week – Michael Eversmier
By Ian Bongso-Seldrup, January 6, 2022 @ 06:00 AM (EST)
Toadfish (Opsanus tau) on oyster reef in the Chesapeake Bay

When you're raised on a steady TV diet of The Undersea World of Jacques Cousteau—with the famous French filmmaker exploring far-flung coral reefs, meeting sharks and marine iguanas, and diving blue holes and shipwrecks—it's hard not to fall in love with the sea. But grow up next to the biggest estuary in the United States as well, and the seduction is complete. That, of course, is how our latest Photographer of the Week, Michael Eversmier, began his eventful journey from wide-eyed snorkeler to photo pro.
Having learned to scuba dive at 16, the young Michael started working in the same local dive shop where he was certified, and before long he had earned his divemaster and instructor certifications. In parallel, at age 19, he would begin taking his first images underwater with a modest watertight pocket camera called a Minolta Weathermatic, before eventually investing in a Nikonos IV-A—an evolved version of the amphibious underwater 35mm film camera conceived by Cousteau. As Michael puts it, he was living his dream.
Fast-forward four decades to the present and Michael has enjoyed a long career as both a diver and underwater shooter—as well as keeping up with advancements in photography with his trusty Canon DSLRs and Ikelite housings and strobes. Interestingly, while he has traveled the globe much as his boyhood idol did, Michael's dedication to his local critters hasn't waned, and he has worked extensively with government agencies and environmental groups to raise awareness about the state of the Chesapeake Bay and the reefs off the Maryland coast.
It's wonderful to see some of these less-celebrated fish, crustaceans and invertebrates among the collection of images presented here—and equally fascinating to have the opportunity to appreciate the difficulties of taking compelling pictures in the chilly, murky, low-visibility conditions in which Michael regularly finds himself. It's also a reminder that in these uncertain times when diving in exotic locations is less than straightforward, there's much of interest—and much to challenge us photographically—in our own backyard waters.

School of juvenile Atlantic spadefish (Chaetodipterus faber) on an artificial reef in the Chesapeake Bay

Blue ridge sculpin (Cottus caeruleomentum), Gunpowder Falls, Maryland

Summer flounder (Paralichthys dentatus), Ocean City, Maryland

Atlantic rock crab (Cancer irroratus), Cape Ann, Massachusetts

Freediving with blue sharks (Prionace glauca) off Rhode Island

Yellowfin grouper (Mycteroperca venenosa), Exuma Islands, The Bahamas

Wreck of the freighter, Comberbach, Long Island, The Bahamas

Flamingo tongue snail (Cyphoma gibbosum), The Bahamas

Spotted jellies (Mastigias papua) found in lagoons around Palau

Bird's-eye view of the reef, Dumaguete, Philippines

Anemonefish (Amphiprion barberi) in bubble-tip anemone, Taveuni, Fiji

Kuni's nudibranch (Goniobranchus kuniei), Taveuni, Fiji

American Lobster (Homarus americanus), Cape Ann, Massachusetts

Common grass shrimp (Palaemonetes pugio) on redbeard sponge (Microciona prolifera), Chesapeake Bay

Mushroom cap jellyfish (Rhopilema verrilli), Chesapeake Bay

Black sea bass (Centropristis striata) using reef balls as habitat at Cook Point Reef Oyster Sanctuary in the Chesapeake Bay

A biologist inspects oysters on the reef in the Chesapeake Bay: A good representation of what diving here is like—murky with between two and five feet visibility

Michael, ready for another chilly dip

For more of Michael's wonderful images, visit his website, www.michaeleversmier.com, and check out his Facebook page to keep track of his exploits.
RELATED ARTICLES
Be the first to add a comment to this article.
Newsletter
Travel with us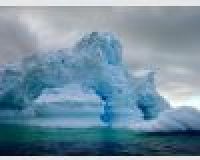 Antarctica
Plan Your Adventure >
Featured Photographer
Emory Kristof
Expert Photographer
Emory Kristof has been a National Geographic photographer ever since working for the Magazine as an intern in 1963. Throughout his career Kristof has been a pioneer in the use of robot cameras, remotely operated vehicles, and...