Articles
Photographer of the Week – Julia Sumerling
A green turtle at Raine Island, Great Barrier Reef, Queensland

One of the most diverse and interesting places to dive anywhere in the world is Australia, and our latest Photographer of the Week feature takes us on a photographic tour of the country courtesy of local dive instructor and underwater videographer and photographer, Julia Sumerling. Julia has been working in the remotest regions of the Great Barrier Reef (GBR) and the Coral Sea since 1999, and in that time has racked up well over 10,000 dives filming and photographing the area.
Having grown up around the ocean and studied commercial photography, it was a natural progression for her when, in 2002, she decided to combine her two passions and work full time as an underwater photographer/videographer. She has worked for Mike Ball Dive Expeditions for 16 years as their expedition photographer and has had many opportunities to film remote shipwrecks at the GBR and in the Coral Sea and Torres Strait on specialty wreck expeditions.
She has also traveled and dived extensively in other parts of Australia, the Bahamas and Papau New Guinea, and her work has been featured in documentaries by the BBC, Discovery Channel, National Geographic, among others. Many photographers who have visited the GBR will have met Julia or be familiar with her work, and years spent working in the same location has allowed her to document changes to famous dive sites such as the SS Yongala wreck, and become an expert on diving the region.
Julia's career highlights include witnessing a sperm whale eating a giant squid in Japan, filming blue whales in Sri Lanka, and spending a decade and a half filming the annual migration of minke whales to the GBR. Consisting entirely of images taken in Australia, her portfolio below captures some of the continent's most famous marine life in all its glory. Divers who have never visited this part of the world will no doubt be adding it to their wish list after seeing how many special subjects can be photographed here.
Whales, mantas, sharks and sea lions are just some of the marine megafauna that can be found around the vast coastline of this giant ocean playground, and let's not forget about southern Australia's famous leafy sea dragon or Northern Queensland's giant potato cod. Julia has managed to showcase a selection of her excellent underwater images while simultaneously acting as an ambassador for Australian scuba diving and its marine life.

A leafy sea dragon, Bremer Bay Canyon, Western Australia

A brave juvenile golden trevally accompanies a large potato cod at Cod Hole, Great Barrier Reef, Queensland

Giant gorgonian fans frame a pair of divers swimming along a wall in the Coral Sea

A dwarf minke whale named "Luna Eclipse" by researchers of the Minke Whale Project

A rarely sighted giant pelagic manta ray in the Coral Sea

A guitar shark cruises the wreck of the SS Yongala, Queensland

A manta ray eyeballs the photographer during a feeding session at Vertical Gardens on the GBR's Ribbon Reefs

A cuttlefish lays its eggs among the branches of hard corals at Clam Beds on the Great Barrier Reef

Colorful soft corals blanket the Western Wall at North Horn on Osprey Reef

A playful Australian sea lion off Hopkins Island, South Australia

A green turtle enjoys a seaweed snack

Julia and potato pal

For more of Julia's wonderful underwater perspectives on Australia, visit her Instagram page and Vimeo channel. Be sure to also check out her impressive Underwater Photographer's Guide to the Great Barrier Reef on DPG.
RELATED ARTICLES
Be the first to add a comment to this article.
Newsletter
Travel with us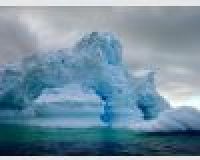 Antarctica
Plan Your Adventure >
Featured Photographer
Stephane Bailliez
Photographer
I started doing underwater photography while on a 1-year round-the-world diving/backpacking trip in 2003, shooting with a P&S Olympus C4000/C5050 in a Olympus housing. I'm only shooting DSLR since 2008 and 1 trip a...