Articles
Photographer of the Week – Francis Pérez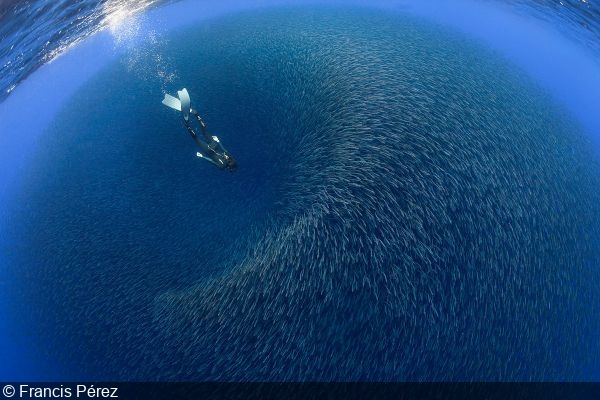 Baitball and freediver, Tenerife, Canary Islands

Francis Pérez, born in Puerto de la Cruz, Tenerife, is a professional underwater photographer and conservationist with an economics degree in regional economy development from La Laguna University, Canary Islands. He began diving in 1994 and first took up underwater photography in 2001. His portfolio contains images from Indonesia, Malaysia, Egypt, South Africa, Mozambique, Micronesia, the Philippines, Galápagos, Papua (Indonesia), Mexico, Chile, Mauritius, and especially the Canary Islands, his favorite place in the world to dive.
His awesome images of whales and other pelagic species are regularly featured in National Geographic Spain, especially stories related to the biodiversity and marine environment of the Canary Islands. He has also published in numerous other prestigious national and international magazines, and collaborated on several books, such as Sylvia Earle's Blue Hope, edited by National Geographic, whose cover is occupied by one of his photos, as well as the book for the 50th anniversary of the Red List of Endangered Species by the International Union for Conservation of Nature.
Take one glance at the images below and you can see that Francis has a penchant for wide-angle shots of big animals in blue water. What surprised me most is that many of the images featured were captured in the waters of his home island of Tenerife, a popular tourist destination in Europe that clearly has more to offer than just nice beaches and fine weather! I soon discovered that the Canary Islands have a resident population of pilot whales and they are regularly seen out in the pelagic zone. Add to that potential encounters with baitballs of sardines, manta rays, whales and dolphins, and I found myself immediately checking out flight costs and hitting up Francis for more information. What I love about his work is that he perfectly captures those special ocean encounters that we all dream of—and that is really what it is all about!

A group of pilot whales, Tenerife, Canary Islands

Blue shark, Canary Islands, Spain

Fin whale, Canary Islands, Spain

Amazing rock formations in La Rapadura, Tenerife, Canary Islands

Sperm whales, Dominica

Schooling barracuda, Mexico

Chinchorro crocodile, Mexico

Porcelain crab, Philippines

Feeding Bryde's whale, Tenerife, Canary Islands

Portugese man o' war, Tenerife, Canary Islands

Manta ray, Tenerife, Canary Islands

Pilot whale surface reflections, Tenerife, Canary Islands

Francis Pérez

To see more of Francis's work, check out his epic website, www.francisperez.es, and Instagram page.
RELATED ARTICLES
Be the first to add a comment to this article.
Newsletter
Travel with us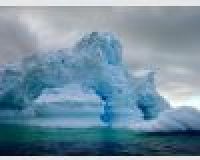 Antarctica
Plan Your Adventure >
Featured Photographer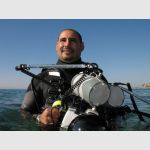 Noam Kortler
Expert Photographer
Noam Kortler is connected to the sea since he can remember him self. he was born on the coast of the Mediterranean sea of Israel and was diving and surfing when ever he could He moved to Eilat, the south popint of israel to...