Articles
Photographer of the Week – Annie Crawley
Sardines filter-feeding while trying to stay in the middle of a baitball for protection

Photographer of the Week Annie Crawley (aka "Ocean Annie") has created an enviable life around scuba diving, underwater imagery, and ocean education. Formally trained as a photo and broadcast journalist, over the last two decades, Crawley has leveraged her skills as a photographer, filmmaker, speaker, and educator to promote ocean conservation through speaking engagements and various forms of multimedia.
Crawley's imagery documents the beauty of our seas and the harsh realities they face. Her travels have taken her all over the world, from the North Pacific Gyre to the Coral Triangle. But ironically, I first met Annie in Chicago—where she is originally from—at the Our World Underwater expo. Her bright smile greeted me as I walked up to her booth, and I found her enthusiasm about the oceans and conservation both refreshing and contagious.
Crawley currently runs a dive team in Puget Sound, Washington, which teaches kids and teens how to dive in drysuits and encourages them to be the voice of the ocean.​ She is working on a documentary film and book project entitled Our Ocean & YOU, in partnership with the Communication Leadership graduate program at the University of Washington, Neurus Program, and OceanLink NW. Some of the organizations that support Annie's work are Backscatter, Light & Motion, and Underwater Sports Seattle.
Crawley has lived around the world and is a PADI Master Scuba Diving Instructor, a 100 ton U.S. Coast Guard Captain, a member of the Women Divers Hall of Fame, an Oris Sea Hero, and an SSI 5000 Platinum Pro Diver. With multiple grants from the Save Our Seas Foundation, Crawley produced an award-winning series of children's books, eBooks, films, and educator's guides to the ocean. Clearly, her decades worth of impact on the ocean and diving world has been multifaceted, and I am confident we can expect her future impact to be equally well-rounded for many years to come.

Schooling jacks circle above as an oceanic manta, whale shark and diver play, Socorro

When there are surf and surge present, you can find Annie dancing in the shallows waiting for moments that can capture the power of the ocean. Here, the diver adds a sense of reference to the scene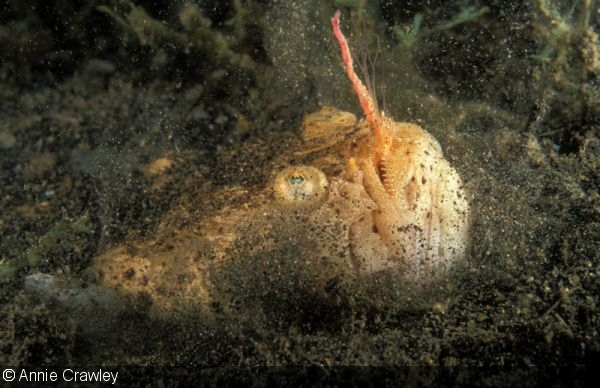 After a stargazer eats a good meal, he buries himself in the sand. The power of the water forcing in through its gills and out of its mouth often reveals this protrusion on the bottom of his jaw, garnering him the nickname "stick out your tongue" fish

A mother humpback whale rests in deeper water blowing a bubble trail to the surface so her frolicking baby always knows where she is

A face only a mother could love: A portrait of a hairy frogfish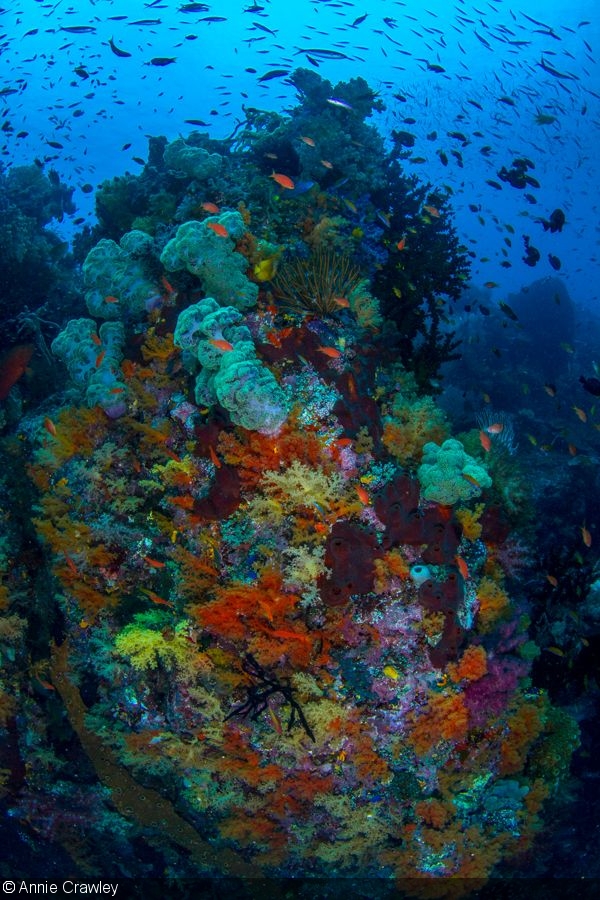 Technicolor reefs in Indonesia's West Papua province, Raja Ampat, also known as the Four Kings, are some of the most biodiverse places on our planet

Michele Hall and Annie play hide and seek with a manta at the Boiler dive site in Socorro, Mexico

"The Thinker": Shape-shifting schooling sardines take on many forms when tuna chase them from below and birds from above

When the right bubble-blowing monster is below, what comes up becomes art, as light, water and air collide

The female cuttlefish is often guarded by one dominant male but when he is off fighting with other males, sneaker males often sneak in

A congregation of melibe nudibranchs, also known as hooded or lion's mane nudibranchs, in an eel grass bed at Edmond's Underwater Park in the Puget Sound, USA

Annie Crawley

For more of Annie's beautiful imagery, check out her website, www.anniecrawley.com, follow her adventures on Instagram, and her short films on YouTube.
RELATED ARTICLES
Be the first to add a comment to this article.
Newsletter
Travel with us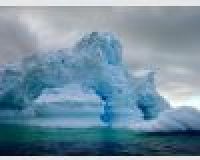 Antarctica
Plan Your Adventure >
Featured Photographer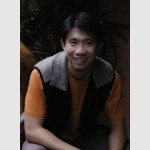 Lawrence Alex Wu
Expert Photographer
Color and light take on new sensations through a lens when combined with water and modern imagery techniques expressing a totally different art form. Alex specializes in creating underwater images as well as multi-media content...