Articles
Photographer of the Week – Andrew Raak
Spotted on the way to the Pigeon Caye, Roatán, these rough-toothed dolphins hung around the boat and let the divers slide in to photograph

This week's featured photographer Andrew Raak is a man of many skills, and all of them enable him to fulfill his ambition of working at sea. He has a degree in marine science, a captain's license, a dive instructor certification and currently works as an underwater photography instructor. When he is not teaching photography courses, he also takes plenty of pictures of his own, and as you can see from his diverse portfolio, he has visited a number of world-famous dive destinations.
His career as a photography instructor began in 2016 when he spent three months as an intern at Lembeh Resort in Indonesia. Andrew learnt from their in-house photo pro how to teach other divers to get great images, and what better place to hone your skills as an underwater photographer and perfect new techniques than in the Lembeh Strait? He also specializes in teaching people how to properly edit and organize their images, and on his website, there are various tutorials demonstrating how to use Lightroom for spot removal and other tips and tricks.
One year after completing his internship in Lembeh, he returned to the resort as an instructor to teach some of the local guides dive and photography courses, and his transition from student to teacher was complete. Since leaving Lembeh, Andrew has been a busy man. He is a regular co-host of the Roatán Underwater Photo Festival in Honduras, and also organizes group trips to the island of Saba in the Caribbean for their annual Sea and Learn event.
Wherever Andrew travels, you can be sure he will be diving with his underwater camera. His goal is to inspire and teach people to become better photographers while showing the world the importance of our marine environment through his own work. Looking at his selection of images below, I would say he is doing a great job.

A diver modeling on Tent Reef in Saba, Dutch Caribbean

When your dive buddy isn't around to take an epic shot of you, sometimes you need to do the job yourself, Bangka Island, Indonesia

An oyster toadfish on an artificial reef at Murrells Inlet, South Carolina, USA

A model photographed during the Roatán Underwater Photofest, Pigeon Caye, Roatán

A frogfish investigates the SS Hebe, Murrells Inlet, South Carolina, USA

A mimic octopus, Lembeh Strait, Indonesia

Mating mandarinfish, Lembeh Strait, Indonesia—one of the all-time classic macro shots

Seahorses are incredibly shy, so capturing their faces is a challenge, Lembeh Strait, Indonesia

When shooting ribbon eels, it helps to keep the lights only on the subject, Lembeh Strait, Indonesia

Frogfish are fantastic subjects with wonderful facial expressions, Lembeh Strait, Indonesia

A turtle and diver in the waters of Tahiti, French Polynesia

An orange frogfish, Lembeh Strait, Indonesia: Underwater photographers need patience—but the rewards are great!

Feather duster worm, Roatán: You can find beauty in a variety of subjects—get creative!

For more of Andrew's fabulous images, check out his website, www.RaakBottomImaging.com, or follow him on Facebook and Instagram.
RELATED ARTICLES
Be the first to add a comment to this article.
Newsletter
Travel with us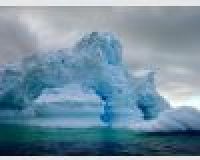 Antarctica
Plan Your Adventure >
Featured Photographer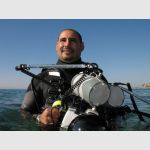 Noam Kortler
Expert Photographer
Noam Kortler is connected to the sea since he can remember him self. he was born on the coast of the Mediterranean sea of Israel and was diving and surfing when ever he could He moved to Eilat, the south popint of israel to...