Articles
Photographer of the Week – Amos Nachoum
Polar bears swimming overhead

Unless you're completely new to the industry or have never picked up a scuba diving magazine in your life, you will surely be familiar with the work of this week's featured underwater photographer Amos Nachoum, a well known and highly experienced wildlife photographer and explorer who has been pushing the boundaries of human interactions with predatory animals for decades.
As the leader of Big Animal Expeditions, he has come face to face with some of nature's most revered species both on land and underwater—and has some truly epic images to prove it. From cage-less dives with great whites to close encounters with anacondas and leopard seals, his outstanding portfolio of images on display below speaks for itself. And if some of the pictures look familiar, it is probably because they have been featured so often in publications and are so unique that once viewed you just can't forget them.
Amos' favorite wildlife experience was his most adventurous and ambitious assignment of them all. After months of planning and preparation, Amos traveled to the Arctic to capture polar bears underwater—something so difficult that more people in history have visited the moon! Thanks to meticulous planning and an excellent support team, the expedition was a resounding success and the realization of Amos' dream to photograph swimming polar bears is now the subject of a new feature length documentary titled Picture of His Life, which makes its U.S. premiere at the San Francisco Jewish Festival tonight.
When not pioneering new ways to get close to big animals, Amos is also a professional speaker who has taken part in two TEDx events discussing his work and raising awareness about the threatened and endangered species he photographs and the need to promote their conservation.

Leopard seal and gentoo penguin

Great white shark

Beluga whale

Blue whale tail

Sailfish hunting sardines

Humpback and calf

Nile crocodile

Mobula ray school

Orca and calf

Sailfish making a catch

Narwhal

Breaching great white

Polar bear cub learning the ropes

Polar bears can dive, too

Amos and his RED camera

To see more spectacular shots of rare wildlife and learn more about Amos and his work, visit www.amosphotography.com or follow him on Instagram, or even better, experience the adventure of a lifetime and join one of his pioneering trips to encounter apex predators around the world with Big Animals Expeditions. Be sure to watch his TEDx talk and the trailer for Picture of His Life.
RELATED ARTICLES
Be the first to add a comment to this article.
Newsletter
Travel with us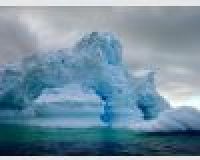 Antarctica
Plan Your Adventure >
Featured Photographer
Reinhold Jagow
Photographer
I like macro, but I prefer fisheye or wideangle. My intention is to show the beauty of the underwater landscape and it's a highlight for me to shoot a picture that tells a story that has a message in it.