Articles
Photographer of the Week – Aaron Gekoski
Bumpheads, meet jackfish. Aaron spent a year diving around Sipadan filming the dive series Borneo from Below for ScubazooTV

This Photographer of the Week feature is a little out of the ordinary, as we showcase the important work of award-winning photojournalist, filmmaker and TV presenter Aaron Gekoski. Aaron specialises in capturing human–animal conflict, and unlike many underwater photographers who just shoot whatever cool creatures they come across on a normal scuba dive, he tries to tell a story with each one of his images and highlight important environmental issues that are a cause for concern.
Sadly, this means that much of his work makes for uncomfortable viewing, as he covers controversial topics such as overfishing, shark finning and animal cruelty. He has spent years documenting animals in captivity and is founder and lead investigator at Raise the Red Flag, a global campaign to end cruelty in the wildlife tourism industry.
When not reporting on animal rights issues, Aaron also runs dive trips to epic marine life experiences such as the sardine run in South Africa and exploratory expeditions to Timor-Leste to search for blue whales, dugongs and dolphins. As you can see in his portfolio below, his underwater images from these trips are very different to the activities he often documents on land, and provide a necessary contrast between negative and positive wildlife tourism.
Aaron—known as "Bertie" to his friends—also presents and produces wildlife and conservation films across numerous networks, and has fronted series including the hit dive shows Borneo from Below, Indonesia from Below, and Timor-Leste from Below, along with Borneo Jungle Diaries and Borneo Wildlife Warriors, on ScubazooTV.
He is currently a finalist in the National History Museum Wildlife Photographer of the Year: LUMIX People's Choice Award for his coverage of boxing orangutans in Bangkok, so if you want to help raise awareness about the shocking abuse of these sentient beings in Thailand, head over to their website before February 4th, 2020, and vote for his image now.
Ultimately, Aaron's dream is to live in a world where animals are treated with respect and not as commodities, and I could not agree more with this sentiment and believe this message is especially important and relevant to the dive industry and underwater photography community. Hopefully, some of the barbaric practices he has witnessed will cease to exist in the future, and we will eventually learn to coexist with nature and interact with wildlife in a respectful and sustainable way. Until then, check out his eye-opening images and vote with your feet by refusing to visit venues and destinations that promote animal cruelty and exploitation.

In Malawi, a mouthbrooding cichlid inhales her young in order to protect them from potential predators. Whilst far from the perfect shot, it took over 50 dives to capture this behavior in a satisfactory manner

A photographer immersed in a school of hottentots, Cape Town, South Africa. Shot nearly eight years ago, this was the first underwater photo Aaron took that gained any recognition, winning numerous awards

A whale shark with remoras cruises under a fishing platform near the Derawan Archipelago in Indonesian Borneo, photographed during filming for Indonesia from Below. Much controversy surrounds destinations where whale sharks are fed for tourism. However, when it's managed properly, the benefits are evident for both people and sharks. Read Aaron's article for ASIAN Geographic (PDF) on this contentious issue

Freediver Mike Dornellas cradles a dead blue shark off the coast of South Africa. A legal longline over three miles in length had a dead shark on almost every hook. The sharks are mainly exported to countries such as Australia, where they are consumed as fish and chips under the name "flake"

A fisherman at a remote shark fishing community in Mozambique. These fishermen used to catch between 10 and 15 sharks per day, just a decade ago. When Aaron's team returned to document their work, this was the first shark they'd caught in months. Illegal and unregulated fishing vessels operate with impunity along the coast of Mozambique, impacting the lives of rural fishing communities like these

For every kilogram of prawns we eat, up to nine kilograms of fish, other crustaceans, coral, cephalopods, and more may have been killed. Bycatch is one of the greatest threats facing our oceans. In fact, it's thought that 40% of all global catch is bycatch. Image taken on a shrimp trawler, on assignment for Discovery Channel's Shark Week

A snaggletooth weasel shark is displayed by a fisherman after being snared in gill nets off the coast of Mozambique. This species was identified by staff at Marine Megafauna Foundation in Tofo and has only been documented a handful of times. From "Shiver," a documentary on Mozambique's shark finning crisis

A Timorese lady puts on her traditional goggles prior to going spearfishing off Atauro Island, East Timor. Part of the Wawata Topu ("women that dive"), this lady spearfishes with other female members of the community to help support their families. Watch the full Timor-Leste from Below episode on these remarkable ladies

A dolphin prepares for its performance at a traveling circus in Indonesia—the only country on Earth where such shows are still legal. These pools are often chlorinated and can make the dolphins turn blind. When transporting them between destinations, the dolphins are covered in butter or Vaseline and loaded onto stretchers

A Bajau fisherman catches mantis shrimp off the island of Mabul, Malaysian Borneo. With fish stocks disappearing, this nomadic fishing tribe have been targeting other species to make ends meet. It took this man half a day to catch one mantis shrimp—for which he was paid $1. Watch the full Borneo from Below episode

A Bajau fisherman examines his catch in Sabah, Malaysian Borneo. Every year, millions of seahorses are killed for the traditional medicine trade, threatening many species with extinction. Watch the special conservation episode of Borneo from Below on the seahorse trade

A sperm whale passes by during filming for Timor-Leste from Below, before it takes a huge dump on Aaron! With resident sperm whales, migrating blue whales, dugongs and the world's most biodiverse reefs, Timor-Leste is one of the best dive destinations you've never heard of. Aaron's series has been instrumental in stimulating tourism and interest in one of Southeast Asia's least-developed countries

This might look like a fairly average shark selfie, but it was one of the first wildlife selfies to receive a lot of attention. It was taken on assignment for EpicTV with the goal of raising awareness for shark conservation. It was a PR stunt but it worked, allowing Aaron to speak in depth in the media about the threats facing sharks

To see more of Aaron's work, check out his website, www.aarongekoski.com, and his Instagram page. If you want to dive with Aaron, head over to the Insider Divers website to see his trips to Timor-Leste and South Africa.
RELATED ARTICLES
Be the first to add a comment to this article.
Newsletter
Travel with us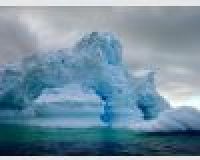 Antarctica
Plan Your Adventure >
Featured Photographer
Cathy Church
Expert Photographer
Pioneered many techniques commonly used in underwater photography today. Written hundreds of articles and several books. Teaches seminars around the US and runs an underwater photo school in Grand Cayman, Cayman Islands. Winner...