Articles
Top 5 New Photoshop CS5 & Lightroom 3 Features For Underwater Photographers
July 2, 2010 @ 01:10 PM (EST)
For Photoshoppers, both young and old, this is a year to remember. For starters, the spring has brought us Photoshop CS5 and Photoshop Lightroom 3 -- Two very powerful new versions. Photoshop has also turned 20 years old, and such a birthday is no easy feat for a software program. There are likely dozens of reasons why Photoshop has endured, but at the end of the day designers, photographers, illustrators, and passers-by have embraced it because the program has stayed a step ahead of the competition. I've played with other programs, but Photoshop is king for image editing.

That said, newly released CS5 and Lightroom 3 are the best versions to date. Photoshop CS5 is certainly the version I have been most excited about since I started using the program. And I promise you, I haven't liked all of Photoshop's version releases. Plus, both programs have been given some serious under-the-hood reengineering making them faster and easier to use.


This will be part one of a series on exploring CS5's and Lightroom 3's new features. I'll give an overview of what's new to the programs and share my opinion on which tools I think will be most useful for nature and underwater photographers. In future series parts we'll explore some of the interesting tools in more depth and hopefully get you excited about jumping into these new versions. I think they are a must-buy.

The following outline is broken up into three parts. The first part highlights Photoshop CS5's new features, another Lightroom 3's, and the third for Adobe Camera Raw (ACR, now version 6) and Lightroom 3 together.

ACR and Lightroom 3 are essentially the same and are Adobe's way of approaching non-destructive editing and raw image converting. If you look at the user interface for both they do look and feel different (the user interface for Lightroom 3's raw editor is found in its Develop module), but the tools and functionality are the same. So, please consider the third part where the two programs overlap and shared features.
Photoshop CS5 Features:
Content Aware Fill
Edge Refinements with Smart Radius
64-Bit processing for Mac users
Puppet Warp
HDR Pro
Enhanced 3D
Paint Brush enhancements
Watermarking
Mini Bridge
Rule-of-thirds grid in crop tool
Adjust the opacity of multiple layers
Default layer styles
A new watermarking panel—A feature created and released by Adobe Evangelist Russel Brown
Quick zooming holding spacebar-command (mac) and spacebar-ctrl (PC)
Lightroom 3 Features
Accelerated performance
Support for video files
A redesigned import dialogue
Upload directly to Flickr, other social media outlets to come
Better watermarking
Exportable slideshows as video and PDF's
Tethered shooting
Perspective correction
ACR & Lightroom
A new, and very cool, noise reduction engine
Both manually and automatically correct lenses for chromatic aberrations, distortion, and vignettes
Film grain simulation
More control on adding a vignette effect
As you can tell there are a lot of cool new things to play with in each of these programs. Opinions will differ on which tools are the best or the most innovative, as I'm sure PC users won't care about CS5's new 64-bit capability and underwater photographers will likely ignore Lightroom's ability for tethered shooting—I hope.
So what is important to a nature or underwater photographer? Following are descriptions of the top 5 tools I'm already using from these programs, and think you, as a nature and underwater shooter, will like the most.
#1: Content Aware Fill—Photoshop CS5 New Feature
This feature has been getting the most hype in CS5 and justifiably so. It's pretty darn cool and I think it will be a favorite for underwater photographers. Thus far, your desire to remove unwanted things in your underwater images like backscatter, another diver's bubbles, or an unwanted fin that made its way into the frame, has been satisfied using tools like the Healing Brush Tool, Patch Tool, and Clone Tool. Well, I wouldn't say these are obsolete, not at all, but they should take a back seat because of Content Aware Fill. Content Aware Fill can be accessed through making selections or with the Spot Healing Brush. Here are a couple of samples of what it can do:
After three passes with the Spot Healing Tool using Content Aware Fill the yellow line is completely gone from the image.
Image edited with one application of the Patch Tool. Notice the artifacts left where the yellow line once was.
Image edited with one application of the Spot Healing Tool with Content Aware Fill. It's still not perfect, but you can reach your end result much more quickly and easily.
#2: Edge Refinements—Photoshop CS5 New Feature
For advanced image editors, creating a good and precise mask or selection is an invaluable skill. Photoshop CS5 has just made this much easier with its "Smart Radius" and "Edge Refinement" features.
In the following image I wanted to create more separation between the cormorant and the ocean background by making the water bluer and blurring it slightly. As a first step in achieving that effect I must create a selection and a mask around the bird and the rock.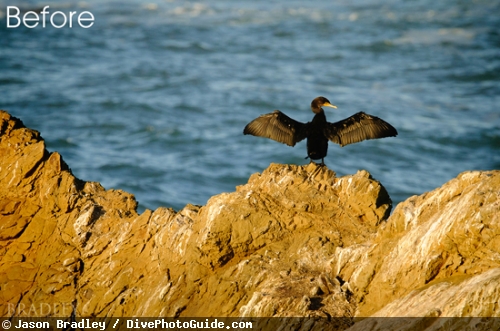 In a fraction of the time compared to previous Photoshop versions, I can create a fine detailed mask to guide me through the rest of my edit.
Incorporating the fine details of an edge, like thin and partially translucent feathers, can more easily be achieved with the Smart Radius and Edge Refinement features.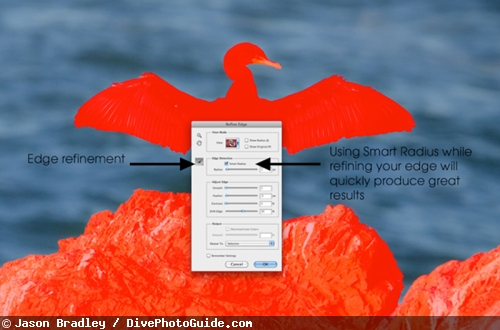 #3: Noise Reduction—Available in Lightroom 3 and ACR 6
One of the bigger issues with digital imaging over the years has been the camera's ability to capture a clean image in low light conditions. Programs like Noise Ninja and Grain Surgery have helped minimize that impact, and cameras have improved in recent years, but the bar has just been raised. Adobe's new noise reduction feature in ACR 6 and Lightroom 3 is the best I've seen. It does a great job at targeting noise patterns while retaining important image details.


#4: Lens Corrections -Available in Lightroom 3 and ACR 6
This is a very cool new feature and especially useful for underwater photographers. We now have the option of manually correcting a lens, or creating a lens profile. Having a lens profile will mean you'll upload images from a specific camera, say your underwater camera with your preferred wide lens, and Lightroom will automatically correct distortion and/or chromatic aberration. Keep in mind that distortion correction can crop off pixels. Of particular interest is the need to correct chromatic aberration. It is a persistent problem when shooting wide underwater. Different lenses with different domes produce different results, but it's often present.

This image was shot with a Nikon 16mm Fisheye on a D700.



I can correct the distortion from this lens manually, or, by clicking Profile, Lightroom 3 corrects the distortion of the lens in use automatically. If Lightroom creates too much of an effect, I can always back it off.

This is an image of a plume anemone zoomed in at 2:1. Notice the chromatic aberration.
A little slider bump and magic.
#5: Wateramarking—New Feature in Lightroom 3
I'm glad this feature is finally here. This is one of these features that wasn't available in previous Lightroom versions that left me scratching my head saying, "duh!" Watermarking is something I think a lot of photographers need at their disposal. Finally they listened and you can now add watermarks to your batch exports with any logo, any size, any opacity, and in any position on the image.
#5.1: Watermarking for Photoshop CS5—Created by Adobe Evangelist Russell Brown
This is not a new CS5 feature, technically speaking, but since I highlighted watermarking in Lightroom, I felt obligated to bring this up. It was created by one of Adobe's own, Senior Creative Director Russell Brown. You can batch process files from a folder or you can batch opened files, and the end result is as malleable as Lightroom's approach. The download to install the extension is available
here
. Below is a snippet of the new panel:
What About the Rest?
I can hear the replies already. You don't think video support in Lightroom is important Jason? You don't like Puppet Warp in CS5? What's wrong with you? Well, it was hard to decide on the top 5 in all honesty, but this article doesn't serve as a comprehensive tutorial on all the new features for each program, and I can't give everything equal billing. In truth, I think all the new features are cool and potentially have an important role to play in your workflow. The ones I highlighted are simply the features I started using the most right out of the gate, and think you will too.
Check back soon for additional parts to this series where we explore these top five tools in more depth and show you how to use them in your workflow. If you have interest in learning about digital workflow or Adobe digital imaging products in more depth, visit Jason's website at
www.BradleyPhotographic.com
and look at signing up for one of his upcoming workshops.
About The Author
Jason Bradley is a professional nature and underwater photographer based in Monterey, California. His love for the oceans reaches back long before he was taking pictures and had aspirations on becoming a marine mammal scientist. Today his images focus on coastal habitats and ecosystems, but enjoys shooting all kinds of subjects. He is also in expert in digital workflow, Lightroom, and Photoshop and has been teaching workshops in the field and classroom for years. Please visit
BradleyPhotographic.com
too see more of Jason's images, dates for his upcoming workshops, and follow him on Facebook, Twitter, or Flickr.
RELATED ARTICLES
Be the first to add a comment to this article.
Newsletter
Travel with us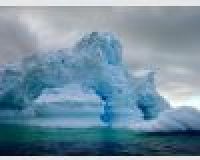 Antarctica
Plan Your Adventure >
Featured Photographer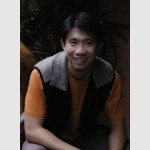 Lawrence Alex Wu
Expert Photographer
Color and light take on new sensations through a lens when combined with water and modern imagery techniques expressing a totally different art form. Alex specializes in creating underwater images as well as multi-media content...