Articles
Top 10 Reasons to Join a Group Trip for Your Next Underwater Photography Adventure
Simon's trips are known for incredible underwater group shots!

The power of the pack. True in the wild, and it also holds when it comes to diving. Many people are happy to go diving by themselves or in small groups, but you might be missing out on some major advantages. Offered by dive shops, dive clubs, travel agents, as well as specialized, expert-led group trips, it is easy to find a plethora of group travel options. Why are there so many options to dive in groups?
Simply put, there are a host of advantages and practically no downsides. Now, you probably don't need a group to go to your favorite destination that you have been to dozens of times before. But if you are going to a new, exotic destination or are traveling alone, group travel is a very appealing option. Because group travel often offers the best diving and underwater photo opportunities with the least amount of effort.
Here are the top 10 reasons why you might want to think about a group trip next time you go diving:

Sometimes it even appears that divers can walk on water

Careful! In groups, you never know who is behind you!
1. Like-minded Divers
I would argue that the best diving is with a group of scuba-mad friends. This sounds like a great time, but getting enough of your dive buddies co-ordinated for a trip can be challenging. By joining a group trip, you can get connected with a group of like-minded divers without any of the hard work and planning that goes into trying to organize it all by yourself. This can be particularly helpful for divers who are single or whose partner doesn't dive. As a bonus at the end of the trip you have a whole bunch of new dive friends!
Tip: Check to see if your local dive shops organize trips or look for dive clubs in your country. There are also specific local or international groups for people who want to dive amongst seniors, singles, females, photographers, or LGBTQ groups. Photo workshops are a great option for developing scuba shooters—learn something and visit somewhere new!

Being surrounded by like-minded people makes for a better experience

Even if you were strangers at the start of the trip, you won't be by the end!
2. Same Objectives
Sometimes the worst part of a dive trip is the other guests where you are staying. This is not to say that they are bad people or bad divers; it's just that you might want different things. Isn't it the worst when you are in a place with rich muck sands but no one else is a photographer? Or when you are qualified for certain deep dives, but nobody else is? There is also a risk if you join a mixed boat as a solo diver that you'll just get paired with another solo diver regardless of skill level, which is the nightmare scenario for many photographers.
On the other hand, if you travel with a group of people who want the same kind of diving, you are much more likely to get what you paid for. In a group of like-minded divers with similar objectives and skill sets, it is much easier to switch buddies or create buddy teams of three or four people.
Tip: If you are into specific topics like photography, tech, or freediving, look for groups that are offering these specialties—there are plenty out there. If you travel alone, let your tour operator know what your level and expectations are. Be sure to ask your operator about camera facilities if the trip has a photography focus. Some camera-focused resorts might even have new and exciting toys for photographers to play with!

If everyone is interested in the same thing, then a class like this by Tim Ho will be the highlight of the trip

To get into this position, make sure you go with people who all want the same thing
3. Perfect Itineraries
Traveling to a place for the first time, you often realize that you could have done better. The resort that looked so great online turns out to have used some creative license in the photos of their facilities, or you wanted a serious dive trip and ended up somewhere that mostly caters to Discover Scuba-level divers. That's the advantage of traveling with a group led by a professional. With an experienced operator, you are more likely to get the best dive center, itinerary, season and experience.
The travel company will have done their research, already been to the location, and scouted out the best dives and photo opportunities. Most group trip companies will pre-book the trips early to snatch up the best possible experiences in just the right season. So by joining a group trip, you get a better dive trip, take out the guesswork of going to a new destination, and get better shots.
Tip: Investigate which groups are offering special itineraries—likely, they will have some unique trip highlights that will put you in position to get those rare and incredible shots.

Getting to the right spot with the right people is critical for wreck divers

Find the perfect trip and you might end up in a cave shot like this
4. We Own the Itinerary
With a group, you will be the focus of the resort's or dive boat's attention. When on site, the group can influence the agenda as the speedboat or liveaboard is there only for them, allowing adjustments to the schedule and activities. This is where it is handy to travel with an expert who knows the area and has ideas on how to add extra items in the itinerary—an early hammerhead dive, a less-dived wreck, or a blackwater dive. If you are traveling with a group leader who is a photographer, you can be sure the itinerary will be adjusted to get the best photo ops possible.
Tip: Investigate what the group is planning on doing, maybe there are some special elements planned. Also, when you own the itinerary, you can set up some opportunities for those unique shots you can't do on your own. Want to try light painting in a cave? Well, look around, and you'll probably find a group that can make this happen!

The ability to adjust the dives to meet the group's needs is a strength of a well-planned trip

The great thing about owning the itinerary is that we can spend more time in places like this
5. Relax!
Let's face it: In a group of friends, there is always someone who has the thankless job of taking care of the admin. Some people enjoy this task (like myself); others see it as cutting into their holiday relaxation. Want to lean back and just let others drive the boat (quite literally) and still get the best diving? Then travel in a group where the group leader will take care of herding the chickens and figuring out all the details.
Any diver can go to a great resort and have a good experience, but underwater photographers are a more demanding crowd. You want to relax, but still get the money shots. Instead of putting all the work on your shoulders, a good group leader will make sure you are in a place that supports shooters. They will also be there to help when there is a problem. Forgot a sync cord? No problem, one can probably be found. At a small resort by yourself? You're probably not going to be getting that strobe firing, so hope you can find a strong torch.

Have a problem? Don't sweat it: A solution can usually be found

A good group leader can show you how to interact with animals to get the best shot possible.
6. Free Extras at the Same Cost
Traveling in a group will usually result in a better deal for everyone. If you approach a dive boat as a group, you will often get a good deal—but then you have to manage the group. Group travel companies can achieve better prices with a bigger number of divers and by booking very early, they get the best boats and resorts—this is what they live off.
So, in most cases, you just pay the advertised rates, but you get so much more. Not only do you get the best itinerary with practically no work, many group scuba companies also offer free extras like nitrox, room upgrades, extra diving, presentations, gifts, etc. Sometimes, this is only a minor thing, but on others the free upgrades can be worth serious money.
Tip: Always do your research—compare the trips online. But make sure to compare apples with apples—costs can vary greatly between operators and seasons. Ask your group company if there are any free extras or specials included. Be very mindful of the seasons and inclusions.

Extras, like land tours, make for a more memorable trip

By joining a group you literally own a boat like this for a week.
7. It's All About the Leader
When you dive with a group leader, you can count on the leader knowing the location and ensuring that the itinerary is structured so that you get your chance for that once-in-a-lifetime shot. Most of the time, the group leaders are photographers but also instructors, so they can help you with your diving, your marine knowledge, and your photography. They will also be at hand to sort out problems that might arise.
Even if you do not need assistance, it never hurts to have someone with experience to handle all the behind-the-scenes details on the trip. Who to put on what boat, what site is best for each boat, what divemaster should go with whom, and what someone can and cannot eat at dinner. Many group leaders will provide other value-added items such as presentations to better understand certain creatures like sharks, mantas or whales or how to dive with them. Photographers will often provide photography coaching on how to get the killer shot. In many cases, photographers offer training sessions above and below the waterline.
Tip: Contact your group leader on social media and see if what he/she has in mind for this trip makes sense to you. Almost everyone in this industry is well connected on social media and will be happy to respond. Make sure they have photos up on their pages of the things you want to shoot. You don't want to go and shoot sharks with someone who only ever does macro photography!

Make sure that your personality and that of the leader mesh well before the trip begins

Some trips are more light-hearted than others. Ensure that you are on one that will be a good fit for you
8. Training
Another huge advantage of diving in a group is the amount that you learn. By meeting divers from all walks of life, you can see different styles of diving, equipment, and interaction with wildlife. This is particularly valuable when you want to become a divemaster or want to develop your photography or videography abilities. Some trips are focused on improving your skills such as photography or tech diving.
During a photography workshop, you learn a lot of new skills in a short time that would otherwise have taken you much longer to learn. Another huge advantage of traveling with a photographer—you can observe how they approach their images. By seeing how they get into position, place their strobes, and get their shot, you can make big leaps in your own photography.
Tip: If you really want to boost your photography learning, join a photography workshop. Aside from getting a boost to your skills, you will also make friends and network with many well-known photographers, who can be a great asset as you grow in your photography.

If you want to up your game, look for a trip that includes training you are interested in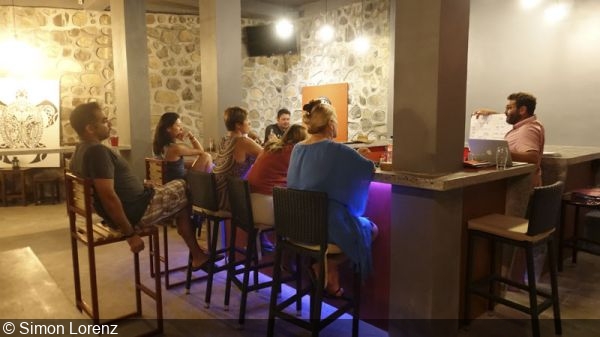 The best place for a little teaching has to be at the bar!

Learning about these sharks before the dive will result in a more rewarding experience in the water
9. More Fun
Finally, the more people, the more fun there is to be had. If you travel solo, there is always the chance of ending up on a boat of divers who do not speak your language or who just aren't that fun.
Traveling in an organized group, you already know there will be people that you can socialize with whenever you like. You already have in common that you have actively decided on a guided group trip. There often are fun activities to join if you feel like it. The important thing is to have the option available.
In the end, it's like traveling with friends. One thing is for sure—you will never be lonely or bored on a group scuba trip!

Simon taking one of his legendary group shots

Who doesn't love a fisheye group selfie?!
10. Fulfill Your Dreams and Get Your Best Shots
There are many bucket-list trips we all have in mind. When you are ready to spend the money and the time, you want the trip to be as awesome as possible. So, make sure you see that dream fulfilled in the best possible way—with organization, guidance, and the right group of people.
This is so critical for underwater photographers. You may only get one chance to get that critter, wreck, or cave shot. Make it count and give yourself the best possible odds of success by going with someone who has been there, done that, and knows where you need to be to pull the shutter trigger.

Make sure you get the shot you are after

A moment every underwater photographer dreams of

Still want to go it alone? Go for it! Otherwise, we'll see you in the water!

---
About the Author: Underwater photographer Simon Lorenz is a regular author for dive magazines and a speaker at events. Having traveled the world over, he has dived on all continents. A PADI instructor and photo coach, he aims to further the dive and photography skills of his guests, as well as helping them learn more about their diving environment. His travel company Insider Divers offers guided group trips, combining unusual dive experiences with photo training for those that want it. Simon supports various marine NGOs and is on the advisory board of the Hong Kong Shark Foundation.
RELATED ARTICLES
Be the first to add a comment to this article.
Newsletter
Travel with us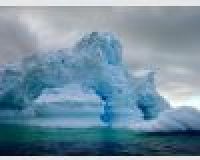 Antarctica
Plan Your Adventure >
Featured Photographer
Reinhard Dirscherl
Expert Photographer
Reinhard Dirscherl, born in 1964, is a self-employed photographer, lives in Munich and is dedicated to travel and underwater photography. He was born in Oberpfalz (a region in Bavaria) and he lives up his photographic ambitions...