Articles
Tim Rock Reviews Doug Sloss' Photoshop CS4 For The Underwater Photographer
March 10, 2010 @ 11:34 AM (EST)
In the movie "Almost Famous" the main character is William Miller. He's a bright teen and an aspiring rock music magazine reporter. He has a big sister who is tired of living at home with her over-protective mother. When she turns 18, she bolts. But not before bequeathing her record collection of amazing '60s rock classic albums to her kid brother.
"Look under your bed," she tells him as she prepares to drive off. "It'll set you free."
He finds an amazing box of vinyl and listens to the tunes and his life as a rock n' roll reporter is forever changed. He gains insight, wisdom, inner peace!
Instead of being under the bed, my new copy of
Photoshop CS4 for the Underwater Photographer
showed up in the mail. But authors Doug and Lorenza Sloss could have pretty much given me the same message. After just a few hours of use, I wondered how I ever got along without using some of the tips, tricks and tutorials that are effectively laid out in this DVD.



Like '60s rock for William Miller, Photoshop CS4 for the Underwater Photographer has changed my life as a photographer. Since knowledge is freedom, it is setting me free. I now have more image making insight and wisdom, which could easily lead to inner peace!

The first time I heard of Doug I was a judge at The First Annual Palau Underwater Photo Contest. He had taken first prize but wasn't there at awards night to get his award. The effervescent Lorenza received the award in his place. Lorenza is a stunningly beautiful ball of energy as has worked on photography with Doug since they first met. At the contest, I was intrigued by the creativity of some of his entries and later did get to meet him and learn of his dedication to the profession.

Over the years, his work has gotten better and better as he has moved seamlessly from film to digital photography.

He and Lorenza worked many years in Palau and the South Pacific. A few years ago, they moved to the states to start a family and he has been doing magazine assignments and stock work. He currently is a featured imaging tutorial and field editor of Scuba Diving AustralAsia. But when he first moved to the U.S. and found himself landlocked, he said this would give him the chance to come up with something everyone needed and could use. Toilet paper, I thought? No, it was the first installment of Photoshop for the Underwater Photographer (for Photoshop CS & CS2). This DVD was a breakthrough concept and it has kept him busy giving workshops and seminars across the country.

Now, in itself that was a great DVD and I learned a lot from it, but Photoshop and especially RAW photography have evolved so much, I couldn't wait for Doug to do the upgrade in the subsequent release of Adobe's CS3 and CS4.

Well, it's out now. And it was certainly worth the wait.
I have always known CS4 and its RAW converter were powerful tools that I was pretty sure I was under-utilizing. Still, I read a lot about editing images and talked to PS pros. I thought I was pretty good at this stuff. But after a few sessions with the new DVD, I found that I was really barely scratching the surface. I now am working on organizing, editing, correcting and improving my files. That includes workflow and sprucing up both undersea and topside images using the superb suggestions I've been watching on this DVD.
There are a number of sections each with at least ten easy-to-follow lessons. In all, ten hours worth of spoken and illustrated instruction. They include:
The CS4 Interface and The Bridge
Camera RAW
Retouching and Enhancing (this is a large section)
Getting Creative
Cropping, Resizing and Sharpening
Automation and Output
Underwater HDR
Since I use Adobe's Expression Media, I perused the thorough Bridge section. I know others use Lightroom and
even Aperature or iPhoto for the interface, but as a former Bridge user, I can see where many of Doug's suggestions would really improve initial review and cataloging.
Where I stopped and started going lesson by lesson was the Camera RAW section. Doug personally narrates each lesson in simple English and you can see exactly what he does as he is doing it. He often gives keyboard shortcuts for both MAC and PC and provides more than one method of achieving an edit.
Hotspot removal-- before and after

His videos are clearly explained and designed in a way that let the user follow along at whatever pace one chooses. Skill level really isn't a major concern. If you need to stop the lesson or go back, that's simply done. You can follow step after step until you've got the adjustments down.

The Photoshop RAW tutorial started with setting up the Preferences and then moving to the Essential Adjustments, retouching without using actual Photoshop, filtering, cropping, sharpening and even creating black and white imaging.
By the time I was done, many of the images didn't even need to go into the Photoshop mode as they were ready to save and file or print right out of the RAW converter. There were many revelations for me here, with one of the most useful being the retouching tool and the adjustment brush. This saved me tons of time of having to open up and work on images in the usual Photoshop window using items like the clone tool. The proper adjustment of Curves was also a great help.
Truth be known, I am still working my way through the DVD as I really got into doing and re-doing some of my humpback whale photos for this year's trip to Tonga. The enhancing section deals with correcting monotone blue images, something one gets all to familiar with when trying to film a whale on snorkel using no strobes. The tutorial allowed me to remove reflective scatter from the sun, bring out the true color of the whale and make the image sharper and higher in contrast.
My friend and fellow underwater pro
Chris Crumley
does a lot of commercial work. You may have seen some of his images in those slick TUSA ads. I knew he purchased a copy about the same time as I. I waited for him to give it a whirl and then asked him how he's liking Doug's tips.
"I've been through enough of the 66 lessons to be amazed at how good they are," Chris told me. Chris has been a pro for a while. He has a Lightroom database that contains 140,000 searchable images, some of which have earned him US$60,000-plus. He sees his purchase of the Photoshop CS4 for the Underwater Photographer as an investment.
"I'm convinced the retouching I've done can be improved and my image values enhanced using the techniques Doug describes in the DVD. The very first lesson, The CS4 Interface, is invaluable to getting the base setup right and a solid foundation to some basic controls. I'm not going to tell you how many I wasn't using!"
Chris has also been having a good time in the Retouching & Enhancing section.
"Lesson 2, Color Correcting with Curves, is one of the most enlightening sessions I've seen. It will be extremely valuable to me from here on," he says. "I've done color correcting with curves, but not anywhere near as precisely and effectively as Doug's lesson teaches."
"I wish I could take a week off and just work on images using Doug's DVD as a guide. But, I'm busy and I have to be content to take a lesson or two a day and start using the techniques as I'm doing work," Chris says.
I must admit I echo Chris's thinking. I keep exploring more of the DVD on a daily and weekly basis. Were I Bill Gates, I might be wealthy enough to take a couple weeks off and just play around with this DVD. As a working stiff, I am going lesson by lesson and enhancing some of my favorite images in the process.
It helps to have Adobe CS4 installed to take full advantage of the lessons. It requires Flash. A Flash player can be downloaded free from the web. This really isn't for total novices, but with just a little Photoshop knowledge, you'll get far. As a matter-of-fact, it has such good set-up and workflow suggestions, that it is ideal if you're just getting into underwater editing. It will help you get started the right way and learn without developing bad habits and time consuming extra steps.
It's not an exaggeration to say this DVD has "set me free". If I keep up with all the tips I may become "almost famous" someday.
In my work, I spend a lot of time daily using Photoshop and Photoshop CS4 for the Underwater Photographer has been a revelation that has been somewhat life changing. Not only are Doug and Lorenza great folks, but Doug is a fine teacher who has really hit the mark with his CS4 for Underwater Photographers offering. The ten hours of tutorial is really about the content of a week-long seminar as far as tips and content goes. Where else can you attend a week-long specialized seminar for $99?
It can be used on Mac or PC and all you really need is a fairly up-to-date computer with a DVD player and speakers. To get started, you can purchase the
DVD here
.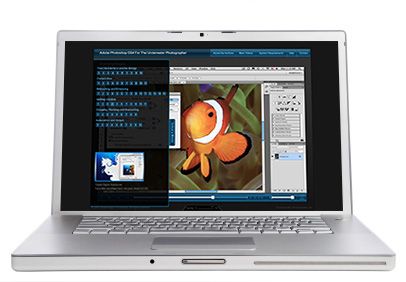 About The Author
Tim Rock has been a professional broadcast and print photojournalist for 30 years. The majority of those years have been spent in the Western and Indo Pacific reporting on environmental and conservation issues. He is the author and contributor to twelve Lonely Planet/Pisces series guides and owns a photo gallery in Guam at the Fish Eye Marine Park. You can see his work at
http://www.doubleblue.com
or in his
Pro DPG gallery
RELATED ARTICLES
Be the first to add a comment to this article.
Newsletter
Travel with us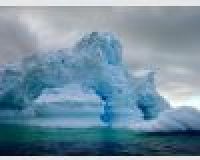 Antarctica
Plan Your Adventure >
Featured Photographer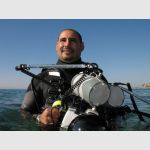 Noam Kortler
Expert Photographer
Noam Kortler is connected to the sea since he can remember him self. he was born on the coast of the Mediterranean sea of Israel and was diving and surfing when ever he could He moved to Eilat, the south popint of israel to...