Articles
Tiger Sharks with the Nikon D850 in Nauticam Housing
Freediver John Garza interacts with a duo of sharks in Tiger Beach, Bahamas

After years of being a camera nomad—constantly switching between generously loaned out systems—I finally settled down with the Nikon D500. I lauded the 10fps continuous shooting, crazy fast autofocus, and impressive dynamic range. What's not to love? And then, just months later, Nikon announced the D850—a 46-megapixel monster with arguably the best combination of performance, price, and image quality in a DSLR to date.
I was intrigued. And so, after the DEMA show in Orlando, I was loaned a D850 and one of the first Nauticam housings in production to give it a test run. Coincidentally, my friend Zach Levitetz and shark wrangler John Garza were heading out to freedive with tiger and hammerhead sharks in the Bahamas right after the show, and let me tag along. It was the perfect high-intensity no-nonsense shooting situation that would push the limits of the D850.

Could the D850 live up to all of the hype? Read on

Main Specifications
45.7-megapixel BSI-CMOS (FX format) sensor
Expeed 5 processor
ISO 64–25600 range
153-point autofocus module with 99 cross-type points
7fps continuous shooting (9fps with battery grip)
Up to UHD 4K/30p, 1080/120p video recording
XQD and SD card slots
I captured all the images for this review during an eight-hour period at Tiger Beach, where we saw tiger, hammerhead, lemon, reef, and bull sharks. During this time, I made just over a hundred 35-foot freedives, averaging 90 seconds per submersion.

If you really want to put a camera system through its paces, it doesn't get much tougher than Tiger Beach
Nauticam NA-D850 Housing
I've tested loads of Nauticam housings over the years and am always excited to see significant improvements being incorporated as standard features—like the built-in flash circuit board in the D850, which offers both electric strobe connections and high-speed optical triggering through LEDs. However, an emphasis on ergonomics has consistently been the main area of improvement—specifically easy access to key controls.
The NA-D850 housing continues this trend. The back right corner of the housing has been dubbed "mission control" for good reason. All principal controls have been internally remapped here to be easily accessible without removing one's hand from the rubberized grip. In a fast-moving sharky destination like Tiger Beach, you want to spend as little time as possible fumbling around with essential controls, and saving every second possible is particularly important when photographing while freediving. Having fingertip control of all essential functions is a must for such conditions.
Nauticam's housing emphasizes ergonomics in a rugged build

Intuitive ergonomics are critical in fast-paced shooting situations like Tiger Beach

I am also a big fan of the decision to make custom controls more accessible. Several programmable camera buttons have been mapped to convenient levers for quick access to a number of custom functions. I set the Fn1 button (accessible via one's right pinky finger) to be "Enable/Disable Flash," which allowed me to switch between ambient/silhouette shots and well-lit flash shots without having to fiddle around. (If you're interested in learning more about using custom buttons to disable/enable flash, then check out this article.)

Using the Fn1 button to enable/disable strobes makes shooting silhouettes a much more streamlined process

The one thing missing from my NA-D850 test was Nauticam's newly released TTL conversion accessory. The prospect of not needing to adjust strobe intensity to account for quickly changing subject distance in a destination like Tiger Beach is quite attractive. And from what I've heard, the Nauticam TTL converter performs very well in this scenario. I look forward to testing it with the next housing review.

Shooting with the D850
Resolution
With 46-megapixel images at a maximum resolution of 8288x5520 pixels, the D850 is inching towards medium-format territory. Shooting at such high resolution leaves less room for mistakes in terms of focus and lighting. However, I found the high resolution of the D850 to be much more of a blessing than a curse. For starters, there's nearly endless room for cropping while still maintaining large-print resolution. In one instance, I didn't realize that there was a remora catching a ride on a remora that was catching a ride on a shark—until blowing it up on my computer.
This massive resolution offers the flexibility to re-frame images in post-production without noticeably degrading image quality. However, shooters should be careful not to abuse the power that comes with such impressive resolution. It's always good practice to compose images in-camera to the best of your ability.

Talk about detail: A remora on a remora on a shark

The maximum resolution and full-frame sensor allows for significant cropping after the fact

Frame Rate
A big concern when shooting at such large resolutions is the speed of the camera's processor. After all, what good is such impressive image quality if the camera gets stuck buffering every few seconds?
The D850 shares the same Expeed 5 processor as the D500 and even the flagship D5. You might have noticed in the specs that the maximum frame rate for the D850 is slower than that of the D500 (10fps vs. 7fps). In reality, seven frames per second is more than enough in almost any dynamic shooting situation—especially when restricted by the recycle times of strobes.

The D850's ability to rattle off seven 46-megapixel images per second makes taking over-under images a breeze

During the entire testing period, I never found the end of the buffer on the D850. Just make sure to take advantage of the superior write speeds of the XQD card in comparison to traditional SD cards—both slots are available. There were times when I was able to rattle off 30-plus images in a row without any delay in writing or seeing the image preview on the screen. This was very much critical in capturing a fleeting moment when a great hammerhead flew by the scene: In a brief two seconds, I was able to take 14 images, only one of which was a keeper.
Again, on paper, the D850 might seem to be a laggard in comparison to the D500's astonishing 10 frames per second. However, the fact that this camera can process massive image files so quickly seemingly defies logic. And even in super-demanding underwater situations—like freediving with tiger sharks—the 7fps rate is more than sufficient.

Blink and you might miss it: Fast, accurate continuous shooting was needed to nab a shot of this passing great hammerhead shark

Autofocus
There's probably no better test of a camera's autofocus performance than freediving and trying to capture pin-sharp images of fast-moving animals at the same time. Getting shots of these tiger sharks usually meant freediving into their expected path as they headed toward the baitbox. Without reliably fast continuous focus, getting the animal's eye in focus across multiple images in a burst would've been a nearly impossible feat, but the D850's AF system made this a thoughtless process.

Pin-sharp focus was almost too easy with the autofocus and tracking abilities of the D850

Being so shallow and sunny, Tiger Beach doesn't offer up much of a challenge in terms of low-light autofocus. But in an effort to put the D850's autofocus through a bit of a torture test, I switched out my wide-angle lens for a 60mm macro. Getting a camera to focus on a several inch section of a moving shark while freediving to 30–40 feet ain't easy.
The combination of my body and camera movement and the sharks' changing swim paths meant the focus distance was constantly in flux. And yet, the D850 passed with flying colors: Almost every shot in each series was perfectly in focus.

The D850's autofocus shined, even when tasked with focusing on the eye of a swimming shark

ISO Performance
The use of high ISOs isn't necessary at a shallow site flooded with ambient light like Tiger Beach. But I did bump the ISO to 6400 to give it a bit of a test. With such a densely pixel-packed sensor, the D850 could be subject to noise even at this relatively moderate ISO. However, when I compared the ISO 6400 images with those taken at ISO 250, I found it difficult to discern one from the other without pixel-peeping. Even with significant cropping, the results are more than usable for prints or on-screen use.
Can you tell the images apart based on digital noise? In independent tests, the D850 outperformed the D500 in low-light, high-ISO shooting. This is made all the more impressive by the high resolution of the D850.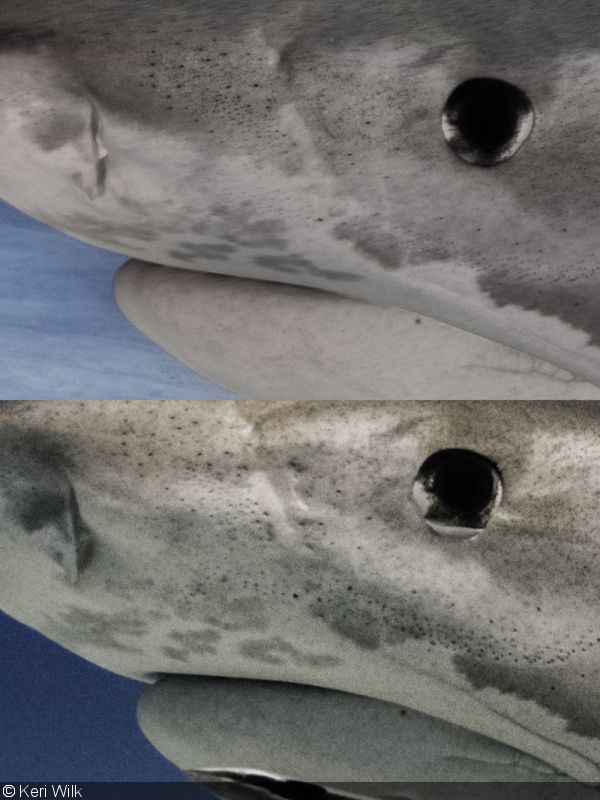 The difference in digital noise between the top image (ISO 250) and the bottom (ISO 6400) is minimal (50% crops)

Dynamic Range
In the film days—heck, even in recent digital cameras—there wasn't much room for mistakes when it came to exposing an underwater image. But with nearly 15 stops of dynamic range, the D850 makes it possible to ballpark the exposure and fix any mistakes in post-processing. The trend of high dynamic range cameras could create a trend of lazy exposing among photographers. But for that occasional (or frequent) situation where you mess up the exposure, the dynamic range of the D850 is a lifesaver.

The dynamic range of the D850 allowed me to capture sun rays without being completely blown out

Typically, when I test the dynamic range of a camera, I try to shoot a scene that has both dark shadows and bright highlights, then pull as much data out from the extremes of the exposure in post-production. But in the sunny, shallow Tiger Beach, dark shadows are hard to come by. So, I was only able to really test the D850's highlight rendering performance with some tiger shark sunball shots.
As you can see, I "intentionally" overexposed the RAW image, leaving it washed out, and without much contrast or color. But with a little fiddling in Lightroom (bringing down the highlights), the final image appears perfectly exposed, without any cyan fringing, which has (and still does) plague many sensors of the past and present.

With a little massaging in Lightroom, a blown out, bland image can become very usable

Video
Admittedly, I'm not a video shooter. Having said that, the D850 is reputedly Nikon's most capable video-capture DSLR to date, so I decided to spend some time experimenting with the world of moving pictures.
The main video spec on the D850 is the ability to shoot 4K using the entire sensor. This may not sound like anything special, but this is the first full-frame camera that Nikon has blessed with this feature, much to the satisfaction of the Nikon community. Previous cameras are technically 4K-capable, but limited in use due to a 1.5x crop factor diminishing the camera lens' angle of view. Another video improvement in the D850, which isn't necessarily a headliner is focus peaking, allowing one to make sure footage is properly exposed and in focus before hitting record.

The addition of focus peaking helps ensure the subject is in focus

I shot a little 4K footage, and sure, it looks great, but it didn't tickle my pickle as much as one of the other video settings: 1080p at 120fps, for 4x slow-mo. Technically, it records at 120fps and outputs a 30fps file, so the slow-mo effect can be immediately reviewed. However, when shooting in this mode, the 1.5x crop factor rears its ugly head, so you won't be able to shoot super slow-mo fisheye footage.
I shot only a few clips and didn't really think much of them until I got home, downloaded and reviewed the footage—and was blown away. As a self-proclaimed stills-only guy, I was amazed at the results of combining these silky smooth slow-mo clips with some decent music. I'm definitely going to shoot more video in the future.

The final cut: With some music and slow motion clips, you have a dynamic and engaging short film
Final Thoughts
Without a doubt, the D850 is a heavy hitter. As a lifelong owner of cropped-sensor cameras, it would take a lot for me to switch to the full-frame game. However, the D850 may have singlehandedly convinced me: The combination of super-high resolution, massive dynamic range, and plenty of shooting speed is hard to beat.

The obligatory shark selfie

---
About the Reviewer: Although only 32 years old, Keri Wilk has already accumulated over 20 years of underwater photography experience. Educated as a mechanical engineer, he currently co-owns and develops products for ReefNet, including the popular SubSee Magnifier. His work has appeared in countless magazines, scientific journals, field guides, books, and museums, and he's won over 100 awards in international photography competitions. He also runs unique underwater photography trips to different parts of the world each year. Want to join Keri in Dominica next year? Visit the trip information page for details.

---
When purchasing underwater photography equipment like the products mentioned in this article, please support DPG by supporting our retail partner—Backscatter.com
RELATED ARTICLES
Be the first to add a comment to this article.
Newsletter
Travel with us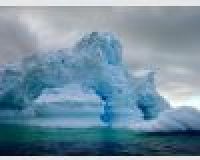 Antarctica
Plan Your Adventure >
Featured Photographer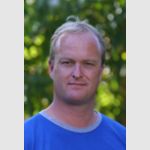 Zac Macaulay
Expert Photographer
A London based underwater photographer shooting for 20 years for clients as diverse as Diesel, Boots the Chemist, the BBC and The Sunday Times. He trained under the expert tuition of Mike Portelly, and does a lot of work for...