Articles
Getting to Know TED: Lia Barrett Talks Underwater Photography and Conservation

There are a few things in this world that totally freak me out: heights, leeches and public speaking. Yes, public speaking. From show and tell in grade school up to having to present my work every week at Parsons School of Design, where I studied photography, it has been an ever-present fear.
And so, over the past several years when I've had to do presentations on my work, I'll turn to the usual crutches: hiding behind podiums and notes, speeding through slides, and yes, the occasional shot of tequila to relax those pesky nerves. But when I was approached last fall about doing a TEDx talk, I knew that this was a totally different ball game. In short, I was "going to the show." And as honored as I was to be asked, the voice inside my gut said, "You must be crazy!" and "No, you really shouldn't rely on tequila for this one."
Doing a TED or TEDx talk ("x" stands for independently organized) is an experience like no other. You are expected to engage your audience, memorize your talk, and make sure people walk away with a sense of what your "big idea" is. Whether they agree with it or not, that main idea is what a TED talk is all about. In my case, after going back and forth with my speaking coach—we are each given a coach to help us work through our talks—I came up with the following as my "idea sentence":
In creating underwater photographs, it is my duty to make a seemingly scary, tempestuous and unknown realm relatable to a world of people who depend on these vital bodies of water for our existence.

World Record holding freediver, Alexey Molchanov, in Angelita Cenote, Mexico

Thus, the main goal of my talk was to show people how using underwater photography can be a tool for conservation. And in my work, one of those added layers of familiarity comes from using human models. Hence, the title, "Human Connection for Ocean Protection" was created.
Once I had a working idea sentence, I was better able to structure my talk. I included stories from my journeys in a homemade submarine, crocodile encounters, and a whimsical shoot with porch furniture and sharks that went viral. In bringing the human connection to the forefront, I showed landscape images that included freediving legends like William Trubridge and Alexey Molchanov.
And in order to drive my point home, I reminded people that our impact is widespread, even if we can't see what lies beneath the ocean surface (most of the viewers are not scuba divers), and that each and every one of us greatly depends upon this vast and seemingly scary space for our survival. With images supplied by 5Gyres.org and conservationist Shawn Heinrichs, I was able to show a side of our impact that we are not always aware of, or that we would like to ignore. Finally, my point was to take a critical view of our daily choices. Not everyone has the immense privilege of loving and sharing the ocean experience, and so it is difficult to care about that which we cannot see.

"Coffee with Sharks," the image that led to a CNN interview back in 2013

How to Do a TEDx Talk
Submit an application. There are several individually organized TEDx conferences around the world. You don't have to be from a given place in order to do a local TEDx event.
Have someone nominate you.
Find someone who organizes an event, and tell him or her your big idea.
Make sure your idea is novel. TED's byline is "Ideas worth spreading," so make sure your idea is, in fact, worthy of sharing.
Bring stories, personal history and relatable rhetoric into your talk.
Make sure your goals are not for personal or financial gain, but to serve a broader purpose. Education is the goal and exciting people about your idea is the focus.
After practicing well over 100 times over a few months, I finally headed to Nashville, Tennessee. When I got there, I noticed that my fellow speakers weren't at all intimidating—just an astrophysicist, a National Geographic explorer/comedian/paleontologist, a guy who saves children in poor areas of the world with his mobile health technology, and oh yeah, Emmy award-winning rapper, Lecrae. Not to mention the best-selling New York Times authors, the PBS producer, the viral musician Kawehi… you get the picture. And there I was, in my Prawno Apparel hammerhead shirt and my sparkly shoes, wondering how on Earth I got there.
But interestingly enough, when I walked out onto the stage of the Tennessee Convention Center, with all the lights ablaze and just a sea of people in front of me, suddenly, the stage fright dissipated. Don't get me wrong, I was still freaked out, but for some reason, I was able to embrace the situation. After all, here were almost 2,000 people prepared to listen to me talk about the ocean for 18 minutes.

Lia presents "Human Connection for Ocean Protection" at TEDx Nashville

I ended up yearning to engage the audience because I knew that the message really could not be overshadowed by my fear. So when I got to the last paragraph of my speech, I was able to take a breath, pause, and feel this most incredible moment. And as I walked off stage, I felt that if only a few people went home later and started turning off their lights and considering their plastic consumption, that all the nerves, hours of practice and fear conquering were worth it.
And so, though you might not do a TED talk (or you might), think about how your role as photographers, as divers and as ambassadors of the ocean can impact even a few individuals, and share your message wherever and whenever you can.

A sea lion off of La Paz, Mexico
RELATED ARTICLES
Be the first to add a comment to this article.
Newsletter
Travel with us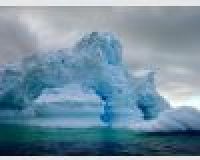 Antarctica
Plan Your Adventure >
Featured Photographer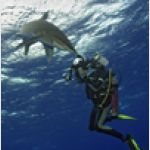 David Fleetham
Expert Photographer
David Fleetham has been diving and photographing underwater since 1976 and has been in Hawaii for over twenty years. His photographic work can be seen in every North American dive publication and endless books and calendars. He...