Articles
"The Shaman": Making an Underwater Music Video
By Ian Bongso-Seldrup, May 6, 2022 @ 08:00 AM (EST)
Bartosz Stróżyński as "The Shaman"

In underwater photography circles, Bartosz Stróżyński has made a name for himself capturing Antarctic leopard seals, Nile crocodiles, Amazon river dolphins, and White Sea belugas. But head over to his website and you'll see two other disciplines playing just as prominent a role in his creative life: filmmaking and music.
In recent years, Bartosz "Niemy" Stróżyński's lifelong love of music creation has found expression in his alternative band, Nieme Kino (meaning "Silent Cinema"). They released their first album in 2018, and the follow-up, Nieoczywistość (which translates as "Non-obviousness"), is released on May 12th.
Perhaps, then, it was only a matter of time before this talented Polish artist would bring all these art forms together in one fascinating project—the award-winning music video for "Szaman," the first single from the new album, which is shot almost entirely underwater. To find out more about the visually arresting five-minute film, we caught up with Bartosz to discuss his passion for "three arts," how he went about planning and producing "The Shaman," and how you convince your bandmates to play their instruments submerged in a chilly Polish lake…

The award-winning music video for "Szaman" by Nieme Kino

DPG: Your underwater photography work is well known in the community, but people may not be familiar with Bartosz Stróżyński the composer and musician. Tell us a little about your musical background. When did you establish your band, Nieme Kino?
When I was teenager in high school, I was very keen on music and I wanted to become a professional musician, but I was also very aware that it would be a very difficult and risky path. As I was purely self-taught, studying music at university was out of the question. Ultimately, I decided to study finance and management, with the plan to quit the corporate world one day and become fully engaged in artistic activities. And it happened: When I was 37 years old, I changed my life completely. The first step was underwater photography, then underwater film, and finally I returned to music—after a 20-year break!
I established Nieme Kino around 2016, and in 2018 we released our first album, called "The Saddest Car Around". At that time, I was doing vocals, keyboards and electronics, with my bandmate on saxophones. The two of us played like this for quite a long time, with a pretty good run of concerts, but I wanted to go further and involve more creative people, especially for live performances. Now there are five of us in the band, the original members plus double bass, drums, and my son supporting us live on electronics. The music is stranger than strange, more alternative than alternative, where the lyrics are very important, but not necessarily the sweetness of the message… Our second album, Nieoczywistość is released on May 12th, and I can't wait to share it with people.

Nieme Kino play underwater in a frame grab from the music video

I see myself as a polymathic artist. I am fully involved in stills, film and music, and I try to link them in all my work. I could not just be a photographer or a musician. I would get bored. I need to have unlimited freedom of expression, and that's what Nieme Kino is about. We don't just do concerts—it's always a mix of music, film, and photography. Being involved in three arts—not only creating images, making films or writing songs, but also editing and producing everything personally—gives me great artistic freedom.

DPG: In your 2020 documentary film Three Arts in Antarctica, both your musicianship and your filmmaking talents were clearly on display. How did that project influence the idea to shoot a music video underwater for "Szaman"?
An underwater music video was a dream long before the "Three Arts in Antarctica" project. So, it didn't influence the idea, but it definitely helped in terms of execution due to the huge learning experience during that project. I shot test photos for "The Shaman" a long time ago, but it was a very ambitious project, and it had to wait for the "right" time. The lead role in the video is played by my son, and when I look now at the test shots and see how young he was then, I can't believe so much time has passed! But I'm happy I didn't rush it, and I hope that comes across in the final video.

Bartosz suited up and ready to jump into his local lake

DPG: We non-Polish speakers won't appreciate the lyrics to "Szaman," but we have a sense that the track's emotional intensity is perfectly suited to the underwater narrative. Which came first in your mind—the song or the images?
Actually, I have added a translation on our YouTube channel. It's not a professional translation, but it gives you a good idea of what the song is about. Music and pictures are about feelings and emotions—these are the guiding factors for me. If I don't feel it, I change the idea. I rely on my intuitions. I even limit outside suggestions. I know that potentially limits the quality of the result, but for me, it is more important than anything else to share DNA with my art.
For "The Shaman," the concept for the video, the way I wanted to present it, was first. In fact, when we released our first album, I was considering making the video for a different song, but at that stage, I thought we were not ready. The piano, the drums, and so on, that you see in the video, I bought them second hand, but fully functional, many years ago with this particular purpose in mind. My wife was very upset as I was keeping them in our garage. When we made the video, she said, "Finally, we'll have some space!" Little did she realize that I would bring everything back, as I already had an idea for another project!

The moment of truth—but do the band know what they've let themselves in for?

DPG: Tell us about your process in conceptualizing an underwater music video that features the actual members of the band. How did the band react to the notion of becoming "underwater performers"?
The preparation was the same as for any other film production—except that low-budget productions require more careful financial considerations. Usually, I start by developing my initial vision into a more detailed concept. Then, I try to write a screenplay—nothing very complicated, just key scenes. After that, I try to sketch some simple drawings. In the meantime, I work on the scenography and mess up my garage…
Normally, the people involved know the general idea, but no details. I explain everything just before I'm ready to start shooting. So, the band wasn't really aware of what would happen. They knew that it would be an underwater related activity, but as they are not divers or even swimmers, they never imagined what I had planned. That was my trump card! It was September, a sunny day, but only around 15°C [59°F] outdoors and around 13°C [55°F] underwater.
With the band, we spent one full day at the lake and achieved everything I had planned to do. My bandmates were very disciplined and focused. They certainly struggled in an unfamiliar environment, but they wanted to prove themselves, and they did! I really felt like I was working with underwater professionals. Respect to them! I know it was very challenging, but they managed. After many hours in the water, very cold and tired, we finished the job. Having said that, I don't believe they would let me do it again!

Maneuvering the piano into position

There's no going back now, boys!

DPG: Where were the scenes for the video shot? What guided the choice of location? Optimal water depth seems to be a critical factor for the portions featuring the band…
We did everything in freshwater lakes round my hometown, Poznań, in Poland. There aren't many options here, as lakes tend to be very murky and dark, and it is very difficult to find the right window with good visibility and good light. Most of the shots were captured in Powidzkie Lake, a place where I started scuba diving years ago. It's an especially clean lake and a very emotional place for me. A few topside shots were captured at Kierskie Lake. Polish lakes are best in early spring or early autumn. Otherwise, the water is green and murky due to algal blooms. But even during these good periods, the water can be very capricious… We were very, very lucky to get the excellent conditions that we had.
For the band, the right depth was crucial, both for safety reasons and also for attractive light. It had to be a sufficient depth for it look good, but shallow enough for relatively easy breathing and for the band members to have a comfort zone. We were achieving underwater sessions of around a minute or a minute and a half. My son's "underwater running" sequences were filmed deeper, as much as three metres, as he was comfortable doing it. It was still quite a challenge, as he was heavily overweighted. Getting a breath between runs required a lot of strength. Afterwards, he was exhausted but very proud. The result was magical…

Bartosz's son sprints underwater in a scene from the video

DPG: You were scriptwriter, producer and director, and we're guessing you were the cinematographer as well. What other personnel contributed to the shoot?
Yes, I did all that, plus post-production. Quite a lot of duties. Even the shots of myself were kind of selfies. I set up the camera and then my son was holding it for me. It was a very small, motivated team: the band, my wife, and my son's girlfriend.

DPG: Tell us about the camera gear used in the video.
My camera system is a RED HELIUM 8K S35 in a Nauticam housing with two top-of-the-range Keldan lights. I use the Canon 14mm, the same lens I use for all my underwater stills, and the Canon 8–15mm Fisheye. For post-production, I use DaVinci Resolve Studio on a Mac system with an Eizo ColorEdge CG318 4K monitor.

Bartosz gets his makeup applied; the RED HELIUM rig is ready to go

DPG: The lighting is crucial for creating the video's particular atmosphere. How much was shot in ambient light? Was artificial light used?
I used only ambient light. The weather was very forgiving, and the sun was sufficient. In post-production, I felt I should have used artificial lighting in some shots, but it was too late.

DPG: The bubbles are a strong element throughout the film. How difficult was it to make this work so effectively?
That is all pure nature—no artificial bubbles. When diving there before, I discovered that the lake bed contains a kind of gas, and when you touch the bottom, gas leaks out. I thought this would be a great effect for the video, and that's how we got those amazing bubbles. Of course, it wouldn't have looked so nice without the sun rays.

In a frame grab from the video, bubbles rise as the sax hits bottom

DPG: Anyone who has put music to video knows how tough this task is, but a music video shot underwater is a whole other challenge! What difficulties did you face during post-production?
The biggest challenge was synchronization. When we were shooting, there was no final mix of the song yet, so we couldn't stick to a defined length and structure. Instead, after submerging in synchrony, we each sang pre-agreed musical passages to ourselves in order to stay in rhythm. It wasn't perfect and it was very challenging during editing, especially regarding the drums, but it ended up working well.

DPG: Give us a sense, in numbers, of what it takes to make an underwater music video?
With respect to budget, the video was produced at very low cost in terms of cash spent—I believe overall it was less than US$1,000. Regarding time, the preparation stage was long—hard to say precisely how long in days—but the final shoot took only two days.
Editing always takes time. When planning this type of project, I usually assume one month from the first day of shooting until the final render of the project, and I believe this was roughly the time it took. Of course, that doesn't mean it was 30 full work days. Creating art is not just about doing the technical work; it's also about how you realize on screen, in your ears, what is in your imagination. One needs time to get some "distance" from the work in order to find the right level of self-criticism. Even if a project is finished technically, it may feel like there's something missing. It can take time to correct a sense that something is wrong and arrive at the best possible feeling about a work.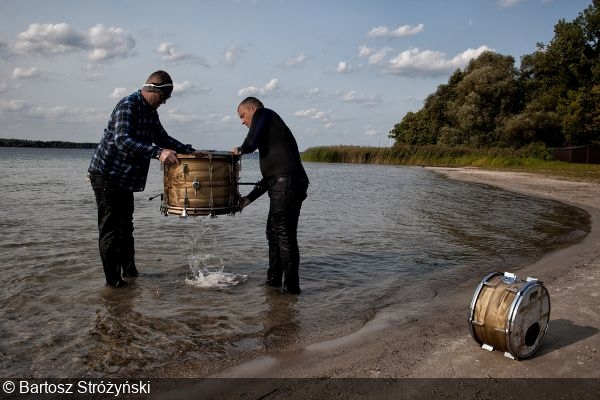 That's a wrap: Emptying out the drums at the end of the day's shooting

DPG: "Szaman" is the first single from your band's new album, Nieoczywistość (Non-obviousness), and you've released a second video, "Jabłko" (Apple) featuring underwater scenes. Can we look forward to more underwater music videos from the album?
I already have quite clear ideas for the next two underwater music videos. Of course, it becomes more difficult, as everything you do later is compared to "The Shaman." I will try to make the new videos unique, as much as possible. Either way, you can expect new stuff in the coming months, and I promise it will at least be intriguing!

DPG: Finally, any chance of a sneak preview of your future music, film and photography projects?
I had quite extensive plans concerning my main passions, Antarctica and the Arctic, but two years of pandemic ruined all that, and I am starting from scratch again. In the coming months, I will work on two or three new music videos for songs on the new album, and we will also go on a short tour after the summer holidays.
I plan to finish my third book on underwater photography, specifically about the risks related to my underwater encounters with some of the most dangerous animals on the planet. As well as the stories behind the images, it will include the most interesting and amusing anecdotes from my underwater life. I hope to publish it at the beginning of 2023.
At the top of my list is a feature film related to the underwater world. It requires a real budget, so it will take some time, but I believe sooner or later it will happen.

Final scene: The band heads home—with the waterlogged piano

---

Nieme Kino's second album, Nieoczywistość (Non-obviousness), is released on May 12th, 2022. "Szaman" (The Shaman) and "Jabłko" (Apple) are the first two singles from the record. The band released their first album, Najsmutniejsze Auto w Okolicy (The Saddest Car Around), in 2018. niemekino.com.pl

---
About Bartosz Stróżyński: Bartosz is a professional underwater filmmaker and photographer, songwriter, and leader of the band Nieme Kino. Fascinated by Antarctica and the Arctic, he specializes in underwater film and photography in cold environments and big animals.
Bartosz's articles on diving and underwater photography have been published in National Geographic Magazine, Foto, Scuba Diver Through the Lens, Scuba Diving Magazine, X-Ray Magazine, and Sport Diver, among others. His work has been awarded in various international competitions, including the prestigious Krakow Mountain Film Festival, International Photography Awards, Siena Awards, GDT European Wildlife Photographer of the Year, Por el Planeta, Magellan Prize, and National Geographic Great Photographic Competition.
The founder and head of the Three Arts in Antarctica project, Bartosz was the director, producer and underwater cinematographer of the "Three Arts in Antartica" documentary, released in 2020, which was an official selection of the Humandoc Festival, OnArt Poland Festival, Krakow Green Film Festival, Wildlife Conservation Film Festival NY & LA, Krakow Mountain Film Festival, International Ocean Film Festival, World Whale Film Festival, Thunder Bay International Film Festival, Korea International Ocean Film Festival, and Reykiavic Close-up Film Festival. It received the Best Polish Film prize at the Krakow Mountain Film Festival. The documentary is distributed on Canal Plus.
Bartosz authored the photography book "AntArktyka. Podwodne zauroczenie" (Underwater Arctic and Antarctica), published by National Geographic in 2014, and the book "Three Arts in Antarctica," published by Bezdroża in 2018. His photographic exhibitions "The Best of Underwater Obsession" and "Three Arts in Antarctica" appeared in 2017. fimufo.com
RELATED ARTICLES
Be the first to add a comment to this article.
Newsletter
Travel with us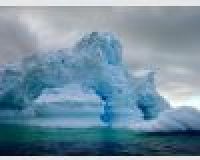 Antarctica
Plan Your Adventure >
Featured Photographer
Peter Verhoog
Expert Photographer
Peter Verhoog is one of Europe's most acclaimed underwater photographers, based in The Netherlands. He was born in 1955, leant to dive in 1976, and took his first underwater photographs in 1978. During his journeys he...