Articles
Swiping and Tapping at Tiger Beach with iPhone 7

I was preparing to dive with tiger sharks in the Bahamas this year, and realized it was time to get an underwater camera. I have owned them before, but I did not want to rush out and buy another high-end camera setup. A thought popped up: "I wonder if anyone has made a proper housing for iPhone?" A quick search revealed lots of waterproof cases, but one stood out as something serious—Valstech's $295 LenzO.
The moment I saw the housing, I immediately knew that this was something different. It had swing arms with buttons to control on screen swiping and tapping, a dome port, built-in green and blue water filters, and a 100-meter depth rating. It was a proper housing—and I had to try it.

The LenzO comes in yellow, black and the blue Jean-Michel Cousteau, Ocean Futures Society version shown here. A portion of the sales of this model is donated to the Ocean Futures Society
Setting Up the iPhone and Housing
To get your iPhone ready for use, you're required to set up icon placement, so you can reach icons with the LenzO's housing controls, and turn off notifications, so you don't get interrupted underwater. With the native camera app on iOS, the housing allows the user to change the camera mode, adjust and lock focus, and set exposure, as well as navigation and changes to iPhone settings. You can even review photos and videos underwater. And, of course, there is the ability to use the front-facing camera for selfies!
The LenzO's built-in filters restore color lost as you go deeper. Located inside the housing, the filters are moved into place using a simple external selector switch. There are just two filters, a red one for blue water and a magenta one for green and shallow water. You can also choose to have no filter when you and your subject are near the surface. Try out the different possibilities in a variety of conditions and see what works best, or where color-correction may be required for images to look more natural.
To complete my rig, I added a pair of handles from Ultralight Control Systems, though I left testing with video lights to a future occasion. After a few pool tests, the ocean beckoned, and super excited, I was now ready to head off in hopes of finding sunshine, blue water, and sharks—lots and lots of sharks!

Testing the iPhone 6s in a pool to get familiar with how the controls operate underwater
Taking Your iPhone to the Beach
Our trip to the famed Tiger Beach was operated by Blue Iguana Charters on the MV Kate. Located a few hours out of Freeport, Grand Bahama, Tiger Beach is really just an area of shallow water (20–40 feet) that is known for sharks.
The first day was cloudy, windy, and the water was not as clear as I had hoped. For the next five days, however, things improved greatly, with sun, clear water, and mellow seas. And not only did we get plenty of tiger sharks, we also scored lemon sharks, reef sharks, a couple of bull sharks, and even a beautiful great hammerhead. With near-perfect conditions, the stage was set to see just how well this setup could perform.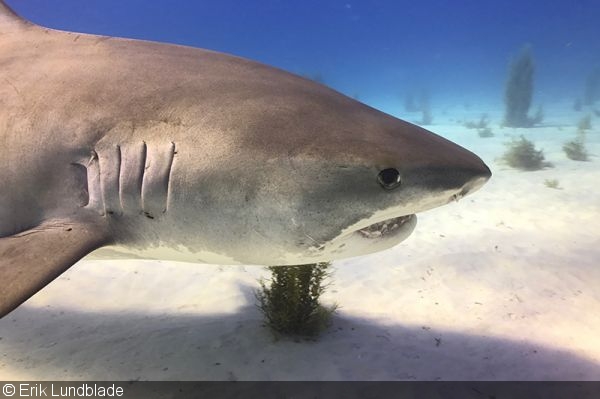 In favorable shooting conditions, the iPhone camera's f/1.8 lens produced bright, clear shots with great detail that in some cases required no editing
Swiping and Tapping Underwater
I found the LenzO to be very intuitive and fun to use. Framing shots was easy on the large iPhone screen, as was setting focus and exposure. I am first and foremost an underwater video shooter, but I wanted to test the rig's still photo abilities, too. I also captured slow-motion, time-lapse, bursts, HDR and panoramas of the sharks. Here are the main pluses and minuses I found during testing:
Strengths
Both photos and video are excellent quality, with bright colors and sharp details. The f/1.8 aperture of the iPhone 7 camera allows for well-exposed photos and videos in a variety of conditions without the use of lights
High-quality 4K video results can be achieved with the excellent optical stabilization on iPhone 7
The swing arms make it possible to set focus and exposure as well as easy switching between camera modes in the native iOS camera app
When focus and exposure are locked, you can easily tap and swipe to change exposure
Operation is intuitive as users already know iOS, the native camera app and how to navigate menus
Lightweight and compact for travel, the LenzO allows you to add handles and video lights
The LenzO is compatible with iPhone 6, 6s and 7
The setup produced nicely exposed images without the need for artificial lights (as shot with no color correction)

Some color-correction as well as brightness and contrast adjustment were necessary on this shot of our shark wrangler watching the great hammerhead

Weaknesses
While video was more forgiving in low light, still photos fared less well. When the sharks were further away, or when light levels dropped, images tended to look a little muddy. Some also took on a surreal, almost painting-like, appearance. While the effect was attractive, a bigger lens in the same light would produce more accurate results.
More control over the camera settings would be ideal. For instance, locking exposure, while still leaving autofocus enabled, would be useful. However, such limitations lie mainly with the iPhone's native camera app, and users can look to third-party camera app developers to solve them, as well as add other features and control.
There was sometimes a little focus lag in lower-light conditions. A limitation of the camera, rather than the housing, this isn't unexpected.
In lower-light conditions, the reduction in quality of the background was noticeable, but perhaps better than expected given the small size of the iPhone's camera lens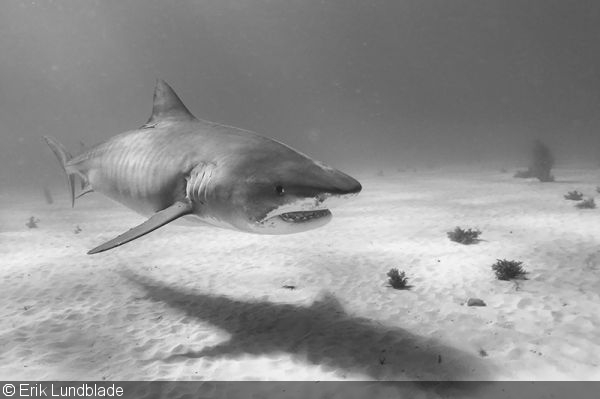 In some shots, the iPhone's auto-exposure produced a noticeable color cast. In this instance, converting to black and white made for a pleasing photo, with great detail in the shadows
Tips and Tricks for Shooting with the iPhone 7 in LenzO Housing
Get used to the setup a bit before your dive trip so you're really familiar with how everything works. As you get accustomed to the rig, you'll have a chance to think about the possibilities before you even get into the water. Better yet, if you have a pool or lake nearby, give it a try there first.
As with any housing, proper maintenance is a must. Make sure there are no water droplets inside the case so as to not have fogging from condensation, and wash carefully with fresh water after each dive. It's a good idea to carry a number of appropriate cleaning cloths dedicated to the different parts of the rig—one for the phone, one for your dome port and filters, and one for the rest of the housing. Also, get a spare dome port for the LenzO: Don't let a scratched port ruin your images or footage.
Most people will find the LenzO much easier to use with the addition of handles. These also help you to produce smooth and stable footage. If you have a portable USB charger, bring it along so you can top up your iPhone battery during surface intervals—your phone charges quite fast compared to traditional rechargeable camera batteries.

4K video shot with iPhone 7 and LenzO housing. The video really shines on a 4K HDTV
Final Thoughts
Overall, I give the platform a thumbs up. While it's not perfect, the system still produces very satisfying results when diving conditions are suitable. I will continue using my iPhone with LenzO housings alongside other cameras on future projects. For their part, Valstech seem to know they're onto a good thing, with a LenzO housing already announced for iPhone 7+ and 6s+ coming in early 2017.
At DEMA 2016, Valstech mentioned that there will be add-on lenses in the future, and these would be most welcome, particularly dedicated wide and macro lenses. The company also showed off a prototype set of handles, coming out at the beginning of next year, which have a trigger in the handle to take photos or start and stop video capture. I look forward to trying out third-party Bluetooth-controlled video lights, which were also on display at DEMA. I can imagine—one day—an iPhone housing with the ability to trigger strobe lights, too. It will be interesting to see how the platform matures.
This compact setup has the potential to produce excellent results, and I imagine many of you who are reading this will be as excited as I am to use the iPhone/LenzO combo for all kinds of water-related activities. I can't wait to see what people do with it!

A panorama of Tiger Beach, with no color correction and only slight cropping

---

About the Author: Erik Lundblade is a producer/cameraman with Oceans Below, Koh Tao, Thailand, and a host of TapWaterTV, Mobile Underwater Photo/Video Workflows. He was formerly a member of the Camera and Photos Team at Apple Inc. and the Adobe Premiere Pro Team. He has PADI Divemaster/Rescue/SDI Solo Certification as well as BSAC Pro Underwater Video Certification.
RELATED ARTICLES
Be the first to add a comment to this article.
Newsletter
Travel with us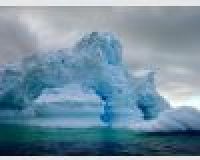 Antarctica
Plan Your Adventure >
Featured Photographer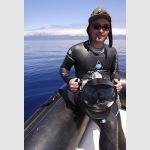 Jens Kuhfs
Expert Photographer
Born a Pisces, it should be no surprise that he has taken to the water. Jens Kuhfs has taken to the underwater. And he takes us with him when he captures his encounters in the blue depths of our planet with his camera, and...