Articles
Let's Split: Surrealist Over-Unders with Custom Tank

Over-under images are truly magical—they capture the boundary between the world below the water and the one above. You might think to capture stunning split shot's you'd need to get your feet—or more—wet. That, or some nifty Photoshop tricks.
But one entrepreneurial conceptual photographer found a new way to create surreal over-under images from dry land: Lara Zankoul decided to build a custom water tank/photo studio from scratch.
"I wanted to shoot [over-under] photos in a room that would be split in half, without using Photoshop." explains Zankoul of the inspiration behind her "The Unseen" photo series. "I had no idea how to do that until a friend told me about an artificial way of shooting underwater by filming through a giant glass tank, and voilà—the solution was found."
Zankoul is known for creating off-the-wall sets for her shoots, including ones with a human-sized iPhone and tea cups. But this set presented challenges like she'd never experienced before: The original tank exploded from the water pressure during tests. Fortunately, the incident didn't hurt either photographer or model, and they invested in stronger, thicker glass when creating the 500-plus gallon tank.

Creating the tank allowed Zankoul to piece her artistic vision together through a combination of props and costumes, along with multiple models

Zankoul was able to create a wide variety of images with the same background

The efforts and struggle were well worth it for Zankoul, who prefers the ethereal tone produced by elaborate sets, rather than over-processed images in Photoshop. That's not to say she doesn't have an appreciation for the place of post-processing in conceptual imagery, but Zankoul does feel it detracts from the hands-on creativity needed to achieve greatness.
"The project wouldn't have meant as much to me if I had done it artificially," confesses the Lebanon-based photographer. "For me, the creative process is very important—creating the set rather than capturing them through my lens is the most motivating."

The water tank helps accentuate Lara Zankoul's surrealist vision of the world, including this model ship sailing through a storm, on top of a bedside table

"The Unseen" remains one of Lara's most challenging projects to date, with several models, complicated sets, and costumes all contained within a 500-plus gallon tank

Perhaps most impressive is that many of the compositional and subject material came to Zankoul on the fly. With the tank filled, inspiration rolled in, one idea right after another. In an effort to add diversity to the project, Zankoul played with different colors, costumes and props. It is the diversity of compositions that make you forget all of the images are shot against the same background.
"Once the first idea came through, it was easy to think of all the different scenarios that were going to take place in the tank," recalls Zankoul, who says her favorite photo of the series is "The Zoo." "I wanted to show the different situations where people would be different in appearance in contrast to their realities."


We encourage you to view the series in its entirety, along with more of Lara's work on her personal website.
RELATED ARTICLES
Be the first to add a comment to this article.
Newsletter
Travel with us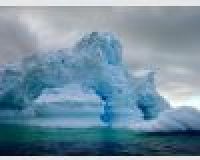 Antarctica
Plan Your Adventure >
Featured Photographer