Articles
What Springs Bring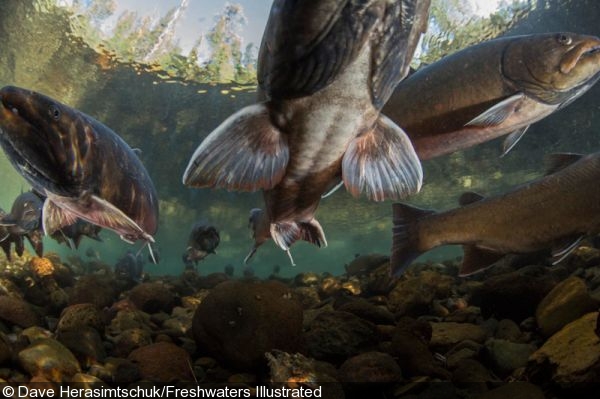 Even in shallow streams, you can find the low angles that can help elevate your subjects and separate them from the streambed

Our short film, "Clackamas Complete," takes viewers into the world of the bull trout, one of the coolest fish in the Pacific Northwest—quite literally. Bull trout spawn and rear in the coldest spring-fed creeks in the Cascades and Northern Rocky Mountains. To capture their beauty and behaviors, we worked with biologists to find some of the pristine stream habitats to carefully film these endangered fish. Here, we offer general tips to finding and diving in springs of all kinds, and capturing their wonder.
NOTE: Bull trout are a federally threatened fish species and should not be photographed in their spawning streams without the cooperation of a federal biologist. Trout nests can be difficult to identify and easily disturbed. See spring stream destinations below, for good spring stream locations.
Mountain Springs: Not Just for Beer
Rivers rarely have the clarity needed for exceptional underwater photography. Even in the Pacific Northwest—a region known for its pure rivers—a century and a half of intensive logging, floodplain agriculture, and urban development have left most river systems with a legacy of increased sediment and silt from their headwaters down to their estuaries.
Fortunately, for both bull trout and underwater photographers, the Pacific Northwest is also rich in springs. In the volcano-tipped Cascade mountains, decades-old rainwater and snowmelt slowly cycle through ancient underground plumbing and return to the surface in instant clear mountain streams, not to mention some of the clearest lakes in the world.

A spawning pair of bull trout (brightly colored male above) sits above a gravel nest, or redd, where eggs will be laid. Bull trout are a federally threatened species and their spawning nests are very sensitive to disturbance. Photography of these fish should only be attempted with the cooperation of biologists

These spring streams are the natal home of bull trout—and where these migratory fish are drawn to every fall to spawn. While females dig nests, or redds, in gravels, brightly colored males spar for dominance and access to females. This drama unfolds in bubble-filled pools of cascading aquamarine streams, beneath the canopy of towering conifers. It's the stuff of a Nature photographer's dreams—if you don't mind 40-degree (4.5°C) water!
Of course, springs provide great freshwater snorkeling experiences almost anywhere you go, from Pacific Northwest mountain streams to Florida lowlands, and almost anywhere in between. Many springs are popular destinations for hikers and sightseers, but there are many more to go and find. Most good maps show spring locations, which are marked with an icon, and the DeLorme Atlas & Gazetteers (available for every US state) has them thoroughly covered.
Suiting Up
Most mountain springs deliver cool water, and require a thick wetsuit or drysuit for the still work of photography. Sadly, the Cascade spring streams that bull trout are drawn to generally range between 38 and 44 degrees (3.3–6.7°C), which we faced with well-insulated OS Systems and USIA drysuits, extra-thick hood and gloves, a couple of breakfasts, and some strong language. The increased buoyancy of drysuits can result in constrained movement in the water, but weights and negative buoyancy can pose a more serious safety concern in swift rivers (see our article on safely accessing freshwater).

A relocated bull trout is released by an Oregon Department of Fish and Wildlife biologist into the Clackamas river, where they were extirpated decades ago by overfishing, habitat loss, and dam-building
Getting Deeper into the Shallows
Our goal in filming "Clackamas Complete" was to visually celebrate the beauty of bull trout and the environments they live in. One of the key ways we do this is by constantly working to visually level with our subjects. For many snorkelers, there is a tendency to shoot downward, since our heads are usually at or near the water surface. These images often have a diminishing effect and do little to separate fish and other creatures from the background they work so hard to blend in with.
Doing short dunks to get your head and camera down to your subject is a good way to level with your subject, focus, and frame shots. We use 45-degree viewfinders, and external video monitors like the superb SmallHD DP4 in the Nauticam NA-DP4 housing, and there are many times where we shoot blind with no visual reference to a viewfinder at all, just to get a lower angle on a subject. Carefully anchoring your camera to the streambed can give you rock-steady shots while keeping your body anchored against currents.

External monitoring options like the SmallHD DP4 allow for easier low-angle framing, which produces images that are more "at the level" of your subject
Capturing Intimate Glimpses…
To get in tight with bull trout, we use standard macro lenses (50 or 60 mm) and flat ports with our DSLR cameras. Clear spring water allows for great medium and telephoto macro shots while allowing a reasonable working distance from these sensitive fish.
… and Dynamic Action
To capture action and place bull trout in their environments, we use standard fisheye lenses with dome ports. As with our macro shots, low angles usually give us our best wide-angle images, but the wider angles also allow for smooth camera movement with video. For example, smooth dunks into the water helped us place bull trout habitat within the temperate rainforest landscape.

Split shots are relatively easy in streams, and are a great way to place river habitats within their surrounding environments

Bubbles can help illustrate the dynamic and turbulent habitats of stream fish. Look for areas where small cascades and riffles bring bubbles into the water
---
Spring Stream Destinations

FLORIDA SPRINGS
One of the easiest and most-accessible places to experience spring streams is in Florida, where many spring sources have been developed into swimming holes, and feed clear rivers full of fish, turtles, and the occasional marine mammal. The images and films of the great Wes Skiles are inspiring "springboards" into these enchanted waters.
More information: Florida's Springs

OZARK RIVERS
The Missouri and Arkansas Ozarks are full of spring streams that teem with fish, turtles, and humans. The Current and Jacks Fork Rivers, are designated "Wild and Scenic" and are managed by the National Park Service. These rivers are a popular canoeing destination and also offer some great underwater photography opportunities.
Warning: These rivers are cold and swift. Choose calmer snorkel locations that are free from downstream hazards like rapids, bridges, and logjams.
More information: National Park Service: Ozark

CASCADE SPRING STREAMS AND LAKES
The Cascade mountains in Oregon and Washington have some of the clearest water in the world, which feeds rivers like the Clackamas, McKenzie, and Metolius, and lakes like Waldo and, of course, Crater Lake. Because of the high volume of water flowing from springs, Cascade rivers maintain high water clarity throughout their upper reaches, and are great places to photograph salmon, trout, whitefish, sculpins, and aquatic insects.
Warning: These rivers are extremely cold and very steep and swift. Only those with experience in rivers and a proper wetsuit or drysuit should attempt to dive.
More information: Forest Service: Mt. Hood National Forest, National Park Service: North Cascades
RELATED ARTICLES
Be the first to add a comment to this article.
Newsletter
Travel with us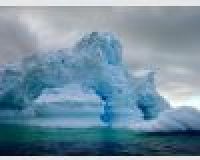 Antarctica
Plan Your Adventure >
Featured Photographer Carlos Suarez
Expert Photographer
Carlos Suarez was born in 1969 and is a native of Lanzarote, one of the Canary Islands. The influence of the Atlantic has marked his entire life and this can be seen in his photographs which reflected his fascination with...