Articles
Close Encounters of a Spotted Kind
By
Mike Ellis
, September 23, 2013 @ 06:00 AM (EST)
White Sand Ridge in the Bahamas is a destination known for legends of Spanish gold ships littering the area with treasure. And for finned treasures, there's bottlenose dolphins, tiger sharks, barracudas and the occasional hammerhead shark.
The weather is calm and hot, and the air has a sweet salt smell to it journeying across the Atlantic. While everyone's taking a post-lunch siesta, I grab my camera and slip into the warm 80-degree water.
I sit quietly on the bottom to listen for the clicks, whistles and bubble trails of my friends. Coming right toward me is a small pod of spotties. Click, click, click goes my camera as they put their noses practically on my dome. I realize that my lungs are telling me it's time for air. Oh yeah, air…

Spotted dolphins (Stenella frontalis)
The Atlantic spotted dolphin, in many ways, tends to resemble the bottlenose dolphin more than it does the pan-tropical spotted dolphin. In body shape, it is somewhat intermediate between the two, with a moderately long, but rather chunky, beak. There is a distinct crease between the melon and beak.
There is much developmental variation in the color pattern. Atlantic spotted dolphins begin life with unspotted background coloration. Young animals look much like slender bottlenose dolphins, with a dark cape, light grey sides and spinal blaze (variable in its development), and white belly.


Large spotting on both dorsal and ventral surfaces progresses as the animal ages. Some individuals become so heavily spotted that the cape margin and spinal blaze are obscured. However, in some populations, adults are essentially unspotted.
There are two main groups of "spotties" living near White Sand Ridge: the Northern group and the Southern. At any one time during the summer you can sometimes find them spending time together in the center of the ridge near a place called the Angle Iron wreck.


On a normal day, the dolphins will return to the ridge early in the morning after spending the night in the deeper waters just off the bank feeding on flying fish and squid. They come to the bank to play, socialize and sleep. White Sand Ridge is a great place for them to do this as the water clarity is on average 100 feet plus, very shallow with little to no reef or growth on the bottom, making it very hard for predators to sneak up on them.
The ridge is a submerged sand spit that is about ten miles long at about two miles wide and runs from the south west to the north east at the far end of the Bahamas island chain. The depth varies from 12 feet to 35 with the average at about 20 feet, perfect for ambient light photography.

Interaction with Atlantic Spotted Dolphins
In a way, the dolphins are like children with short attention spans, so the more you interact with them the longer the interaction will be. You might try mimicking them, doing barrel rolls, humming and going to the bottom to meet them. You might even try playing the bandana game with them. They love to play!


Be mindful not to chase or reach out to touch them, as they will usually bolt off to someone else and your opportunity will be missed. Some younger dolphins will actually seek out touch and offer their undersides to you for a belly rub.
The best way to interact with these animals and enhance your photo opportunities is by snorkeling, not SCUBA. Spotted dolphins love to play and they're addicted to speed so by being as streamlined a possible with no bulky gear holding you back you are more likely to have great encounters.


A good pair of swim fins and a snorkel that does not try to drown you will be your best bet. Large dive fins with booties and free dive fins tend to put more strain on the feet and ankles after long hours of kicking, while swim fins tend to be little shorter and softer, making them, and you, a bit more agile.
Put as much effort in your swimming and breath holding skills as you do in you photography and you will come back with winning images.

Spotted Dolphin Photography
The wider the lens, the better. I prefer and use the Nikon 10.5mm fisheye and a Nikon D90 with a 8" dome port. I have worked with all sorts of photographers from all over the world and have seen great results from all types of cameras, from SLRs, point and shoot, and GoPro.


Capturing dolphin photos is like shooting a sporting event. You will need a camera with little to no shutter lag and good auto focus. Shooting with natural light during the day in manual mode works for me. Without strobes, a high shutter speed upwards of 1/500th of a second is needed to freeze the dolphin's movement. Luckily, there's lots of ambient light so no need to boost your ISO or risk low depth of field with wider apertures.


You really don't need strobes as the white sand bottom is a great reflector, but sometimes one strobe will help your shooting into or near the sun and you want more detail around the eyes. The draw back of strobes is the long recycle time and their increased drag slowing you down in the water.
The one common denominator of a good capture is a super wide to fisheye lens and to shoot horizontal aiming slightly up. When swimming with them I will watch and get a feel for what they are up to and then place myself in their line and wait.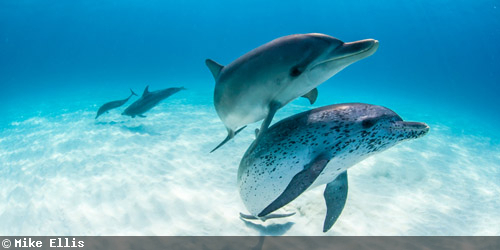 A week spent detached from the hustle and bustle of today's world is just 70 miles off the east coast of Florida. If you long for sun-drenched days and star-filled nights, excitement, and lots and lots of dolphins, then you owe it to yourself to spend a week on the dolphin grounds.

RELATED ARTICLES
Be the first to add a comment to this article.
Newsletter
Travel with us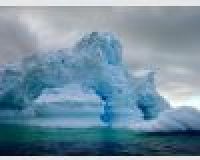 Antarctica
Plan Your Adventure >
Featured Photographer
Alex Kirkbride
Expert Photographer
Alex Kirkbride is an award-winning photographer with an international following. His water images have been exhibited in England, Italy and the United States, included in private collections, appeared on numerous covers...