Articles
Sperm Whales and the Sargasso Sea with the Sony RX100 V in Fantasea Housing
A pair of sperm whales cruise through the waters off Dominica

Two of the largest toothed predators on the planet, weighing in at a combined 75,000 pounds, press toward me through the slightly turbid waters off of the small Caribbean island nation of Dominica. And while the approaching sperm whales' size makes them the ultimate apex predators in these waters, it is the streamlined-yet-powerful prowess of the camera system in my hand—the Sony Cyber-shot RX100 V in Fantasea housing—that positions this compact among the best in class.

Simplicity and Durability
Seating only a few dozen people, the puddle jumper plane to Dominica offers little in the way of luggage space. Luckily, all of the gear I need is packed effortlessly in my slingshot backpack: Sony RX100 V and Fantasea FRX100 V housing, and Fantasea-AOI's new UWL-400F wide-angle wet lens.
The RX100 V is the most recent iteration in a line of compacts that has become extremely popular with underwater shooters—especially for photographing big animals. The latest version gets a significant boost in performance including a revamped autofocus system, 24fps continuous shooting mode, and improved high ISO performance.

The lightweight, easy-to-use Fantasea RX100 V setup makes it ideal for water sports and freediving

When freediving in 10,000 feet of open blue water, trying to keep up with sperm whales, the last thing you want to do is fiddle with complex controls or worry about a housing leak. Fantasea's FRX100 V housing is intuitive to use, even when your first go-around is holding your breath at 40 feet and trying to chase a marine mammal that dives to depths of two miles.
The housing features a comfortable, natural hand grip, two dedicated dials to adjust both aperture and shutter speed, and clearly labeled buttons. A redesigned 67mm threaded front port opens up your options for adding on a wide-angle wet lens for capturing the ocean's behemoths.

DPG Editor Joe Tepper tests out the Fantasea RX100 V setup on a sargasso frogfish
Sharp Wet Lens Optics from Near to Far
Compact cameras have come a long way in terms of their performance, but they still struggle to capture large scenes due to the limited focal length range of their built-in lenses. Enter the new UWL-400F wide-angle wet attachment, a serious piece of glass that makes the most of the RX100 V's impressive internal imaging specs. A joint product of Fantasea and optics specialist AOI, the UWL-400F increases the field of view to 120 degrees (with the lens at 25mm equivalent) with a magnification of 0.5X.
Trying to keep pace with whales that reach a top speed of 25mph is no easy task, and the UWL-400F proves highly maneuverable with its streamlined, relatively lightweight construction. Fantasea designed the UWL-400F with the same optical principles of their UWL-09F—a wide-angle wet lens for high-end mirrorless and full-frame cameras—but in a much smaller package to suit the needs of compact shooters. Some comparably priced wet lenses weigh more than twice that of the UWL-400F—thus requiring a buoyancy collar and adding drag. This lens manages to keep things light without sacrificing image quality.
The UWL-400F lens allows compact users to capture scenes at a 120-degree field of view

With a virtually non-existent minimum focus distance, the UWL-400F is only limited by how close the photographer can get to the subject. Corner distortion was minimal—and easily cropped out if needed—when only an arm's distance away from a whale. At the opposite end of the size spectrum, the lens' near-zero minimum focus distance made it possible to take eye-catching close-ups of bizarre sargasso frogfish hiding under city-block-wide stretches of floating algae.
Ultimately, when going after a killer shot of a highly prized photo subject like Dominica's sperm whales, it all comes down to image quality and sharpness. And while we haven't put the UWL-400F to an official optics test, I was very impressed by how the lens performed in different scenarios from wide-angle scenes to fist-sized frogfish.

Taking advantage of the UWL-400F's almost non-existent focusing distance to get a cool shot of a frogfish
Capturing Nature's Best Moments with Burst Mode
For some of the biggest creatures on the planet, sperm whales are surprisingly quiet. The animals that frequent Dominica spend much of their time hunting for squid in darkness, using only their namesake spermaceti for precise echolocation. It is these clicks that we follow for hours with directional hydrophones, waiting for the faint puff of mist when the whales surface.
And then it's go time: Sperm whales spend less than 10 minutes at the surface, so time is at a premium for getting in the water and up close. Fortunately for me, even a second in time can be captured in dozens of images by the RX100 V, which shoots up to an insane 24 frames per second with continuous autofocus.

When you don't want to miss a moment of the action, take advantage of the RX100 V's ultra-fast continuous shooting mode

New to the RX100 V is an updated sensor with a new front-end LSI chip for maximum processing speed. This also improves the buffer when shooting in continuous mode—up to 150 frames in just about seven seconds of non-stop shooting. In practice, the continuous shooting capability is somewhat mind-boggling. What would just be several usable photos of a sperm whale mother and her calf swimming at the surface with a different compact (or DSLR) is an entire sequence of images capturing nature at its grandest.

The RX100 V can buffer up to 150 images, making it perfect for sequential images
Shooting in the Sargasso Shadows: Fast Lens, High Dynamic Range
For the most part, the sea surrounding Dominica is as drenched with sunlight as can be. However, every once in a while, the sea darkens significantly as massive patches of sargasso algae floats by. They can grow to be miles long and when underneath them, it's like someone turned off the sun.
Of course, even such low-light conditions aren't a problem for the RX100 V. Let's start with the specs: The camera has an ISO range of 125 to 12,800 and boasts a very fast 24–70mm (equivalent) f/1.8–2.8 lens. The minimum f/1.8 aperture proved useful for capturing fast action above the water, such as pods of false killer whales and seabirds, while under the sargasso, I increased the aperture value to f/5.6 to add additional depth of field to wide-angle scenes.

A freediver surfaces under a sea of sargasso

An elevated ISO of 800–1600 proved to be adequate for compensating for the increased aperture value. The digital noise produced by high ISOs tends to be more noticeable in uniform blue backgrounds as there's less coloration and pattern to distract the eye. At ISO 800, I was impressed to find little perceptible noise in the water under the sargasso. Even increasing the ISO to 1600 provided usable images with just a little noise reduction required in post processing.
Sargasso provides the ultimate background for cathedral lighting. Stretches of near darkness are punctuated by pillars of light as the sun shines through. Shooting in RAW allowed me to have an amazing amount of flexibility in post processing. The camera recorded an impressive amount of information in nearly black portions of the frame, while highlights where the sun overwhelmed the algae could be brought down significantly. The camera's dynamic range was able to overcome the challenging lighting conditions and captured a beautiful environment rarely seen by divers.

The RX100 V's impressive dynamic range makes it possible to bring down the lowlights of the dark blue water and bring up the highlights of the streaming sunlight
Fast, Accurate Autofocus for Over-Unders
Tracking sperm whales in the open ocean is best described as hours of doldrum interrupted by minutes of unmatched exhilaration. And so, it is only natural that during the many moments when there is time to kill, even the most dedicated sperm whale spotters have a bit of fun.
Climbing to the top of the two-tiered vessel, guests and crew took turns showing off their best high diving moves—a perfect opportunity to test out the autofocus capabilities of the RX100 V. One of the camera's most improved aspects, the autofocus system now features 315 phase detection points, which cover 65 percent of the frame. Phase detection is more accurate and efficient than the contrast detection that's more common in compacts because it actually uses the light that passes through the lens. The RX100 V happens to be the only 1"-sensor compact camera to feature such a spec.
Capturing over-under images with compacts demands the fastest autofocus, because with such a small surface area on the dome port, you will essentially have to fire off a burst of images—yay, crazy continuous mode—and hope that a few capture the split.

The autofocus of the RX100 V and optics of the UWL-400F lens combine to make excellent split shots

I started off simple—shooting a relatively calm scene of a waterfall used to cool off after a grueling hike through the Dominica forest. Here, using a group of "Flexible Spot" AF points moved to the top of the frame, the camera easily focused on the human subject. Turning the heat up, I left the camera in pure AF mode and marveled as it tracked—and nailed—split shots of divers plunging into the ocean from 20 feet in the air. Talk about the ultimate autofocus challenge.

Cannonball! Keri Wilk takes a break from whale spotting to high dive off the boat
The Fantasea RX100 V Setup: Ready for Your Adventure
Nine days of swimming with sperm whales, freediving under the Sargasso Sea, and hiking up waterfalls is exhausting. But carrying the Fantasea RX100 V setup as your travel companion makes it so much more doable—without sacrificing camera performance or image quality.

Blowin' bubbles

---
| | |
| --- | --- |
| When purchasing underwater photography equipment like the products mentioned in this article, please support DPG by supporting our retail partner—Backscatter.com | |
RELATED ARTICLES
Be the first to add a comment to this article.
Newsletter
Travel with us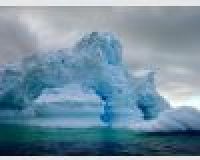 Antarctica
Plan Your Adventure >
Featured Photographer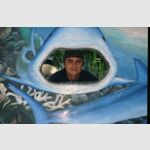 Scott Tuason
Expert Photographer
Scott "Gutsy" Tuason began his romance with the sea when he was still legally too young to dive. Still, this did not prevent him from going with his father on diving trips around the country. Gutsy's...