Articles
Sperm Whales with the Nikon D500 in Nauticam Housing
Nikon D500, Nauticam NA-D500, Tokina 10–17mm at 10mm, f/10, 1/200s, ISO 560

The last underwater camera system I purchased was the Nikon D300, in an Ikelite housing, way back in 2007. I got plenty of miles out of it over the following few years, but I ultimately adopted the life of an underwater photo gear nomad. Since 2011, I've been drifting between generously loaned systems for review and testing purposes—D7000, D7100, D600, D800, and D810, to name a few.
Then Nikon released the D500, and my decade-long gear-purchasing abstinence came to an abrupt end: 10fps continuous shooting? Crazy fast autofocus? Bottomless buffer? Non-pro price? And before I could let my natural frugality convince me otherwise, my credit card had been charged, and Nikon's new flagship DX-format DSLR was on its way.
Main Specifications
20.9-megapixel APS-C CMOS (DX format) sensor
Expeed 5 processor
153-point autofocus module with 99 cross-type points
10fps continuous shooting for up to 200 shots
Up to UHD 4K/30p (1.5x crop), 1080/60p video recording
100% coverage viewfinder with 1.0x magnification
XQD and SD card slots
A sperm whale slowly ascending toward me. Tokina 10–17mm at 10mm f/10, 1/200s, ISO 400

The eye of a sperm whale. Nikon 60mm, f/10, 1/1250s, ISO 200

With my fifth annual trip to document Dominica's sperm whales approaching quickly, I contacted Nauticam USA and they generously suggested that I take their NA-D500 housing for a spin. What follows isn't an attempt at an in-depth review of either piece of equipment, but rather some of my thoughts on the camera and housing.

Nauticam NA-D500 Housing
I've been a big fan of Nauticam's housings for a long time now, in part due to their well-thought-out control layout. On the NA-D500, as with other housings in the Nauticam range, camera controls have been relocated to convenient positions through intricately designed linkages, gears, and other complicated doohickeys.
Grips are standard equipment on the NA-D500 housing, as are the vacuum check and leak detection system
The innards of the NA-D500 are pure wizardry

Some would argue that including so many complicated transmission chains introduces many more potential failure points. While that may theoretically be true, I encountered a grand total of one problem during the month that I used this system: a single screw on the zoom gear mechanism loosened (so I tightened it, and all was well). Personally, I would trade the rare loose screw for convenient housing control position any day of the week. (And, by the looks of it, Nauticam has applied a dab of thread-lock or epoxy to almost every screw inside the housing, so I don't expect loosening to be an ongoing problem.)
Many of the most frequently used camera functions are accessible from the right grip

The right side of the housing is packed with controls—shutter release, shutter speed, aperture, AF-ON, record, info, Fn1, and ISO can all be reached from the right handle. There's nothing really out of the ordinary here, other than the ISO lever.
Traditionally, Nikon has located the ISO button either to the left of the rear LCD, or above the release mode dial (top left). In both cases, Nauticam housings have included an ISO lever easily accessible by one's left thumb. On the D500, however, Nikon "dramatically" moved the ISO button directly behind the shutter-release button, leaving Nauticam few options for ISO lever position, so they tucked it right behind the shutter release. I suspect that there was no practical way to send this function back over to the left where many have likely become used to it residing. With the usable ISO range of cameras ever increasing, will the next step in the ISO button journey be a transformative one—into a command dial of its own? Time will tell.
For Nikon users, the rear controls of the NA-D500 are intuitively laid out

As I'm sure many of you have experienced, there are usually at least a few housing controls which need to be oriented in a particular way to allow camera installation. Failing to do so can result in buttons being held down or being unusable, camera misalignment, or even camera flooding (all of which I've experienced). This is not the case with the NA-D500 housing. Installation of the camera is bulletproof, since all potentially interfering controls are either cleverly designed, or spring-loaded in ways that allow installation under any housing-control positions. After the camera is installed, housing controls snap into the correct position, and everything just works.

Tokina 10–17mm at 10mm, f/10, 1/800s, ISO 200

Nauticam has gone above and beyond to include an LED flash triggering system as a standard feature in this, and indeed every, housing moving forward. The D500 doesn't have a pop-up flash, so this is an essential tool to allow strobes to be triggered optically. I didn't bring strobes, so didn't get to test if this LED system is able to keep up with the D500's 10fps continuous shooting underwater, but I was curious, so I shot a quick video of the LED ports (see right).
It should be clear that the LED triggering system is definitely not a bottleneck here! The real question is whether or not your strobes will be able to keep up!

My dad, Les, taking a dip at the base of a waterfall. Tokina 10–17mm at 10mm, f/13, 1/250s, ISO 250
Shooting with the Nikon D500
ISO Performance
Sperm whales were the primary photo subject of the trip, so I didn't bother to bring strobes. On a few whale-less days, however, we came back to shore early enough to do some waterfall exploration, albeit in the late afternoon when light was minimal. This gave me the opportunity to put the D500's high-ISO talents to the test.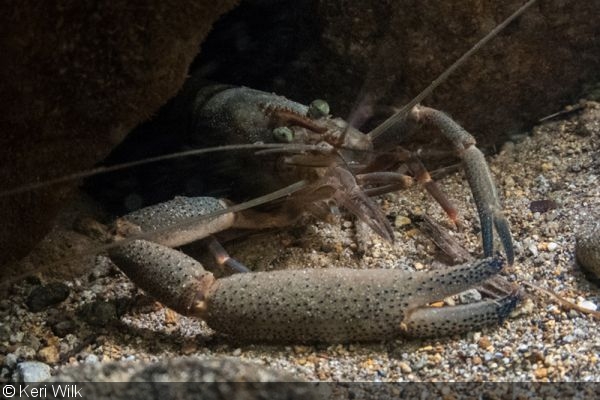 Tokina 10–17mm at 17mm, f/8, 1/10s, ISO 6400

This "langostino" (Caribbean crayfish, Macrobrachium carcinus) was in a very dark nook at the base of a waterfall (Trafalgar Falls), with no direct sunlight—despite the bright appearance of the image. Cranking up to ISO 6400 was painful at the time, but the results were much better than I expected. The ISO freedom that I felt from this scenario was similar to the feeling I got when using the D800 for the first time.

My friend, Robert Morris, showing off his rock climbing skills between the walls of Titou Gorge. Tokina 10–17mm at 10mm, f/5.6, 1/25s, ISO 6400

I found an even more demanding situation for testing ISO performance deep inside Titou Gorge, a flooded slot canyon in a rainforest. It's notoriously dark in there—even at noon, thanks to the dense canopy, let alone at 5pm when we ventured in. To make matters worse, shooting from the pitch-dark canyon toward the much brighter sky meant that significant post processing would be required to even out the exposure.

These are 100% crops from the previous image (the red rectangle) at three stages of processing. Top: What ISO 6400 noise looks like in the unedited RAW file. Middle: After significantly bringing up the shadows, and the results are pretty nasty. Bottom: An impressively clean image after just minor noise reduction in Adobe Lightroom. I'm very happy with the results of this worst-case shooting scenario

Could the days of grudgingly cranking up ISO levels be over? I shot this sargassumfish (Histrio histrio) without strobes at ISO 1600 without hesitation, and the image is extremely clean. Nikon 60mm, f/11, 1/200s, ISO 1600

While on the topic of ISO performance, let me take a minute to talk about an often-overlooked setting: Auto ISO mode. This feature is incredibly useful for shooting fast-moving open-water subjects without strobes, where exposure settings constantly need to be changed. With the D500, I almost never had to manually adjust camera settings over the month-long trip, and exposures were consistently bang on. Let me explain my camera settings to hopefully shed some light on this underused feature.

A mother sperm whale with her newborn calf. Cruising 30 feet below us, they were reflecting significantly less light than when they were at the surface moments earlier, so Auto ISO came to the rescue by keeping the shutter speed from dropping lower than 1/200s and increasing the ISO to 900 to maintain an acceptable exposure. Tokina 10–17mm at 12mm, f/11, 1/200s, ISO 900

First, I set the camera in Aperture Priority mode, and chose an f-stop that would yield sufficient depth of field and corner sharpness (I went with f/11). In this mode, the camera automatically determines the shutter speed necessary to achieve proper exposure based on your metering mode and exposure compensation (center-weighted, and –0.7EV). While Aperture Priority works very well on its own, if the environment is too dark, the shutter speed can easily be brought much slower than needed to freeze the action. This is where Auto ISO comes into play.

Tokina 10–17mm at 15mm, f/10, 1/200, ISO 640

One of the parameters of the Auto ISO feature is minimum shutter speed. The base ISO will be used until the minimum shutter speed is reached; then rather than slowing the shutter further, the camera instead increases the ISO to achieve the desired exposure—until it reaches the specified maximum (ISO 6400 in my case). This internal exposure-symphony happens much faster and more accurately than I'd ever be able to achieve manually, allowing me to completely focus on breathing, swimming into position, and framing shots.

Tokina 10–17mm at 10mm, f/10, 1/200s, ISO 800

Frame Rate
The D500's ability to shoot a whopping 10fps (14-bit lossless compressed RAW) not only comes in handy for catching the peak of action, but also for getting clean split shots. In this case, there was a lot of surface chop, and I was using a mid-size dome (Zen DP-170, rather than a larger, more-forgiving Zen DP-230), so the odds were stacked against me. In the two seconds that this diving whale was in a good position for a split shot with the boat, I was able to rattle off 18 shots, and this is the only one that is clean. Spray and pray, at its finest!

Dynamic Range
Shooting split shots can be a headache to expose. Overcast days are particularly frustrating, due to the vast difference in luminance between underwater subjects and the sky. But thanks to the broad dynamic range of modern camera sensors, including that in the D500, this situation can be overcome with ease. At first glance, it may look like the RAW image (left) contains little useable data in the sky/water, but in fact quite the opposite is true. After massaging the image in Adobe Lightroom, I was able to completely even out the exposure.

RAW images shot with the D500 retain surprisingly large amounts of information

Autofocus
One of the most impressive features of the D500 is its blazing-fast autofocus system (Multi-CAM 20K). Sperm whales are basically big gray blobs through the viewfinder, and when they aren't well-lit with sunlight, many cameras that I've used have struggled with focus acquisition, due to lack of contrast. The D500, by contrast, was unstoppable. Not only was it able to achieve focus with ease in difficult situations, it did so just about as quickly as I could push the AF-ON button.

My friend, Zach Levitetz, getting a close call with a group of three sperm whales. Tokina 10–17mm at 10mm, f/10, 1/200s, ISO 220

Final Thoughts
I couldn't be happier with both the Nikon D500 and the Nauticam NA-D500 housing. The camera is all that I hoped it would be, and the housing took a month of constant punishment without missing a beat. Sadly, the housing was a loaner unit, which I had to painfully send back to Nauticam. However, the experience that I had with it was so positive that I've decided to bite the bullet and buy one for myself. This is definitely the most powerful DX system on the market today, and I'm certain it will serve me well for many years to come.

A family of pilot whales. Tokina 10–17mm at 11mm, f/11, 1/200s, ISO 1400

Sperm whale tail. Tokina 10–17mm at 10mm, f/11, 1/200s, ISO 800

My girlfriend, Lisa, approaching a massive sperm whale. Tokina 10–17mm at 17mm, f/10, 1/160, ISO 320

This sperm whale sat motionless at the surface, seemingly basking in the sun allowing a close approach. Tokina 10–17mm at 16mm, f/11, 1/200s, ISO 720

All images taken under government permit

---
About the Reviewer: Although only 32 years old, Keri Wilk has already accumulated over 20 years of underwater photography experience. Educated as a mechanical engineer, he currently co-owns and develops products for ReefNet, including the popular SubSee Magnifier. His work has appeared in countless magazines, scientific journals, field guides, books, and museums, and he's won over 100 awards in international photography competitions. He also runs unique underwater photography trips to different parts of the world each year. Want to join Keri in Dominica next year? Visit the trip information page for details.

---
| | |
| --- | --- |
| When purchasing underwater photography equipment like the products mentioned in this article, please support DPG by supporting our retail partner—Backscatter.com | |
RELATED ARTICLES
Be the first to add a comment to this article.
Newsletter
Travel with us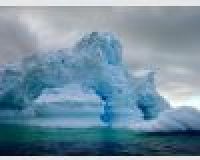 Antarctica
Plan Your Adventure >
Featured Photographer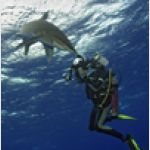 David Fleetham
Expert Photographer
David Fleetham has been diving and photographing underwater since 1976 and has been in Hawaii for over twenty years. His photographic work can be seen in every North American dive publication and endless books and calendars. He...