Articles
Sony E-Mount Lenses for Underwater Photography – Part 1: Macro
By Boaz Samorai and Sharon Rainis Shoval, March 31, 2018 @ 06:00 AM (EST)
The authors would like to thank Fantasea for supplying Sony a6500 cameras, Fantasea FA6500 housings, and various accessories used in this article.

A seahorse captured with the Sony a6500, Sony FE 90mm f/2.8 Macro G OSS lens and the Fantasea-AOI UCL-09F +12.5 super-macro wet lens

Sony's mirrorless cameras have proven to be hugely popular with underwater shooters, giving DSLRs a run for their money. However, while the lenses that work well in underwater imaging for the Nikon and Canon mounts are well known, most of what has been written about lenses for Sony E-mount cameras relates to how well they perform topside.
In this two-part article, we comprehensively examine and compare the underwater performance of some of the most popular lenses for Sony E-mount cropped-sensor cameras, taking into account the unique optical, compositional and logistical challenges awaiting us photographers beneath the surface. Our aim wasn't just to find out what these lenses are really worth to underwater shooters, but also what techniques can be used to fully utilize their potential. In selecting lenses to test, we chose those considered most popular for E-mount cameras (dry or wet), and we also included lenses of various focal lengths and price points. As we focused on cropped-sensor cameras, some of the conclusions we've drawn may vary for full-frame cameras.
Here, in Part 1, we evaluate three macro lenses, the Sony E 30mm f/3.5, the Sony FE 50mm f/2.8, and the Sony FE 90mm f/2.8. Our testing was carried out using the Sony a6500 camera in the Fantasea FA6500 housing with the FML port system, together with Sea&Sea YS-250 and Ikelite DS-160 dual strobe systems. For the sake of eliminating the effects of any interfering variables when comparing how these lenses perform, each dive was carried out using several camera systems, allowing us to capture comparison images with all three lenses at the same spot and at the same time. In Part 2, we look at a variety of fisheye lenses for wide-angle work underwater.

The review systems: Sony a6500 cameras in Fantasea's FA6500 housings

Tested Macro Lenses at a Glance
Sony E 30mm
f/3.5 Macro
Sony FE 50mm
f/2.8 Macro
Sony FE 90mm
f/2.8 Macro G OSS
Compatibility
APS-C

APS-C/full frame

APS-C/full frame

Aperture

f/3.5–f/22

f/2.8–f/16

f/2.8–f/22

Focal Length
30mm
(45mm equiv.)
50mm
(75mm equiv.)
90mm
(135mm equiv.)
Angle of View

50° (APS-C)

47°
(32° on APS-C)
27°
(17° on APS-C)
Minimum Focus Distance

3.7in/9.5cm

6.3in/16cm

11in/28cm

Image Stabilization

No

No

Yes

Dimensions

2.44 x 2.19"




(62 x 55.5mm)

2.79 x 2.80"




(70.8 x 71mm)

3.11 x 5.14"




(79.0 x 130.5mm)

Weight

4.9oz/138g

8.4oz/236g

21.2oz/602g

Price (MSRP)

$280

$450

$1100

Three macros under test (L–R): Sony E 30mm f/3.5, Sony FE 50mm f/2.8, and Sony FE 90mm f/2.8

Working Distance Comparison
The following images feature the same subject captured with each of the lenses under test at the minimum focus distance—meaning, the closest focus distance still allowing the lens to properly focus.


Top–Bottom: A frogfish captured with the 30mm (f/22, 1/160s, ISO 400), 50mm (f/6.3, 1/250s, ISO 100), and 90mm (f/20, 1/250s, ISO 640) macro lenses at their minimum focus distances
1. Sony E 30mm f/3.5 Macro
Pros
Flexible compositions – Combine a short working distance with a relatively wide focal length (for a macro lens), and you've got yourself a lens capable of shooting fish portraits, reef scenery and big animals from a fair distance—all on the same dive. If equipped with wet conversion lenses, your array of compositions is even wider.
No distortions – We couldn't identify any distortions in images captured with this lens—despite our best efforts.
Marble shrimps demonstrating how genuine proportions are maintained across the frame with the 30mm lens. Click for 100% crop (f/4, 1/320s, ISO 200)

The 30mm is perfect for fish portraits, as long as they're not much smaller than this dusky damselfish. Click for 100% crop (f/3.5, 1/80s, ISO 200)
Autofocus – The autofocus mechanism of this lens is quite quick, as long as the subject is located within a distance of at least six inches from the lens. For subjects closer than that, see "Cons" below.
Sharp at the center – As long as your subject is centered in the frame, you're in a good position. Focused objects at the center of the image seem to exhibit impressive sharpness.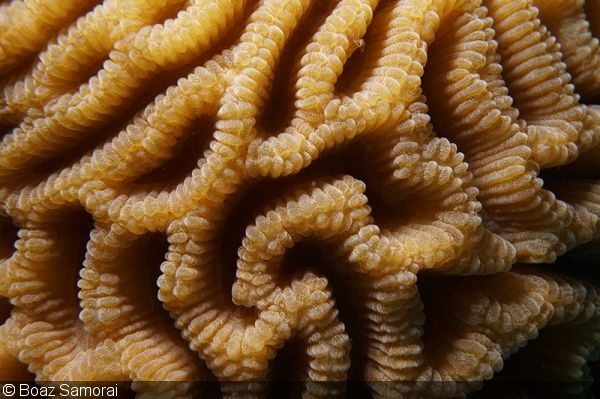 With the 30mm, the center of the image is quite sharp. Click for 100% crop (f/22, 1/160s, ISO 400)
Fair bokeh – Out-of-focus elements are blurred

softly and

nicely, especially at f/5.6 or smaller (higher) apertures.
A cleaner shrimp captured with a wide aperture results in a pleasing blurred background, although there are somewhat harsh transitions between contrasting areas. Click for 100% crop (f/4, 1/250s, ISO 200)
Size and weight – This is a relatively small and lightweight lens, which is especially handy for travel. Also, accommodating a compact lens inside your housing usually has an economic benefit, as you don't have to pay for a large port and port extensions.
Cons
Less of a macro lens – This is probably the most significant disadvantage of this lens in the context of macro photography. With a focal length of 30mm, this lens hardly qualifies as a macro lens. It can produce nice

fish

portraits, but in order to get anything that even resembles a close-up shot, you have to practically attach your lens port to the subject. This also makes proper lighting quite a challenge, as you're most likely blocking the beams from your strobes.
The 30mm is well suited to environmental fish portraits, like this clownfish inside an anemone. Click for 50% crop (f/3.5, 1/160s, ISO 100)
Autofocus at short distances – Subjects positioned at a distance shorter than about six inches from the lens are harder to focus on using autofocus. It takes quite a while for the lens to find the proper focus point.
Soft corners with wide apertures – When using wide apertures, anything appearing at the corners of the image comes out blurry. This can be easily avoided, though, by simply keeping the important elements away from the corners of the frame.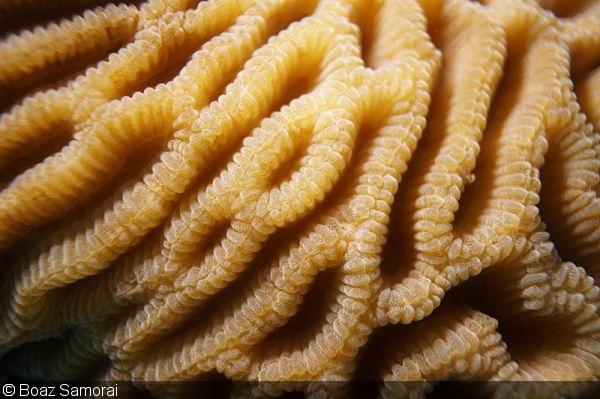 With the 30mm, important details are best kept close to the center of the frame, as the corners tend to be soft, especially when using wide apertures. Click for 50% crop (f/3.5, 1/160s, ISO 100)
Slow aperture – A small maximum aperture is always a disadvantage, and f/3.5 is considered to be rather slow. In macro compositions, this is manifested in less creative short depth-of-field shots and a limited shutter speed when shooting fast-moving subjects (unless you increase ISO).
Verdict
The 30mm is good value for money if you intend to use it as a portrait lens, much more than as a macro lens. In other words, aim for a fish shot rather than trying to capture its eyeball, and you won't be disappointed. As long as you keep the most important elements away from the corners of the frame, you should be able to produce satisfyingly sharp images with a flattering background.
The 30mm lens can deliver once you adjust your expectations: You can expect to shoot a decent fish portrait, but you won't be able to capture a close-up of the eye. Click for 100% crop (f/10, 1/160s, ISO 100)

Do's & Don'ts with the Sony E 30mm f/3.5 Macro
When composing a shot in which elements in the corners do matter, avoid using wider apertures, where you lose more detail in the corners.
Position your strobes carefully when shooting macro. You'll find yourself nearly sticking the port in the fish's face, so make sure the light from your strobes isn't blocked by your rig or by any natural objects around you.
When focusing at short distances, you might find that focusing

manually

is easier and quicker than using autofocus.
Consider mounting an additional macro wet lens on your port for better macro compositions.
2. Sony FE 50mm f/2.8 Macro
Pros
Flexible compositions –

In addition to macro compositions

, this lens is capable of producing portraits of fish captured within a fair distance—a

lthough its field of view is not quite as wide as the 30mm.

So if you've planned a macro dive and suddenly a shark passes by, you won't miss the opportunity.
No distortions – Here again, we couldn't identify any appreciable distortions anywhere in the frame.
With the 50mm, you can shoot both fish portraits and close-ups. Click for 50% crop (f/2.8, 1/320s, ISO 100)
Super sharp – Sharpness is definitely the highlight of the 50mm. Images produced with the lens are sharp across the frame—center to corner. Since macro photography is all about the details, this feature is a big plus point.
This nudibranch on a coral is sharp across the frame. Click for 100% crop (f/7.1, 1/200s, ISO 100)

A frogfish demonstrating superb detail in focused areas. Click for 100% crop (f/6.3, 1/250s, ISO 100)

Corners are very sharp even when shooting with the aperture wide open. Click for 50% crop (f/2.8, 1/250s, ISO 100)
Appealing bokeh – Even at the widest apertures, out-of-focus elements are pleasingly and evenly blurred without having too much contrast or showing any hotspots.
The 50mm produces a smoothly blurred background for this clownfish captured with the widest aperture (f/2.8, 1/320s, ISO 100)
Macro capabilities – T

o begin with, t

his lens is defined as a macro lens. With the magnifying effect of water, its macro capabilities are further enhanced. Thanks to the sufficiently short working distance of the lens, and especially w

ith the addition of

a wet macro conversion lens on your flat port,

you're in a good position to score some impressive close-ups.
Price – This is still considered an affordable lens.
Size and weight – Being relatively compact and lightweight, this lens is easy to pack and travel with.
Cons
Autofocus misses – The autofocus of this lens sometimes misses the mark, leaving you helplessly waiting for a few seconds until proper focus is attained. You would think that manual focus would solve the problem, but even if you're equipped with the appropriate focus gear, the focus ring of the lens goes on forever and you'll end up wasting just as much time! Autofocus is still your preferred choice, especially when shooting moving subjects. Just bring your patience with you…
Large minimum aperture – Being limited to f/16 means the depth of field is limited in your images. Also, in certain bright conditions, you'll have to use fast shutter speeds and/or low ISO values in order to obtain proper exposure—problematic yet definitely workable.
Size – While its modest bulk could be considered a benefit, this lens extends

significantly

when shooting full macro, so you'll probably need an extension ring or two to make use of the full focus range of the lens. So, as compact as this lens might appear at first glance, you'll have to spend some more on extension rings and find space for them in your camera bag as well.
No in-lens stabilization – The longer the focal range, the more stabilization mechanisms become important—even underwater. Shooting macro at 50mm, we'd welcome some

in-lens

stabilization. Sure, there's always your camera's image stabilization—if it's equipped with it—but stabilization built into the lens is often more effective.
Verdict
Considering its modest price, we were very impressed by the sharp images the 50mm is capable of producing. Vivid, bright and with superb detail, the results with this lens make it a great choice for macro. If you have a high-quality macro conversion lens for even more serious close-ups, you've got yourself a flexible and capable setup. On the downside, the lens is prone to hunting before it nails the proper focus point, so be sure to be come equipped with a fair helping of patience. Some extra space on your memory cards to allow for missed shots won't hurt either…

A crisp, sharp marble shrimp with a nicely blurred moray eel in the background. Click for 100% crop (f/6.3, 1/160s, ISO 100)

Do's & Don'ts with the Sony FE 50 mm f/2.8 Macro
Since aperture cannot go beyond f/16, i

n bright conditions

it's best to first set your camera to a low ISO value and only then, if needed, select a fast shutter speed.
Use a macro wet conversion lens for super-macro.
Use a focus light to make it easier for the lens to find a proper focus point. If autofocus seems to encounter difficulties, use AF-lock to lock focus once it has been obtained. This will prevent the lens from trying to refocus again when you press the shutter release, reducing the chances of autofocus continuously hunting.
Consider using the camera's focus magnifier display to make sure you're happy with the focus point before shooting.
The lens has a focus limiter switch, which probably can't be accessed through any housing. Leave the focus limiter off for a flexible choice of compositions, that is, shooting macro, portraits, and coral reefs on the same dive. We'd hate to see you missing that dolphin only because you were planning on the nudibranch!
3. Sony FE 90mm f/2.8 Macro G OSS
Pros
True macro – With a focal length of 90mm, this lens is perfect for true 1:1 macro and super-macro shots. The addition of a wet macro conversion lens will allow you to shoot some awesome ultra close-up images. Time to find out which fish have beautiful eyelashes!
The unique pattern on a marble shrimp's eye can be captured in amazing detail with the 90mm (f/9, 1/250s, ISO 100)

Finally, a lens that's capable of producing a true macro shot of a ghost pipefish. Click for 100% crop (f/11, 1/160s, ISO 200)
Super sharp – Details are impressively sharp across the frame—center to corner.
Impressive sharpness, center to corner. Click for 50% crop (f/10, 1/250s, ISO 640)
Image stabilization – The in-lens stabilization system, Optical SteadyShot (OSS), makes a significant difference, especially when shooting in current and when swimming.
No distortion – Even elements at the corners of the frame appear clear and well defined.
Amazing bokeh – Out-of-focus points of light are beautifully rendered, e

ven at the widest apertures

. This results in flattering backgrounds and the ability to produce images in which your sharp subject really "pops"—clearly distinguished from the smooth background.
Marble shrimps with beautiful bokeh both in the foreground and background (f/3.2, 1/200s, ISO 100)

Capturing a clownfish from a short distance with the 90mm lens at f/2.8 while focusing on its eye is quite a challenge, but it can be done—the body itself becomes a smooth background (f/2.8, 1/250s, ISO 100)
Cons
Slow autofocus – Under most circumstances, it takes a while for the lens to find the proper focus point, especially if focus distances significantly differ from one frame to another. In some situations, you might find that autofocus simply cannot get the job done on its own and some help is required. See "Do's & Don'ts" below for useful techniques.
Learning curve – Even the most experienced photographer, i

t takes

a few dives to figure out this lens and minimize the number of missed shots. Since the focus point must be nothing short of perfect in such super-macro shots, shooting moving subjects requires mastering some essential techniques.
Non-flexible compositions – That dolphin that chances by during a macro dive? You're most likely to ask your buddy with the compact camera to send you an image or two…
Diffraction – At higher f-numbers, loss of sharpness is quite evident. Images captured at f/16 and upwards are noticeably less sharp.
Sharpness is somewhat better at f/2.8 (top) compared to f/22 (bottom)
Size and weight – You don't need an expert to tell you that this is a big and heavy

lens

. Not only will your "travel light" plans be affected, but it also means that you'll be spending more on port accessories to accommodate the lens inside your housing.
Price – This is one of the more expensive additions to your macro setup.
The whip coral goby is a photogenic fish to begin with, but with the 90mm it can be photographed at its very best (f/10, 1/250s, ISO 200)
Verdict
In the right hands, this lens is a superb choice, but it's certainly not suitable for everyone nor suited to all diving conditions. To fully utilize the potential of this lens and achieve the stunning results it's capable of producing, the user will need to draw on experience and knowledge—and devote a significant amount of time to experimentation—to overcome the various focus challenges. Even then, if working under time pressure or in difficult conditions such as strong currents, you might find this lens less than ideal. Having said that, once you've nailed it, images successfully captured with the 90mm have all the potential of being exceptionally sharp and impressively detailed.

Do's & Don'ts with the Sony FE 90mm f/2.8 Macro G OSS
Most of the techniques we have come up with are concerned with overcoming the focusing difficulties with this lens. Let's first understand the challenge here.
Working completely with manual focus (MF) is difficult. With moving subjects, you might never manage to adjust focus quickly and accurately enough using the focus ring. With such super-macro compositions, even with stationary subjects (such as hard corals), the slightest movement of your hand will completely change the focus point you've just set.
Equally, working entirely with autofocus (AF) is, in many instances, an insufficient approach. Autofocus is slow and by the time the lens manages to focus, your subject is already gone and you're focused on a sand grain. The 90mm is also prone to hunting, especially when there are lots of details in the frame. We came up with a few techniques to help cope with these challenges:
Focus method – Use any of the following focus methods, depending on your level of experience, your desire to nail the shot as quickly and accurately as possible, and the diving conditions you're working under:

DMF (Digital Manual Focus) – First find the approximate focus point using autofocus and then make a final manual adjustment using the focus ring.
AF with separation of autofocus from shutter – Assign a custom button to autofocus instead of focusing with a half-press of the shutter release. This will allow you to adjust the frame (or wait for that fish to finally open its mouth) and capture the image without having the shutter interrupting the perfect focus point you've managed to set. Alternatively, hold the "AF-lock" to avoid refocusing.
MF and then adjust your distance from the subject – With tiny subjects and if the desired composition dictates focusing as close as possible, manually select the closest focus point and then move your camera until the subject is in perfect focus.
AF only – Try using continuous autofocus (

AF-C

), so you're always more or less in range.

Set the focus area to single-point AF and readjust the frame after focusing. Since the focus point must be accurate for super-macro, your chances are better with a single focus point rather than a wide focus area, which results in higher chances of focusing on the wrong part of the fish—which is, as we all know, anything but the eye!
To allow for a flexible choice of subjects and compositions, set the focus limiter of the lens to "Off" before installing it inside the housing.
Turn on Optical SteadyShot (

OSS

) when shooting underwater—unless you're working in a pool, the camera is mounted on a heavy tripod, and you're shooting with a remote control!
Using the camera's focus magnifier display when manually focusing really helps. However, you'll need a good starting point for focus to make this function useful, otherwise the degree of close-up won't allow you to figure out what you're looking at. This feature is especially helpful if working with DMF and only a slight last manual focus adjustment is required.
Using a focus light always decreases the chance of focus hunting.
If you find it comfortable to work with, and your camera offers such a feature, you can consider turning on the Focus Peaking option in the camera's menu to make sure that you've got the right elements in focus.
The 90mm shows off the hairs on a seahorse. Who even knew they were there? (f/5.6, 1/200s, ISO 100)
4. Final Thoughts
If you're looking for an unequivocal recommendation, well, we don't really have one for you. But hey, that's good news, as at the end of the day, all of these lenses are fair choices, mainly depending on your budget and photographic needs.
If your budget is limited and you're into portraits and general photography, the Sony 30mm will serve you well for a relatively wide variety of compositions. Just bear in mind that although it's capable of producing fine results, this isn't much of a macro lens in terms of close-up photography. If you dearly want to capture a decent image of a pygmy seahorse, this is the wrong lens to fulfill your photographic mission.
An experienced photographer looking for a super-macro lens that reveals all the details and makes no compromises should probably go for the Sony 90mm. There are almost no limits to what this lens can do if properly used, and you can legitimately expect to come away with mind-boggling true macro images. You should be ready, however, to invest time in getting to know the lens and mastering some basic techniques that will ensure your miss rate is as low as possible. Even then, this lens is more difficult to work with under challenging conditions, so you might want to ensure you have a more-forgiving macro lens in your camera bag as a backup.
Which brings us to the Sony 50mm: For (almost) effortless macro, this is the lens of choice. A sharp lens that is versatile and easy to use, it allows you to capture subjects of various sizes and at various distances. Working with autofocus alone will usually result in fine images, and although it might miss sometimes, no complicated techniques are needed to overcome the challenge.

---
About the Authors: Boaz Samorai began pursuing his ocean-related career at the young age of 15 in Eilat, Israel. Twenty-five years later, he's a PADI Course Director and Technical Diver, chief equipment test diver for Fantasea Line, dive tour leader for WildDive and Big Animals, and a conductor of underwater photography courses and specialties. Leading dive expeditions so frequently, Boaz has had the opportunity to capture images in the waters of several revered destinations around the world.
Sharon Rainis Shoval started as an amateur underwater photographer at the age of 20, and it didn't take long before her admiration of "the sea, the lens and the magical combination of the two" took over her career. Sharon has been working with Fantasea Line as a test diver, content manager and product developer for over 12 years. She's also the assistant producer of David Pilosof's international underwater photo events and competitions, where she first realized her greatest passion for underwater fashion photography.

---
| | |
| --- | --- |
| When purchasing underwater photography equipment like the products mentioned in this article, please support DPG by supporting our retail partner—Backscatter.com | |
RELATED ARTICLES
Be the first to add a comment to this article.
Newsletter
Travel with us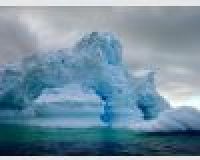 Antarctica
Plan Your Adventure >
Featured Photographer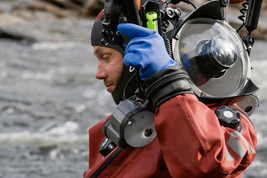 Magnus Lundgren
Expert Photographer
ABOUT MAGNUS Instagram - magnuslundgrenphotography "It is all about positive change for me, as an image may lure a person's mind and move the heart. I always use my own passion for nature to inject fuel into my...