Articles
Snooted Nudibranch and Anemone
By Allison Vitsky
The Idea

I recently competed in my first big "shootout"-style competition, NCUPS' 2010 California Beach and Boat Dive Photo/Video competition. I live and dive in San Diego, and I am obsessed with shooting nudibranchs – OK, probably to a fault. My boyfriend, photographer Andy Sallmon, and I usual dive buddy. He enjoys making fun of the fact that I refuse to shoot creatures with more complex eyes! I can't help it, though! I appreciate the fact that one can make a nudibranch look lovely, even when the visibility is less than stellar.
I had only been diving in Monterey once before, and I arrived just an hour before shootout registration. With no time to scout out the dive sites, I knew I was going to be at a loss when it came to looking for rare creatures. However, I knew that beautiful Dendronotus iris nudibranchs were very common at some sites in Monterey Bay, and I hoped to capture one poised over its food source, a tube anemone.

The potential problem was that the anemone stalk is almost always a dirty brown cylinder sticking out of an equally uninspired sandy sea floor. Making matters worse, the anemone retracts its tentacles once the nudibranch starts eating, pulling in the nudibranch's head – and this can be a pretty rapid progression of events! (Let's just say that I often wonder who started the rumor that nudibranchs are easy to photograph due to lack of movement!)

While diving at home the weekend before the competition, I tested an idea on some tube anemones – I tried using a snooted "primary" strobe at half power, using the other "secondary" strobe powered way down for fill light only. I didn't find any Dendronotus, but I knew the lighting might work if I found the right subject at the right time.

The Shot

After 30 minutes of swimming around in circles at "The Breakwater", I found a nudibranch in perfect position. My camera was set in its usual "pretty-ugly-day-in-California-water" settings of 1/250 and F22 , which not only helped me to get a black instead of mucky green background, but also served to freeze the action and give this large nudibranch a nice depth-of-field.

I got as low as I could, positioned my primary strobe (a narrowly snooted, conventionally attached YS250 – I don't have the faintest clue how to use a tripod), and squeezed the shutter. I got only 5 shots before the nudibranch was sucked into the body of the anemone, and I never saw another well-positioned Dendronotus during my dive.

When I downloaded my images, the obvious choice and winning shot was the first one – it had the best positioning, the least backscatter, and I knew local divers would be able to imagine the nudibranch plowing headfirst into the anemone 2 seconds after the shot was taken. Best of all, the shot was precisely how I'd imagined it – and as a pretty new photographer, this was truly the best prize of all.



RELATED ARTICLES
Be the first to add a comment to this article.
Newsletter
Travel with us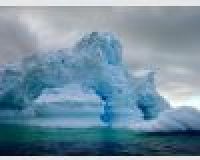 Antarctica
Plan Your Adventure >
Featured Photographer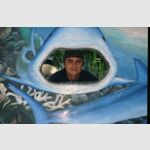 Scott Tuason
Expert Photographer
Scott "Gutsy" Tuason began his romance with the sea when he was still legally too young to dive. Still, this did not prevent him from going with his father on diving trips around the country. Gutsy's...