Articles
Short Film Showcase – "Beautiful We Are"

Shot over three days of diving along San Diego's coastline, Beautiful We Are was somewhat of an unintentional short film.
In 2012, I was certified as a scuba diver in La Jolla, a water sports haven near San Diego, California. Before ascending to the surface from that first ocean dive, I had already made the life decision to become an underwater cinematographer. The magic and grace of the kelp forests, the sevengill sharks, bat rays, and garibaldi fueled my love for the underwater world.
After a year of working and shooting underwater in Hilo, Hawaii, I had to return to colder waters. What began as a reunion trip between the kelp and myself turned into a hunt for the last strands of the region's famed kelp (Macrocystis). Who took all of the kelp?

Low visibility was a primary challenge when filming "Beautiful We Are" off the coast of San Diego, California

Even without the majestic kelp forests in their fullest form, San Diego offers a lot of other underwater sights like wrecks, sea lions and leopard sharks

Recent beatings by obscure weather patterns have brought warmer waters to the California coastline. August has always been the warmest month for San Diego, and this year, it was too warm. The kelp forests didn't die back—they disappeared. Even the leopard sharks were near impossible to find (though the 5–10 feet of visibility certainly didn't help).
What do you shoot when you can't see your dive buddy and there's no kelp? The answer was right in front of my eyes; I just had to put my abstract goggles on. Light dances in interesting ways during periods of high turbulence, as do algae, seagrasses, schools of fishes, and even sand patches. Using this new approach, I attempted to create a compilation short of San Diego's rarely featured elements of beauty.

"Beautiful We Are"
---
About the Author: Alexander is a natural history filmmaker and cinematographer with a peak interest in underwater environments. After completing degrees in Biology and Film from Northern Arizona University and the Sedona Film School, he moved to Hilo, Hawaii, where he obtained most of his technical experience. He now works professionally as a freelance cinematographer in Missoula, Montana. His most recent work can be seen on his website.
RELATED ARTICLES
Be the first to add a comment to this article.
Newsletter
Travel with us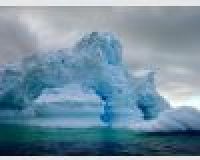 Antarctica
Plan Your Adventure >
Featured Photographer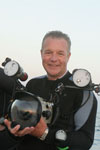 martin Edge
Expert Photographer
Mentor, coach, facilitator, educator. Whichever words are used to describe him, there is no doubt that Martin Edge is one of the most experienced and gifted instructor of underwater photography there is. His latest book...