Articles
Sand Tiger Sharks in North Carolina
Those seeking large shark encounters in the US need look no further than the Outer Banks of North Carolina. During summer months you can often find one species, the sand tiger, in abundance. Known internationally as gray nurse sharks, sand tigers are fearsome-looking creatures that grow up to 10 feet, though are typically docile around divers. They are commonly found in large aquariums and make great underwater subjects.

Cape Hatteras and Cape Lookout project into the Atlantic and are staging points for trips to the Gulf Stream. The Stream brings warm water and tropical marine life to wrecks that lie 15–20 miles out. Each wreck acts as an artificial reef, attracting a stunning abundance of life. Many wrecks have historical interest, including merchants sunk in both world wars, German U-boats, and even the USS Monitor.

Dive Sites
There are many wrecks to choose from. Each wreck in the Gulf Stream acts as an oasis in the sandy desert of the ocean bottom. The best dives tend to lie at least 15 miles off-shore and require 2–3 hour boat trips. Here are a few of my favorites:
Proteus: This passenger steamer was sunk in a collision in 1918, 25 miles south of Cape Hatteras. It is a large wreck and sits at 120'–130'. The Proteus is a reliable place to find sand tigers, but they're not always right on the wreck. One of my most memorable dives featured a huge school of adult females swimming lazily above the thermocline at 85'. It was amazing—sharks as far as you could see in every direction. There was no current that day. I spent two dives getting great shots and hardly seeing the wreck!

Dixie Arrow: The end of this WWII oil tanker is a heroic story. After taking three torpedoes from the U-71, helmsman Oscar Chappel steered the burning ship into the wind. This allowed his shipmates forward to escape the flames at the cost of his own life. The wreck lies 16 miles south of Hatteras at 90'–100'. The stern is often cloaked in swirling schools of baitfish and amberjack. Barracuda, turtles, and sand tigers can also be found. The sheer biomass on this wreck is amazing. Look for smaller juvenile sharks on the wreck and bigger adults swimming in from the surrounding sand.

Spar: My experience on the Spar, out of Morehead City, reinforces the value of talking to the dive master and captain. This buoy tender was sunk as an artificial reef and is certainly living up to its purpose. We moored at the bow of the 200' vessel, which rests in 110' fsw. The captain described a large baitball that can frequently be found around the bridge at 80'. It was the perfect photo-op, with large females swimming in an out against a blue water background.
Photography

Go Manual
The photography is dictated by the conditions—changeable is a charitable description! A wide-angle or fish-eye lens is a must. I've had better luck with manual power settings on my flash than with TTL. The large, ambient light backgrounds of these lenses make TTL results uncertain. Meter for the background water, keep a reasonably fast shutter speed, and then do some tests for correct flash power. Be aware of the angle you point your camera—pointing higher than your meter reading can cause the background to overexpose. You may find yourself bumping up your ISO on a cloudy day.

Be Careful of Overexposure
When shooting from below, be careful not to overexpose the white bottoms of the sharks. Take a few test shots and keep an eye on right side of the histogram. Adjust the power of your flash(es) to get the look you want (I used ½ power on my DS-125). Remember that a small change in camera-to-subject distance can result in a big difference in lighting power.

Shoot in Schools
I really enjoy shooting these sharks among schools of smaller fish. Try aiming the strobe straight ahead (on a long arms) or pointing slightly out, instead of in, to achieve a more even, pleasing light. A strobe that recycles quickly is a real asset—it can take several images to capture a pleasing composition among the school.

Try Silhouettes
Next try some silhouettes. Setting black shark figures against a sunball or blue water background can create interesting images. Meter to one side of the sun and fire away without flash. The amount of sunball in your viewfinder can dramatically affect your exposure. Use the aperture to control the size of the sunburst—a smaller f-stop (high number, like f/11 or f/16) can reduce its size. Sunbeams are difficult to capture at such depths, but use a fast shutter speed (1/125 second or more) to try.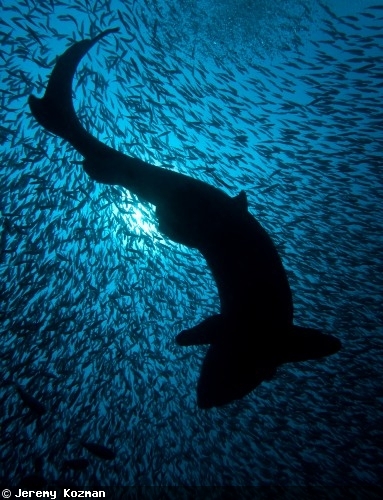 Have a Goal
This is essential. The flat profiles and deep depths will limit bottom time, so be ready. A talk with the local experts can pay off, helping you find that one special subject on a big wreck. Be content to cover a small area. Trying to see an entire wreck on one dive will likely burn through your air.

Experience Required
Outer Banks diving is exciting and rewarding, but it's not for beginners. Expect large surface swells, strong currents at midwater, and monitor bottom time closely. Nitrox is almost essential, but pay careful attention to maximum operating depth. Entries are high giant strides (ask them to hand down your camera) and divers must follow the line system to safely travel to/from the wreck. Seek shelter in the wreck if you find strong currents at the bottom- save air by pulling yourself along rather than finning.
Have a signaling device—if you can't make the anchor line the current may carry you several miles before the boat can get you. Newer divers may want to get experience without cameras first.

Charters and Conditions
The charters are long—expect to leave the dock around 7am and return around 5pm. Rough seas can make for a long day if you're prone to seasickness. Both weather and sea conditions are unpredictable—be prepared for cancellations, a frustrating but ever-present possibility.
Water temperatures can be 70–80 degrees during summer. Visibility ranges from 30'–100' depending upon currents and conditions, and drops closer to shore. The Stream can be unpredictable, and you may occasionally find yourself in northerly currents with 10' viz. and much colder temps!
Despite the challenges the diving and photography along the Outer Banks can be fantastic. Give it try—with preparation and a little luck you'll come back with great images!

---

About the Author
When he's not diving, Jeremy Kozman teaches middle and high school instrumental music in Hilliard, Ohio. His photography has won multiple awards including the Divephotoguide.com February 2010 Monthly Photo Contest, the 2010 Our World Underwater, and the 2010 Beneath the Seas competitions.
RELATED ARTICLES
Be the first to add a comment to this article.
Newsletter
Travel with us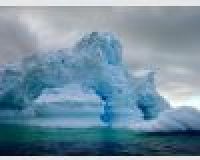 Antarctica
Plan Your Adventure >
Featured Photographer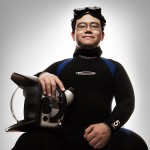 Yeang Chng
Photographer
I have been diving since 2001 and shooting underwater since 2004. A physician/scientist by training, photography and the marine world has been my passion since I bit my first regulator. Originally from Malaysia, I now live and...