Articles
The Salmon Run Experience
Pink salmon couple pose for the camera, Vancouver Island, BC, Canada

It seems more and more it is becoming harder to find truly wild places—wild places with no sign of human interference, whether that be auditory or visual. So, when we are lucky enough to encounter such a place, it means even more. Even as underwater photographers, it can be rare to find places away from the sound of boats or other divers. I have been lucky enough to twice immerse myself in salmon runs, once in Alaska, once in Canada, and they are among the most "wild" photographic experiences I've had.
I imagine natural events like the sardine run in South Africa, or the baitballs in Cabo might be similar, in terms of sheer underwater chaos, to the salmon runs. When you submerge into a ripping current, it is hard to imagine how anything could fight it. I'm weighted down with 60–70lbs and a steel tank and I am still having to fight to stay in position while the salmon casually hold themselves in place in the raging water.
My first time being in the water with salmon was in Alaska in June 2018. We were supposed to be diving with salmon sharks and jellyfish blooms, but nasty storms and colder-than-normal weather kept both the sharks and jellyfish away. Salmon were our consolation prize. We spent a few afternoons snorkeling in a remote, crystal clear, frigid, mountain creek in Prince William Sound.

Chinook salmon hustle for position, Prince William Sound, Alaska, USA

We had missed most of the pink salmon run, so the pool we explored was filled instead with much bigger and much feistier chum salmon. The fish were gathered at the base of a small waterfall with a ripping current. We'd brought weight belts which did essentially nothing to help us submerge. Along the edge of the pool was a downed tree. I figured out if I wrapped my legs around the tree I could not only hold myself in place (at least until my leg muscles wore out), but I could pull myself under the water for a few seconds down to the level the salmon were at.
Salmonids are usually skittish fish and getting close to them can be nearly impossible but during breeding, testosterone and estrogen levels are so high your presence is almost inconsequential. For two days we enjoyed spending time in the pool with the chums, though the first day was far more productive from a photographic perspective—the fish seemed much more fired up.

Large numbers of pink salmon gather to mate, Vancouver Island, BC, Canada

Over a year later, in October 2019, I finally had the chance to get back in the water with salmon again. This time I was on Vancouver Island and the main species running during my time there was the pink salmon. I spent a few days futilely attempting to find groups of fish in photographicable locations. In desperation I reached out to a local and well-known photographer (who shall remain nameless so he doesn't get blown up with requests) who told me to meet up with him and he'd help me out. I'm forever grateful to him, because the one day he showed me around was one of the best days I've had in nature.
We drove out into the wilds of Vancouver Island with not another human for miles, no cars, no planes, no buildings, barely even any roads. We pulled right up to the banks of a river (ironically the same river I'd be unable to find any salmon in during the previous days). He was going to do some topside shooting but pointed out to me the two main pools that would be most productive.
I looked skeptically at the two spots he was pointing at. Both were at the base of small but powerful waterfalls and didn't look all that pleasant to be in. But then I noticed the salmon jumping in both spots and without another word I suited up, piled as much weight as I could into my weight belt and BCD, and slid into the water. Immediately I was getting buffeted by both current and hundreds of amped-up pink salmon!

Pink salmon shot with slow shutter speed, Vancouver Island, BC, Canada

For the next four blissful hours, I stayed In the first plunge pool firing shot after shot until I exhausted my tank, camera battery, and strobes. Not that I was anywhere near ready to leave… I got out and walked down to where my friend was shooting. Three black bears were fishing just a few yards away, eagles were circling, and ravens were picking at the corpses of now deceased salmon. The complete immersion in nature was overwhelming as we so rarely get to experience it now it seems.

Pink salmon carcass partially consumed by bear or bird, Vancouver Island, BC, Canada

We watched the bears and eagles hunt for a while and both commented on the instinctual perseverance of the salmon fighting their way upstream towards death with no guarantee of passing on their genes first. I greedily wanted more salmon images, so I hopped into the second pool and went right back to it. After seven hours shooting we both called it a day, watched the bears a bit more, and left that little wild space to its devices.
Less than a month after photographing the pinks in Vancouver, I'd finally just arrived home after a nearly two-month road trip when I received a message from a friend asking if I'd heard about the kokanee salmon run a mere three-hour drive from my house. I had not, but I didn't need to hear anymore! I was home for only a single night and the next day headed north to try to catch the tail end of the kokanee run. Kokanee is a smaller, landlocked version of sockeye.

Kokanee salmon shows of its impressive teeth, Connecticut, USA

I know I've waxed poetic in this article about being able to get away from humanity while chasing salmon, but ironically, I ended up photographing the kokanee in about two feet of water just off a boat ramp in front of somebody's house…
I had missed the part of the run when the kokanee move en masse up a spectacular woodland creek. They had now made it up to the shallows of a lake that is surrounded not by wilderness, but by houses and restaurants. That said, once I stuck my face below the surface and the salmon got used to me, I could pretend I was back in some pristine temperate rainforest.

Pink salmon motion blur, Vancouver Island, BC, Canada

Kokanee salmon captured closer to home, Connecticut, USA

Chinook salmon racing to reproduce, Prince William Sound, Alaska, USA

To shoot the salmon runs I used either a Nikon D4 or Nikon D500 in Nauticam housing. Two factors really come into play when shooting these events. With salmon, the action comes fast and taking your eye from the viewfinder wastes time and image opportunities. Having intuitive ergonomics is crucial so you don't have to look away and fumble around with housing functions.
For freshwater shooting I found a small port to be most conducive. Often you are in quite shallow water and don't have a lot of space to move around so a large dome would hinder image-making. That said, if you have the right spot, a large dome would be great for split level pictures. For all these shoots, I used either the Nikon 10.5mm fisheye behind the Nauticam 140mm dome, or my Nikonos 13mm, which works flawlessly with Nauticam with the proper adapter.
Whatever equipment you use, salmon runs are underwater experiences unlike almost any other and for naturalists and photographers alike, it is something not to be missed.

Pink salmon fight for position, Vancouver Island, BC, Canada

Chinook salmon bites the dome port, Prince William Sound, Alaska, USA

---

For more of Matthew's amazing images, check out his website, www.9milesnorth.com, or DPG's recent Photographer of the Week feature.
RELATED ARTICLES
Be the first to add a comment to this article.
Newsletter
Travel with us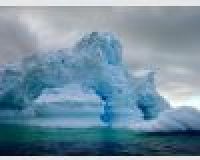 Antarctica
Plan Your Adventure >
Featured Photographer
Joshua Lambus
Photographer
"My photos are to show people things they haven't seen before... or maybe things they see all the time... in a way they've never cared to look" Joshua Lambus is a fine-art and underwater photographer from...