Articles
Review of the Sony a6300 in Ikelite Housing
DPG would like to thank Backscatter Underwater Photo and Video for supplying the Sony a6300 camera, and to Ikelite Underwater Systems for providing its Sony a6300 housing, and various accessories used in this review.


On any given dive there is a chance to encounter an array of fauna and interesting marine life. Some subjects are more suited towards still photography; others, video—sometimes both.
A true dual-threat camera setup becomes crucial in these moments. You don't want your creativity to be limited. You want the final product—whether it comes in the form of video or stills; whether the subject is a nudibranch or surfer catching some morning waves—to be the best quality possible.
As a video and photo pro for DNS Diving in Grand Cayman, I spend a lot of time in the water and the idea of a setup capable of all of this is very enticing. The Sony a6300 combined with Ikelite's new dive and water sports housing might just be the very thing.
The Sony a6300 is capable of producing 24-megapixel stills with a class-leading autofocus and records videos internally at 4K 30p (100Mbps)—plus it's significantly smaller than a DSLR. The compactness of the a6300 together with Ikelite's lightweight-yet-durable housing promised maneuverability and versatility. Let's see how the combination delivered.

1. Overview of the Sony a6300
The a6300 is the latest mid-level camera in Sony's mirrorless lineup. While the 24-megapixel resolution stays the same as its predecessor, the a6000, the newly developed APS-C sized Exmor CMOS sensor is designed to work in concert with the camera's updated processor to produce cleaner images at higher ISOs, snappier autofocus performance, and an overall improvement in speed.
Like its predecessor, the a6300 is capable of 11fps continuous shooting, but we see an expanded ISO range of 100–51,200. The improved autofocus system features Sony's new "4D Focus" with 425 phase-detect points—that's a lot of focus points!—which has been claimed to make this the fastest-focusing camera on the market.
Significantly, the camera also boasts improvements in the realm of video shooting. With the a6300 you can record UHD 4K 30p at an impressive 100Mbps data rate, using Sony's XAVC S codec, which is the same codec as found in Sony's a7 series full-frame mirrorless cameras. There's also an improvement to the camera's high frame rate shooting mode, enabling you to record full 1080p HD at a whopping 120fps.
Key Features (Compared with a6000)
Sony a6300

Sony a6000

Price (MSRP)
$1000
$650
Sensor
24.2MP APS-C (23.5x15.6mm) Exmor CMOS
Autofocus system
Hybrid AF
(with 425 PDAF points)
Hybrid AF
(with 179 PDAF points)
ISO range
100–51,200
100–25,600
Continuous shooting
11fps
Max shutter speed
1/4000s
Max strobe sync speed
1/160s
Viewfinder
2.36M dot LCD
1.44M dot LCD
Max video resolution/rate
4K: 3840x2160 (30p/24p)
Full HD: 1920x1080 (120p/60p)
Full HD: 1920x1080 (60p)
Max bit rate
100Mbps
28Mbps
Weight with battery
14.3oz (404g)
12.1oz (344g)
2. Overview of the Ikelite Housing for the Sony a6300
Featuring the company's newest tech, Ikelite's housing for the a6300 isn't designed just for scuba divers; it's a waterproof housing that's also fit for surf, pool, and any creative photo opportunities involving water.
The housing is made of a brand new ABS-PC blend that provides added strength, decreased weight, and a corrosion-free performance with minimal maintenance. No longer clear, bur rather gray, the housing's change in color is designed to be more reflective to keep the camera cooler in the sun. Additionally, I found the light gray color to provide superior contrast, which helped view the LCD screen with better accuracy.
Ikelite maintains their standard clear back plate, however, giving you the ability to examine the O-ring easily when your setup is assembled. With the new design there is no longer a groove or channel for the O-ring to fit in, which lessens the chance of sand or debris getting trapped.
Ikelite Sony a6300 Housing Highlights
ABS-PC, acrylic and acetyl construction
Controls for all important camera functions
Ikelite flash bulkhead connector with built-in TTL circuitry
Two 1/4-20 threaded tray mounts with 3-inch (76mm) spacing
Ikelite bulkhead connector with built-in TTL circuitry
Slightly negative buoyancy in fresh water
Actual buoyancy varies depending on choice of lens and port
200ft (60m) depth rating
Weight: 3.1lbs (1430g) not including port
Dimensions: 6.3x7.5x5.2 in (160x191x132 mm) including projections
MSRP: $975 (without lens port)
With a housing from Ikelite's new line designed to accommodate many different types of water shooting, the Sony a6300 is ready to record whatever is in front of your lens—wherever there's water

3. Ikelite a6300 Housing in Use
Ikelite's a6300 housing is very compact, and when assembled, it's considerably smaller than a typical DSLR setup. The housing offers full control of all camera settings, and all the controls are very well marked. Even when using Ikelite's dual handle tray system, I could easily reach key controls such as focus, shutter and record with my right thumb.
The housing has two different control dials to match up with the ergonomics of the a6300. This is a small, but significant detail, especially for beginners who are just learning how to manually expose a scene. You can practice how to properly combine shutter speed and aperture on land, and then have the same control placement when you're in the water. The dials are very fluid and easy to adjust, but do require two fingers to change your desired setting.

Ikelite's housing for the a6300 feels significantly less bulky than a DSLR, but performs in tough situations—such as photographing silversides in a cave

4. Strobe Connectivity of the Ikelite Housing
The a6300 features a pop-up flash, which some housing manufacturers have used to create fiber-optic strobe connections. The Ikelite housing features this strobe connection, but also offers a bulkhead connecter for built-in TTL circuitry with the use of Ikelite strobes. This provides the accuracy of TTL and the reliability of an electronic strobe connection.
The TTL circuitry worked superbly in most shooting scenarios, keeping my mind at ease throughout my dive. Instead of worrying about manually adjusting strobe power, I found I could happily rely on the TTL system for accurate exposures using my DS161 strobes.

Ikelite's DS161s in TTL mode performed beautifully in this scenario and provided the right amount of strobe power to light the under side of this hawksbill turtle

The DS161s also performed well when used in manual mode. The quick and easily adjustable power dials on each strobe makes it simple to exit TTL mode and dial in an accurate exposure for more difficult shooting situations. One such situation was inside a swim-through filled with silversides, where it would normally be hard to avoid burning out the reflective cloud of fish in front of you.

By putting the DS161s in manual mode and decreasing the strobe output, as well as dialing in a slightly higher ISO of 640, I could achieve a nice, evenly lit exposure for this image

5. Wide-Angle Photography with the Sony a6300
For my wide-angle shooting with the a6300, I used the Sony Vario-Tessar FE 16–35mm. This is the widest focal length offered by Sony's line of E-mount lenses. The a6300 can also be configured with Canon-mount lenses with the use of an adapter in order to get a true fisheye feel.

Equipped with the Sony 16–35mm lens, the a6300 proved to produce very crisp wide-angle imagery with great transitions into the blue background

When shooting wide angle, I chose to make use of the AF/MF button on the back of the camera and remove focus from the shutter. I found it beneficial to separate focusing from the shutter because of how crazy fast the focusing abilities of the camera are. By using the AF/MF button, there was no worry of the camera trying to focus on a different point in my scene unless I released and re-pressed the button.
The DS161s proved to be a very necessary tool for wide-angle imagery. With the 16–35mm at its widest focal length, it was crucial to have strobes with the power to reach my intended subjects. The DS161's fast recharge was very noticeable especially when opening up the shutter of the a6300 in continuous shooting mode. Even when shooting 11fps, I could see decent strobe illumination in the first three images of a burst. The strength would decrease slightly with each fire, but still provided three different compositions with different but usable lighting for review in post-processing.

By disabling focus on the shutter and focusing instead with the AF/MF button, you can freely take images without the camera trying to focus somewhere else when the shutter is pressed

6. Macro Photography with the Sony a6300
For macro shooting with the a6300, I used the Sony FE 90mm macro lens, which provides a nice working distance and keeps the shooter a good distance away from their chosen subject. With this lens, the a6300 had a very similar feel to shooting a DSLR setup with a 100mm macro lens. The big difference—and in my opinion, a huge advantage in shooting with a mirrorless rig—is the use of the LCD screen to compose a shot rather than looking through the optical viewfinder.

By choosing pro-level macro optics, this compact rig becomes a macro machine capable of tack-sharp 1:1 reproduction imagery

The Sony 90mm lens was useful for bigger macro subjects such as slender filefish, eels and decorator crabs. When it came time for the really small stuff, the use of a wet diopter turned the a6300 into a super-macro machine. My Fantasea AOI UCL-09 Macro +12.5 wet lens made it possible to create awesome images of even the tiniest critters. However, the use of a diopter means a very small working distance for the camera to achieve focus, and with this comes a loss of depth of field for your intended subject. This was a scenario where the focus peaking functionality of the a6300 really shined.

The image on the left shows you the close-up capabilities of the Sony 90mm macro lens, while the image on the right was taken with the addition of a Fantasea +12.5 diopter, which allowed me to really fill the frame with the blenny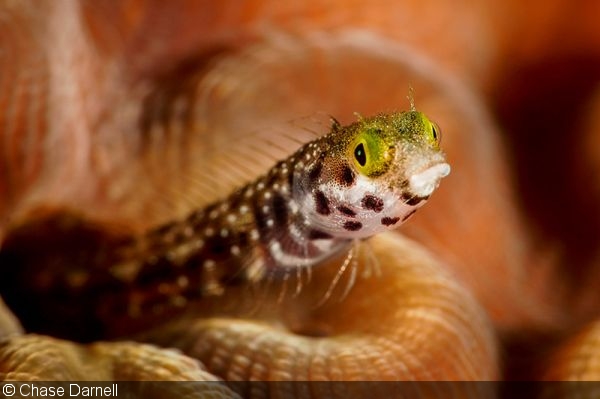 This image was taken at f/16 and shows very attractive bokeh, starting behind the eyes of the blenny and working its way towards the coral background

7. Surf and Freediving Photography with the Sony a6300
I was very excited to get the a6300 and Ikelite housing out into the waves for some freediving and surf photography. The great handling and light weight of the Ikelite housing are ideal for water sports imagery—not to mention the camera's awesome autofocus, impressive dynamic range, and blazing continuous shooting.

With the compact a6300 rig, maneuvering through the water column was a breeze and the easy-to-use control set of the Ikelite housing was quick to adjust even on a breath-hold dive

I prepared the Ikelite housing with their new six-inch dome in order to keep the setup streamlined. Although this mini-dome doesn't have the biggest surface area, it was still possible to record some superb over-under images as the waves rolled in. I shot in Shutter Priority mode in order to keep my shutter speed quick enough to freeze the action of a crashing wave, choosing a shutter speed of around 1/1250s.

Opting for the six-inch dome keeps the setup more streamlined and easier to handle in the surf, but over-under images were still possible

To test the abilities of the a6300 for freediving photography, I headed out to Grand Cayman's world-famous Stingray City. Again, I used Shutter Priority to freeze the motion of the passing action, and for the stingrays' fluid motion I found a shutter speed of 1/500s was sufficient to achieve crisp images. The camera showed a great ability to quickly adjust exposure even with the ISO set to Auto—which was crucial as the shooting conditions changed throughout my breath-hold dives.
The custom white balance settings of the Sony were beneficial for achieving natural color schemes. Given that I was in shallow water with little sun, I found that keeping the camera set to a 8800K with M3 (Magenta plus 3) proved to give a natural color for both still and video recording at this depth.

With the use of a high shutter speed to freeze motion and a white balance adjustment made in camera, achieving crisp and colorful images with just ambient light was easy

8. ISO Performance and Image Quality
The a6300 offers an ISO range of 100 to 51,200, making it very capable in even the darkest shooting conditions, such as photographing surfers in the early morning. Though in most underwater scenarios, there is no need for very high ISOs, other shooting situations like freediving or surf photography require much higher shutter speeds for crisp images, making the need for an ISO increase necessary.

This image of a nurse shark was taken at ISO 320, and in the cropped preview you can see how sharp the little silversides are even when zoomed in

During a sunset session out in the waves, I left the camera ISO set to Auto so that the camera could adjust to the quick changes in shooting direction and light. This image, which was taken at ISO 2000, shows some noticeable noise when zoomed in, but nothing that can't be smoothed out with an adjustment in post-processing

This image was taken while freediving on a very cloudy day. Once again, I elected to set ISO to Auto so I could better focus on diving and composition. Taken at ISO 4000, this image contains a fair amount of noise when zoomed in, but the full image is still fine for the purposes of sharing on the Web

Overall, the a6300 proved to be a capable camera in low-light conditions, producing images at ISOs up to 2000 with a level of noise that most photographers will find acceptable. Although there was noticeable noise when taking the ISO past this rating, I still found the images to be clean and sharp and would have no problem sharing images from this camera that were shot up to ISO 4000.
9. Autofocus and Continuous Shooting
Much of the improvement in the a6300 is centered around its autofocus capabilities, with a hybrid autofocus system that combines phase detection and contrast detection points. Phase detection helps with depth awareness, which I found to be key for tricky situations like shooting at the surface or over-unders. The 425 phase detection points far surpasses the Sony a6000's 179 points and even the full-frame Sony a7 II's 117 points.
The incredibly fast and accurate autofocus managed to keep up with the camera's equally impressive continuous shooting speed, producing series of crisp, properly exposed images even with demanding subjects in motion such as crashing waves.

A series of continuously shot wave images demonstrates the impressive autofocus capabilities of the a6300

The a6300 also showed quick transitions in above-water shooting to underwater shooting as I sank below the surface. The same was true for focusing abilities when transitioning from out of water to in the water. When comparing sequences of continuous shooting images, it generally took four frames after the camera breached the surface to re-achieve focus as the wave broke in front of the lens.
10. Underwater Video with the Sony a6300
The a6300 can record 4K 30p at a 100Mbps bit rate—the same rate as Sony's a7 series big brothers. Unique to the a6300, though, is that the 4K video is actually downsampled from 6K data recorded from a smaller portion of the sensor. This high data rate and downsampling generates a very sharp image with great detail and impressive dynamic range for such an affordable setup.
The caveat is that since the camera is utilizing a smaller portion of the sensor to record footage, there is a tighter crop on your final product. For wide-angle shooting, this will impact how close you will be able to maneuver to your subject while still including it entirely in the frame. In the macro world, this downsized recording actually has the effect of bringing your subject into closer view.
The upgraded video in the a6300 goes even further, however. If slow motion is your preferred shooting style, the high frame rate (HFR) mode enables video recording in full 1080p HD at a very fluid 120fps—a very impressive frame rate for such a modestly priced camera. Though Sony's RX series also offers HFR mode in their fourth incarnation of the RX100, the a6300 allows you to shoot extended clips with no interruption, whereas the RX100 IV is limited to just 2- or 4-second clips.

Underwater Video Tips for the a6300:
Color Correction: In shooting situations where constant lighting was used, there was still a need for white balance adjustment. By setting the camera's white balance correction to 7800K with a boost of Magenta 4, I found a nice balance of accurately colored foregrounds and awesome blue backgrounds.
Constant Lighting: When adding video lights to the setup, more shooting situations became available. Especially at depths greater than 70 feet, and in low-light situations such as a swim-through or wreck, the use of video lights greatly increased the quality of the footage achieved with the a6300.
Macro Video: With the smaller portion of the sensor being used to record your video files, your subjects become cropped closer into the frame. This means that the reproduction rate for macro video shooting can even be taken past a 1:1 reproduction ratio with the use of a diopter.
Wide Angle: Shooting with just natural light, the camera offers up the Sony standard of five customizable white balance settings. For shallow water shooting, I found great results by setting the white balance to 7800K with a boost of Magenta 5. This setting proved to work well for depths above 30 feet. To produce nice color at depths between 30 and 80 feet, I maxed out the Kelvin scale to 9800K with a Magenta plus 5 boost.
Focus Peaking: The real game changer for a macro shooter thinking about the a6300 is the advantage of focus peaking—a very handy tool that adds red highlights on your LCD screen to the areas of the image that are in focus. Given that for most macro shots, you will be setting the camera up on a tripod for stability, it is important to know exactly what element in the scene you are aiming to capture will be in focus. With focus peaking enabled, from the red highlighting on my image on the LCD, it was very easy to determine whether or not, for example, a shrimp's eyes were in focus or if the camera was actually steering towards focusing on the antennas.
11. Who Should Consider the Sony a6300 in Ikelite Housing?
A glance at the spec sheet of the a6300 was all I needed to see the potential of this camera. But it was only by using the camera in Ikelite's housing in a variety of environments—scuba, freediving, even surf—that I really understood the versatility of this setup for both stills and video. The compactness of this powerful imaging machine is key for maneuverability in the water—as well as the benefits for travel.
The impressive feature set is closer to a pro-level mirrorless than an entry-level one, and with this comes a higher price tag of $1000 (compared to $650 for the a6000). But that's still far less than the $3,000-plus cost of pro-level models—you can put together a full system with housing, port and strobe for that sort of money. Think about that: a $3,000 system that can be used to shoot high-quality photos of macro critters, impressive 4K footage of a bustling reef, or smooth slow motion of a surfer cutting through the waves at dawn.
For awhile now I have been waiting for a compact rig offering the use of interchangeable lenses that produces both high-quality stills and top-of-the-line video. Considering the price point, the Sony a6300 in Ikelite's housing is a very powerful underwater imaging machine that fits the bill—and is ready for almost any environment.

By keeping the camera underwater until the last moment you can prevent water droplets forming on your dome in the middle of the perfect shot. After quickly raising the camera out of the water as this surfer approached, the a6300 very quickly found focus and captured the shot

---

When purchasing underwater photography equipment like the products mentioned in this article, please support DPG by supporting our retail partner—Backscatter.com.
---
About the Reviewer: Chase Darnell is an award-winning underwater photographer and filmmaker currently based in Grand Cayman with Cayman Turtle Divers. With the crystal clear waters of Cayman at his full disposal, Chase is in the water daily with a camera in hand to document his experiences. He accounts his images to a simple theory: "More hours in the water equals more life-changing experiences." For more of his work, visit his website.
RELATED ARTICLES
Be the first to add a comment to this article.
Newsletter
Travel with us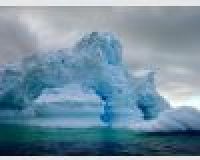 Antarctica
Plan Your Adventure >
Featured Photographer
Carl Roessler
Expert Photographer
As a professional travel agent and photographer, I spent twenty-five years traveling the world helping dive operators reach the market with their destinations. I specialized in promoting live-aboard dive cruiseers all over the...