Articles
Review of the SeaLife Micro 3.0 and ReefMaster RM-4K Underwater Cameras
DPG would like to thank SeaLife Cameras for supplying the Micro 3.0 and ReefMaster RM-4K underwater cameras, and accessories used in this review.

Snorkeling Belize's beautiful reefs offers the ideal conditions to test SeaLife's latest cameras—the Micro 3.0 and ReefMaster RM-4K—straight out of the box

There is clearly a market for people who want big cameras and even bigger underwater housings, upon which every available lens, port, and lighting accessory can be mounted. On the other hand, there is also a market for people who want quite the opposite from an underwater rig: palm-sized compact cameras that are ready to shoot vibrant underwater scenes by doing little more than pulling the camera from the box and charging the battery. While there are now a number of camera manufacturers that offer compact underwater cameras with a nice shallow learning curve, nobody has catered exclusively to this market longer than SeaLife.
For over 25 years, SeaLife has devoted their entire line of products—from photo/video lights, to mounting options, and of course cameras—to being as user friendly as possible. Two of the more recent additions to their extensive line of simple yet effective products are the Micro 3.0, and the ReefMaster RM-4K cameras. The Micro 3.0—successor to the Micro 2.0—features a nearly identical permanently sealed camera body but now comes with some updated features, including 4K video; frame rates up to 120fps in Full HD for smooth slow-motion video; a new, sharper lens; and the option to capture images in RAW format.
The ReefMaster RM-4K is an entirely new line of camera for SeaLife: a camera more closely aligned to the action-cam profile. Unlike the Micro 3.0's fully sealed designed, the ReefMaster features a small rectangular camera that fits snugly inside a dedicated housing, which includes a clear back door so the shooter can view the camera's two-inch LCD. As opposed to the Micro 3.0, which is a more photography oriented camera, the ReefMaster RM-4K is geared towards those who prefer to shoot underwater video, but would still like the option to shoot photos—though, take note, not in RAW format. Some of the top features of this camera include a 140-degree fisheye lens, 4K video, time lapse function, and electronic image stabilization.

The photo-oriented Micro 3.0 (left) and the video-centric ReefMaster RM-4K are both capable of taking pictures and capturing movies

I recently had the pleasure of being able to get my hands on both of these cameras—and the even greater pleasure of being able to dive with them! In fact, I received a box with three of the Micro 3.0 cameras and two ReefMaster RM-4K cameras. Why so many? Well, since I would be leading a group snorkeling safari through the amazing Belize barrier reef for Snorkel Venture—a travel company that caters exclusively to snorkelers—we thought it would be a great opportunity to let our guests have a go with different cameras. So, not only did I finally get to lead a trip after a year of global travel restrictions, but I got to do so with a bag full of new cameras for my guests and me to try out.
The shallow reefs and clear water around Belize provide an ideal destination for testing out an underwater camera, and as many of our guests didn't bring their own camera, they were thrilled to find that they would be able to use two different models as they pleased. On this particular trip, many of the guests were very new to underwater photography and really just wanted to be able to point and shoot without having to deal with a bunch of complicated settings.
SeaLife couldn't have made this easier with their simple yet intuitive menu system. For both cameras, in just a couple of button presses, they could select the underwater color correction mode best suited for this particular environment. In this case, we mostly used the "Underwater Shallow" mode, so as not to oversaturate the images with too much red. Since the cameras do just about everything else for the user, selecting the color correction setting is really the only thing to worry about, aside from choosing whether or not you want to shoot 4K video or Full HD; and in the case of the Micro 3.0, deciding if you want your images saved as RAW+JPEG or just JPEG.

Whether you're capturing stills or movies, shooting with the Micro 3.0 and ReefMaster RM-4K is simplicity itself
Photography with the Micro 3.0
Although the Micro 3.0 is small enough to fit easily in the palm of your hand, the permanently sealed camera body has a very robust feel to it with its fully rubber-armored and impact-resistant design. The grip makes it easy to hold in one hand, and the three large "piano key" buttons offer assurance to even those with thick gloves that there will be no mispressed buttons. The external wet USB port at the base also made it a breeze to connect to your computer to download images and clips, as well as charge the camera. Since I was the one maintaining the cameras throughout the trip, I really enjoyed the fully sealed waterproof design as there was never a worry about a single O-ring, a foggy housing, or worse, a flooded camera!
On the downside, where ergonomics are concerned, I found the position of the lanyard to be a bit of a nuisance. The camera is built to fit in the right hand, with the shutter button positioned on the top right of the camera, but the lanyard loop connects on the left side of the camera body. So, when you wear the lanyard on your right hand, the cord is not only just barely long enough to allow you to grip the camera in your right hand, but the string is now stretched taught across the camera's viewfinder—not ideal. Of course, if you wear the lanyard on the left hand, you're now forced to have both hands on the camera for every shot. This may seem like a small detail, but it was something all of us who tried the cameras found to be a constant annoyance.

The Micro 3.0 produced vibrant photos with accurate colors—regardless of depth

Colors from the Micro 3.0 are spot on whether you're shooting JPEG or RAW

Lanyard aside, everyone who tried the Micro 3.0 found it great fun to shoot with. The fixed focus lens guaranteed everything from about 15 inches away was in focus, while at the same time relieving any focus searching concerns for those shooting video. There's nothing more annoying than having the autofocus switch to drifting particulate just in front of your lens mid-shot. The underwater color correction modes also worked exceptionally well at bringing out the vibrant natural colors of the reef. On several occasions, I was able to freedive down to around 50 feet (15 meters) and switch to the "Underwater Deep" color correction mode. Once again, the colors were on point for both photo and video. Many of the guests only shot in JPEG, and in truth, as far as natural colors were concerned, they came out pretty much the same as they would have had they been shot in RAW and undergone some post-processing.
One thing to note about the Micro 3.0 is the limited versatility of the fixed 100-degree lens. With a fixed focus from about 15 inches to infinity, the lens doesn't offer much to those wanting to take fish photos. At the minimum focus distance, anemonefish, frogfish and nudibranchs—basically anything smaller than a tennis ball—are rather small in the frame to do them any real justice. At the same time, where wide angle is concerned, 100 degrees is wide, but it's on the narrow side of things. Typically, a wide-angle lens will have an angle of view of at least 120 degrees. I found that I had to either select smaller reef scenes, or back up further than I would normally like in order to fit the scene in the frame. This increased distance from the subject has an impact on the clarity of the image, as you are now shooting through more water.
The good news is that SeaLife offers a variety of wet lenses specially designed for the Micro 3.0 (and the ReefMaster RM-4K). The Close-Up Lens and the Super Macro Lens allow you to get within 6 inches and 3.5 inches, respectively, from your subject. (Check out DPG's review of the Micro 2.0 with the Super Macro Lens.) For those of you wanting a wider field of view, SeaLife does have a true wide aftermarket lens in the works for the Micro 3.0, which will help you get those expansive reef scenes you're after.

Out of the box, the Micro 3.0 is better suited to capturing fish schools than fish portraits

A lionfish is a suitably large subject to capture with the Micro 3.0's fixed-focus built-in lens
Photography with the ReefMaster RM-4K
While I found comfort in the added heft as well as the sturdy feel to the Micro 3.0's completely sealed body, I really enjoyed shooting with the even more compact ReefMaster RM-4K. True, because it's a more traditional camera and housing combination, it does require a bit more attention during the surface intervals now that we have to clean and grease the O-ring every time we need to open the rear door, but that's a process every underwater shooter should become acquainted with at some point.
The ReefMaster RM-4K offers a very similar set of shooting capabilities as the Micro 3.0—along with the annoying lanyard position, which I believe I already covered far more extensively than any bit of string deserves. The camera fits snugly in your hand and offers the user a similarly intuitive menu system, this time controlled by two buttons on top of the housing. Again, the underwater color correction modes worked flawlessly—really bringing out the vibrant reef colors, even at deeper depths. While the camera doesn't have a RAW shooting format for photos, for our shallow and well-lit snorkeling conditions, it didn't seem to matter much as the JPEGs produced consistently accurate colors. The only time you might miss shooting RAW is if you're shooting in lower-light situations, and you want to recover some detail in the shadows during post-processing.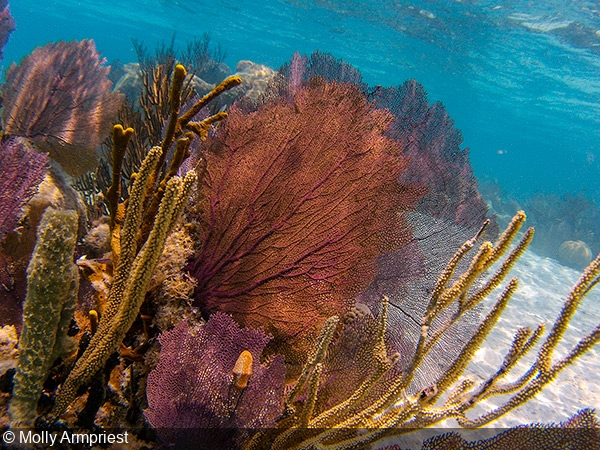 Like the Micro 3.0, the ReefMaster RM-4K's colors look awesome straight out of the camera

Here, a RAW capture would have allowed us to improve the shadow detail, but considering its target market, the fact that the ReefMaster RM-4K can only shoot JPEGs won't bother the vast majority of users

For both the ReefMaster RM-4K and the Micro 3.0, whichever underwater water color correction mode you choose, it's not simply a single digital red filter that is applied: The cameras are constantly changing the intensity of the digital filter depending on the depth and available light, which is undoubtedly the reason the colors come out so great. I've used cameras in the past with built-in underwater color correction filters and it's just one shade of red for the shallows, which usually isn't enough, and one shade of red for deeper down, which is generally too much. There was nothing in-between. It's awesome to have cameras that can decide which filter strength is necessary—at a given depth—to accurately bring out the colors.
For me, one of the big differences between the two cameras—"out of the box" at least—was the overall versatility that the ReefMaster RM-4K offered the user. While the camera is geared towards those who prefer to shoot video, I still felt it offered photographers a bit more than the Micro 3.0, simply because the ReefMaster RM-4K has a 140-degree fisheye lens with a fixed focus that extends from 12 inches to infinity. True, the camera isn't able to shoot RAW images, or smaller critters because the lens is so wide, but it is able to get nice, big reef scenes comfortably in the frame.

The ReefMaster RM-4K's 140-degree fisheye lens allows us to capture large reefscapes

The ReefMaster RM-4K could shoot this large brain coral while including a lot of its surrounding environment in the frame
Video with the Micro 3.0 and ReefMaster RM-4K
Shooting video with either of these cameras is made very easy, and really requires no additional settings beyond choosing the video resolution. To start filming with the Micro 3.0, you simply press the large button labeled "Video" and it will instantly start recording. For the ReefMaster RM-4K, you just need to press the smaller of the two buttons on top to switch to video mode, and then press the shutter button to start recording. As with the still images from both cameras, the colors produced in the video clips were excellent and as true to life as could be without being oversaturated.
For both cameras, I spent the majority of my time shooting 4K video, though I did spend a few snorkel sessions shooting Full HD so I could take advantage of the higher frame rates later on in post. Where 4K video is concerned, both cameras produced a very solid and comparable image while still keeping files at a reasonable size. When either camera was switched to 1080/60p, I did notice a drop in overall quality and clarity, which can be attributed to the higher frame rate and comparatively low bit rate. That being said, the overall quality was still usable and I very much appreciated being able to slow down certain shots by 50% for some nice slow-motion action.

A highlight reel from the Micro 3.0 and ReefMaster RM-4K

The dynamic range and the way both cameras smoothly and automatically adjusted exposure while shooting was also very impressive. I did a few shots that started with a typical well-lit reef scene, but then I would swim under an overhang with dark corners. Now, some cameras would have a difficult time with this type of shot in that they might adjust the exposure to meet either the well-lit reef, or the shady overhang, leaving part of the frame over- or underexposed. Along with that, when you change lighting conditions rapidly, like when you swim under an overhang, some cameras make abrupt and very noticeable exposure adjustments. To my surprise, the cameras not only balanced the light incredibly well throughout the frame, but I also didn't notice any abrupt exposure changes and was able to use the entire shot.
The Micro 3.0 and the ReefMaster RM-4K both offer built-in electronic image stabilization, though I still found many of my clips needed additional stabilization in post. Both cameras are very light, and as a result, it's tricker to keep them steady while filming. One thing that could easily remedy a wobbly image in this particular situation would be the addition of one of the SeaLife trays, which can accommodate a single or double handle. I was not using any such tray for this particular field test, but I have used them in the past with other SeaLife cameras and know they do offer a lot of assistance in keeping a camera steady.

The cameras' electronic image stabilization reduces wobbles in your footage, but you may find that you need to employ additional stabilization in post-production
Final Thoughts
Overall, the hassle-free shooting backed up by the quality of the images delivered by both the Micro 3.0 and the ReefMaster RM-4K made an excellent impression on the guests who tried the cameras. Not only that, but this little joint venture between DPG, SeaLife, and Snorkel Venture really helped spark enthusiasm for underwater film and photography in several of our guests who had really never even considered taking a camera underwater before.
Sure, the cameras have some minor issues, but that's the case with every camera ever made, no matter how big and expensive. For instance, my problem with the lanyard will be a non-issue for those that will naturally want to keep both hands on the camera when shooting or anyone who prefers their camera served on a tray with handles. Similarly, my quibbles with field of view and minimum focus distance are moot when you consider the aftermarket remedies in the shape of macro and wide-angle lenses. Wet attachments are necessary evils for all cameras with built-in lenses.
At the end of the day, SeaLife seem to cater to those shooters who want a camera that is going deliver an impressive looking image right out of the box, and when the day is done, they can simply rinse the camera off and enjoy a sunset drink with their buddies rather than spending time greasing O-rings and dealing with lens and port changes. If I am correct in assuming this type of underwater shooter is SeaLife's target market, then I believe that the Micro 3.0 or the ReefMaster RM-4K will be an essential addition to any such diver's—or snorkeler's—carry-on bag.

The Micro 3.0 and the ReefMaster RM-4K both offer high-quality output with the minimum of effort—many users' definition of the ideal underwater camera!

---
About Alex Lindbloom: Alex is an award-winning underwater photographer and videographer originally from Boise, Idaho and Seattle in the USA. His work has been featured on the Discovery Channel, in various dive magazines, on display in the United Nations building in New York City, and even on a 100-foot monitor in one of Jakarta's skyscrapers. After leaving the States in 2010 to pursue film and photography in Asia, Alex quickly fell in love with the never-ending diversity of Indonesia, where he has lived and worked since 2013. www.alexlindbloom.com
RELATED ARTICLES
Be the first to add a comment to this article.
Newsletter
Travel with us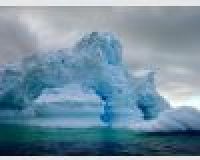 Antarctica
Plan Your Adventure >
Featured Photographer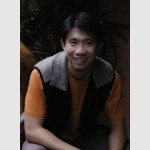 Lawrence Alex Wu
Expert Photographer
Color and light take on new sensations through a lens when combined with water and modern imagery techniques expressing a totally different art form. Alex specializes in creating underwater images as well as multi-media content...