Articles
Review of the SeaLife DC2000 Underwater Camera
Editor's Note: We would like to thank SeaLife Cameras for supplying the DC2000, DC Fisheye wide-angle lens, Sea Dragon Duo 5000 lights, Sea Dragon Flash, and various Flex-Connect accessories, which were used in this review.


The recent past has seen an explosion of affordable, feature-rich and user-friendly compact cameras that are designed to appeal to divers beginning their journeys in underwater photography and video. SeaLife has been in the underwater camera game for many years, striving to offer us just that—a camera that is capable of great image quality, is a breeze to use, and comes at a competitive price point.
Continuing this tradition, the company's latest model, the DC2000, ups the ante, with a large back-illuminated 20-megapixel image sensor at its heart as well as RAW image capture, giving the underwater shooter more image data for post-processing.
But SeaLife's DC2000 is a different concept to the company's permanently sealed Micro 2.0: The DC2000 is a camera-and-housing-in-one—the inner camera can be removed for land use, while the outer shell is a full-featured underwater housing that's depth-rated to 200 feet.
How will this new flagship SeaLife camera, which is priced at a very modest $700, fair against similarly specified compact cameras with separate housings costing much more? I tested out the DC2000 in the waters of the Cayman Islands to find out.
1. Overview of the SeaLife DC2000 Camera
The DC2000 boasts a significantly larger 1-inch CMOS type sensor—and it's made by Sony
The DC2000 has seen many improvements over its now-discontinued predecessor, the DC1400. As the names suggest, the pixel count has increased from 14MP to 20MP, but it's the sensor itself that shows the real promise: While the DC1400 had a 1/2.33-inch CCD sensor, the new camera boasts a significantly larger 1-inch CMOS type—and it's made by Sony, no slouch when it comes to sensors. SeaLIfe didn't stop there either, with the DC2000 being able to record Full HD 1080p at a fluid 60fps, giving you some slow-motion options in post-production. This is a big jump for video enthusiasts, the previous model managing HD 720p at 30fps. (SeaLife fans will just have to wait for 4K.)
The new camera also has faster focusing capabilities, matched with a much better shutter response, 0.1s instead of 0.3s. This is a crucial criterion for underwater photography: Marine life doesn't wait around and capturing interesting behavior takes a camera that's ready to record.
Another nice feature SeaLIfe has brought to the table is making the inner camera watertight, so that even without the housing, the camera is waterproof to 60 feet—great for snorkeling, kayaking or other water-based activities. Add the housing to your setup, and a whole array of attachments become available via SeaLife's Flex-Connect arm system. Adding strobes and lights for different shooting situations is a breeze.
SeaLife DC2000 Highlights
Sony 1" back-illuminated 20MP CMOS image sensor
4 underwater modes with 3 built-in color-correction filters
Full manual control of shooting settings
RAW and JPEG capture formats
Ultra-fast autofocus with 0.1s shutter response
Full HD 1080p 60fps video with picture in video capture
Optical image stabilization
Waterproof to 60ft/18m and shockproof up to 5ft./1.5m
2. Overview of the SeaLife DC2000 Housing
The DC2000 housing features large, well-labeled piano-style keys on the back, and the camera's various shooting modes can all be accessed via the rotary dial above the keys. The housing also comes with a built-in diffuser for the on-camera flash unit, as well as a fiber-optic plate that has inserts for two strobes.
SeaLife DC2000 Housing Highlights
Depth-rated down to 200ft/60m
Easy and secure camera installation
Expandable with the Sea Dragon flash units and photo-video lights, and SeaLife wet lenses
Removable double fiber-optic cable connection
Rubber armored, shock resistant
Custom wrist strap
With a simple setup that can be configured for both point-and-shoot and manual shooting, everyone has the ability to capture a range of subjects in an array of environments
3. DC2000 Housing Controls and Ergonomics
Controls were very fluid, easy to use and responsive, making adjusting settings on the fly easy
The housing fits very comfortably in your palm and you can comfortably reach all of the available controls with just the use of your right hand. Controls were very fluid, easy to use and responsive, making adjusting settings on the fly easy.
When shooting the camera in manual (M) mode, adjusting shutter speed and aperture was simple and fast for quick adjustments. The Ok/Select button in the center of the piano key layout serves as the toggle between the two settings, and the piano keys above and below this allow you to dial in your settings.

With the ability to make aperture and shutter speed adjustments, you can dial in exposures in both the foreground and background of your image

The DC2000 brings into play the term "full manual control," by also allowing the user to adjust ISO. However, to adjust this setting, you do need to navigate to the menu section of the camera. Novice shooters won't be too bothered by this inconvenience, since ISO can often be set and then left alone, but more-experienced users may miss a dedicated ISO control.
All users will appreciate the large, well-marked dial that allows you to navigate through the the DC2000's different shooting modes. Once in your chosen mode, just hit the Menu button and your color-correction filters—the DC2000's three preset white balance settings—are ready for selection: shallow water, deep water, and green water. More-advanced users can also make use of the DC2000's manual white balance option, but this requires some menu diving to select the "Custom WB" setting. To save the setting, you just aim the camera at your slate and push the OK button.

This image was taken at 40 feet with no external light sources. Here, the "Dive" shooting mode and the "Blue Water Deep" color-correction filter produced balanced colors
4. SeaLife Wide-Angle Wet Lens
The DC2000 has a lens with fixed focal length of 11.6mm (31mm film equivalent), which works well for many wide-angle shooting scenarios. The field of view will allow you to get quite close to your intended subject—which is crucial for lighting with an additional light source—and still capture it in the frame in its entirety.
To take your wide-angle abilities to the next (or should I say, wider) level, you can attach SeaLife's DC Fisheye wide-angle wet lens, which, according to SeaLife, reduces the focal length of the lens from 31mm to 19mm (film equivalent), a much more usable lens for wrecks, big animals, and expansive reef scenes.
The addition of the wet lens proved great for vibrant color scenes where I needed to be very close to ensure a proper exposure from my Sea Dragon Flash. However, the additional glass did create some lens distortion that produced a pronounced softening of the image corners. The effect was most noticeable when using the camera's automatic shooting modes, while switching to manual and stopping down the lens to f/8 or f/11 improved the corner sharpness significantly.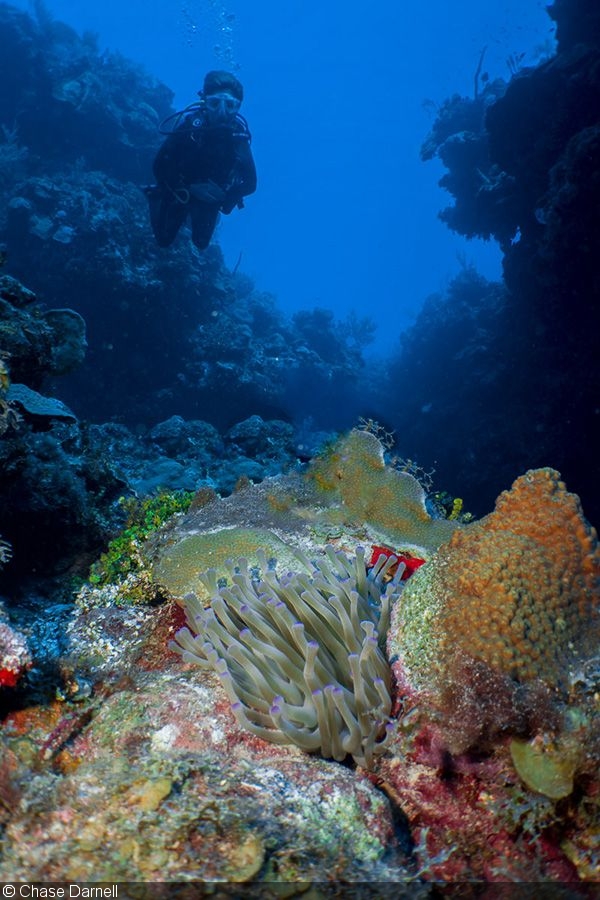 With the additional field of view of the DC Fisheye wide-angle lens, you can get closer to your subject in order to expose properly
5. Wide-Angle Underwater Photography with the DC2000
When your picture-taking skills have improved sufficiently, the DC2000 allows you to progress easily to full manual shooting
For my wide-angle shooting with the DC2000, I wanted to show the different shooting options that the camera offers various users, from first-timers all the way to avid photographers. The camera's preconfigured shooting modes are a huge benefit, allowing even the newest user to have a rig ready to shoot with minimal adjustment. At the same time, when your picture-taking skills have improved sufficiently, the DC2000 allows you to progress easily to full manual shooting.
The DC2000 offers four scene modes to suit your activity and equipment: "Snorkel," "Dive," "External Flash," and "External Light." The camera also has digital color-correction filters (white balance settings) designed to produce ideal color at specified depths. You can choose from filters for depths of less than 10m ("Blue Water Shallow"), depths greater than 10m ("Blue Water Deep"), and also a "Green Water" filter for cold-water or freshwater shoots.
To begin with, I kept the rig as simple as possible, with no additional light sources and managing color with the built-in color-correction settings. This was great for shallow-water activities that keep you close to the surface and where there's ample sunlight.

To reproduce colors accurately underwater, color correction can prove beneficial even in shallow water. This image was taken with the "Blue Water Shallow" color correction filter

For much of my diving with the DC2000, I was exploring depths greater than 40 feet, which called for the use of an external light source. With the addition of a Sea Dragon Flash, dialing in exposure of the foreground was very straightforward. Adjusting the power of the strobe was also very simple, with a single well-marked power dial on the back of the strobe.
The "Ext Flash" scene mode turned the DC2000 and Sea Dragon Flash into a very user-friendly point-and-shoot rig, with great image results. This setup caters really well to a new shooter who wants to dive deeper and challenge their picture-taking skills.

The "Ext Light" scene mode with the Sea Dragon Duo 5000 dual video lights produced some very pleasing color schemes

Taking the DC2000 to full manual allowed me to produce even more satisfying final images. By selecting aperture, shutter speed, and ISO, composing vibrant images with deep blue backgrounds was possible. When shooting in full manual, I left the aperture set to f/11 for much of the time, as I found the added depth of field and crispness—especially when using the SeaLife wide-angle lens—was well worth having to shoot at slightly higher ISOs. With this tight aperture, the camera produced great transitions into the blue and was even capable of capturing tight sunballs, which is impressive for a compact camera.
The DC2000's improved focusing speed proved to be crucial for fast-moving underwater subjects. While the camera focused well in well-lit scenes, I found that in low-light situations such as a swim-through, in a wreck or under ledges, the addition of a focus light was very beneficial to improve focusing speeds.
6. Macro Underwater Photography with the DC2000
The DC2000 caters to those looking for an all-round imaging machine with its two dedicated macro-focusing modes
The ability to excel in multiple types of underwater photography is a major factor that makes a solid compact setup. The DC2000 caters to those looking for an all-round imaging machine with its two dedicated macro-focusing modes. This, combined with the camera's ability to focus on a subject that is only a few inches away, allows for an array of macro subjects to be captured.
The DC2000 comes equipped with both "Macro" and "Super Macro" focusing modes. The "Macro" mode worked well with bigger macro subjects such as lobsters and eels, while even smaller subjects like blennies and arrow crabs could be captured with the "Super Macro" mode.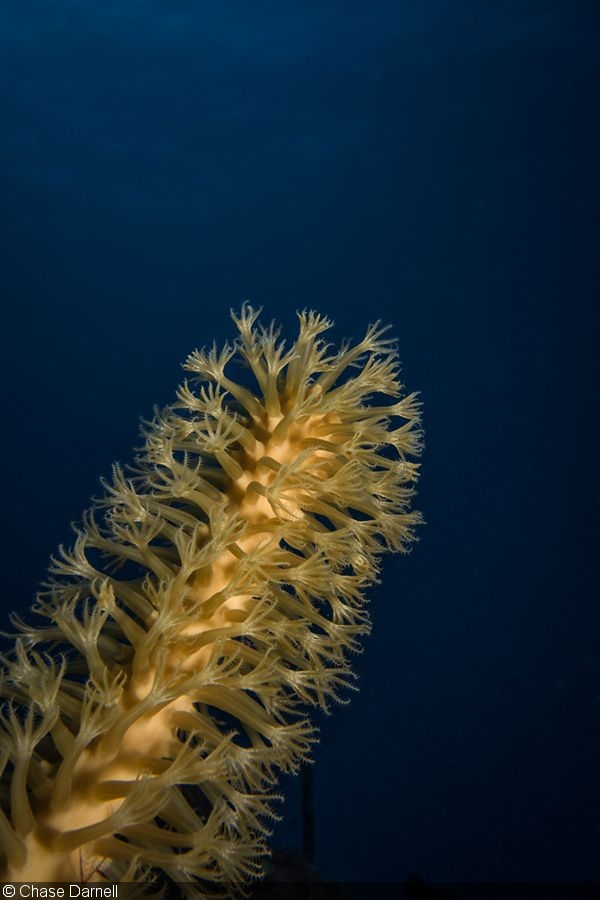 In "Super Macro" focusing mode, the DC2000 has the ability to focus on a subject only four inches from the lens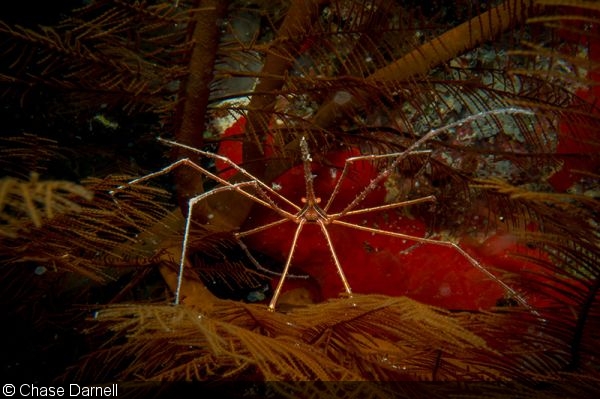 The "Macro" focusing mode allows you to fill the frame with your intended subject and get you close enough to expose the scene properly with strobes or video lights

For macro shooting, I found the scene modes "Ext Flash" and "Ext Light" worked well when configured with the respective setups. Since I only had one strobe for my time with the rig, I enjoyed shooting macro with the continuous light of the Sea Dragon Duo 5000 and using the "Ext Light" scene mode. By having the two light sources instead of one, it was possible to properly light a macro scene and eliminate undesirable shadows.
Here, I made use of SeaLife's dual handle tray so I could have a Sea Dragon 2500 on board to serve as a focus light. A lot of macro subjects tend to blend into their surroundings and can prove to be hard to focus on, but with the additional constant light for locating and focusing on my intended subject, the camera focused faster and performed much better.

With the use of a focus light, the DC2000 focused much faster on subjects that blended into their surroundings, like this tiny triplefin blenny
7. SeaLife DC2000 Image Quality and ISO Performance
I found I could achieve crisp and vibrant images when shooting at ISOs of 400 and below
While the DC2000 offers a maximum ISO of 25600, giving it the ability to shoot in even the darkest environments, the increased noise at very high ISOs—as with all compact cameras—is too limiting to be of practical use. Instead, it's important to understand where the middle ground is for your rig: How high can the ISO be pushed and still produce sharp and color-rich images without perceptible levels of noise?
In the case of the DC2000, I found I could achieve crisp and vibrant images when shooting at ISOs of 400 and below. As I continued to push the limits of the camera, it became clear that ISO 800 was a good place to call the limit for the camera—at this ISO value, there is noticeable noise when the image is zoomed at 1:1. Still, with the DC2000 now producing RAW files, rather than just JPEGs, there is much more room in post-production to clean this up.

Shot at ISO 400, this image of a hawksbill turtle shows great image quality and unobtrusive noise viewed at a 1:1 zoom

At higher sensitivities, such as ISO 800 here, there is a fair amount of noise, but with the added image data offered by the RAW image format, it can be rectified in post-processing
8. Underwater Video with the DC2000
Both the macro focusing modes proved to work well on the DC2000, even when shooting handheld footage of a moving subject
The DC2000 offers Full HD 1080p video capture at a maximum of 60 frames per second. By utilizing this frame rate, you have the ability to edit your footage into slow motion, giving your final clips added smoothness and cinematic effect. I loved the fact that the camera offers a separate record button that I could hit at any point in all of the shooting modes, so I was always ready to grab a quick video clip of an awesome encounter.
The "Ext Light" shooting mode produced some very pleasing footage with vibrant colors and deep blue backgrounds, with the camera doing an excellent job of calculating accurate exposure, giving you more freedom to focus on capturing the moment.
Highlight reel shot with the SeaLife DC2000 in Full HD

Wide-Angle Video: The DC2000's three white balance presets (color-correction filters) can be used to improve the color in your videos depending on water conditions and depth. There is also a custom white balance function that gives you one-touch white balance on something in your intended subject area. For my wide-angle video shooting at depths greater than 40 feet, I shot the DC2000 accompanied with the Sea Dragon Duo 5000 and used the "Blue Water Shallow" setting for improved colors.
Macro Video: Both the macro focusing modes proved to work well on the DC2000, even when shooting handheld footage of a moving subject. With an elusive subject like a juvenile slender filefish, the DC2000 was able to maintain focus as long as I was careful to have a steady hand and manage to keep the camera the same distance from the subject.
9. Who Should Consider the SeaLife DC2000?
The DC2000 is an ideal system for divers who want an easy point-and-shoot experience, but it also caters to the more-adventurous shooter ready to break into the realm of full manual control
With its compact dimensions, rugged construction, and excellent image quality, the DC2000 is an ideal system for divers who want an easy point-and-shoot experience, but it also caters to the more-adventurous shooter ready to break into the realm of full manual control. In addition, as the inner camera is itself depth-rated to 60 feet, you even have the option of leaving the housing in your hotel room, and having fun snorkeling or shooting in the surf.
While the DC2000's range of well-thought-out features allows shooters plenty of room to grow and try out different techniques, the extensive SeaLife ecosystem of wet lenses, lighting solutions and accessories make it all too easy for users to progress along their underwater imaging journey at their own pace.
Like other compact cameras, the DC2000 performs less well in low-light situations, with the highest-quality results at ISO 400 and below. But the larger 1-inch sensor and ability to record in RAW format puts the DC2000 among the best in its class for still shooting. On the video side, it would have been nice to have 4K on board, but the camera's high-quality Full HD capture at 60fps is eminently usable for practical purposes.
Despite holding its own in terms of features and image quality, the DC2000 may not offer quite the same level of flexibility as a separate compact camera and housing, but you would be hard pressed to find a sleeker and more user-friendly rig. Factor in the DC2000's very affordable price, and SeaLife's new flagship camera is destined to become the camera of choice for many divers beginning their adventures in underwater photography and video.

---
About the Reviewer: Chase Darnell is an award-winning underwater photographer and filmmaker currently based in Grand Cayman with Cayman Turtle Divers. With the crystal clear waters of Cayman at his full disposal, Chase is in the water daily with a camera in hand to document his experiences. He accounts his images to a simple theory: "More hours in the water equals more life-changing experiences." For more of his work, visit his website.
RELATED ARTICLES
Be the first to add a comment to this article.
Newsletter
Travel with us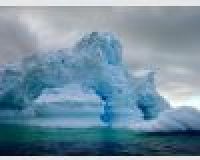 Antarctica
Plan Your Adventure >
Featured Photographer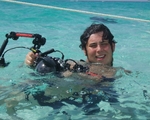 Joseph Tepper
Expert Photographer
I started diving at the age of ten and since that time have wanted to become a better photographer whether using a disposable Kodak waterproof (you know the blue ones) or my D300s. Last summer I received my dive-master in Grand...