Articles
Review of the Retra Flash PRO
DPG would like to thank Retra Underwater Technology for supplying a pair of Retra Flash PROs and various accessories used in this review.

DPG RATING

VERDICT

Pros: High energy output in a travel friendly size, great light quality and coverage, cheaper than larger strobes with similar specs, stylish design and finish

Cons: Essential accessories increase overall price of the unit, slow to recycle at full power (without the Supercharger battery pack)

CONTENTS
When it comes to camera equipment, any serious underwater photographer should own a good quality strobe, or preferably two. Even the most modest camera can take high-quality, high-resolution images, but without a decent source of artificial light, it is impossible to properly capture the vibrant colors of the underwater world.
A number of different options exist, from beginner to pro models, and what separates the best (and most popular) from the rest is a combination of power, size, and affordability. Traditionally, professionals would use large, heavy and expensive strobes for wide-angle work, but what most underwater photographers need is a strobe small enough to travel with that still provides enough power to light any type of underwater scene. This is exactly the puzzle that Retra is attempting to solve with their latest product, the Retra Flash PRO.
Retra sent me two of these strobes to review way back in March this year, but then COVID-19 struck and they spent several months on the shelf gathering dust as I faced a lockdown in the Caribbean that meant I couldn't even leave the house, let alone go diving. Eventually, the number of cases started to drop and I was finally able to get back underwater.

At depths below 90 feet, the strobes provide plenty of power to properly light a wide-angle scene
(f/9, 1/100s, ISO 160)

Getting creative with a macro lens makes it possible to achieve pleasing images of subjects that are a bit too big to fit in the frame otherwise (f/8, 1/250s, ISO 125)

For years I have been using Inon Z-240s and have always struggled with a lack of power when shooting big animals or reefscapes, so I was very excited to get back underwater and put the Retra Flash PRO to the test. Over the last few months, I have completed approximately 80 dives with the strobes, and thanks to the amazing Retra smartphone app (more on this later), I can tell you I have fired each strobe more than 4,000 times each! It has been great having the time to really get to know the product and to be able to test it out on a variety of subjects in different conditions.
I have mostly been shooting wide-angle scenes, including sharks, wrecks, turtles, reefs and divers—exactly the type of photography that the powerful Retra strobes were made for—but have also made sure to search for some macro critters in order to produce a well-rounded and hopefully thorough review. I used the Retras with my trusty Nikon D500 in a Nauticam housing with a Tokina 10–17mm fisheye and Nikon 60mm and 105mm macro lenses.
The Retra Flash PRO currently retails for $1,100 in the US (or around €900 in Europe), and offers a considerable upgrade from previous iterations and other strobes of similar size. Retra also produce a Prime version of the flash that retains all the same features as the PRO at the exact same size, but has a lower power output—100Ws versus 150Ws. The Retra Flash Prime costs $950 (or €800).

The front and rear of the Retra Flash PRO, powered up and ready to shoot. The full circular flashbulb provides a powerful, high-quality burst of light that is perfect for wide-angle photography
1. First Impressions
At the business end of the unit is a full circular flashbulb around a centrally located pilot light, behind a clear dome
Although my pair of preproduction models did not arrive in any original packaging, I was immediately struck by the look and finish of the product. The Retra Flash PRO is machined from a solid piece of aluminum and has a brushed finish and design reminiscent of top-of-the-range Apple products.
At the business end of the unit is a full circular flashbulb around a centrally located pilot light, behind a clear dome. A bayonet mount is machined into the body of the strobe allowing for easy installation of diffusers and beam restrictors, which I will discuss in more detail later in the article. The back panel has two dials, a built-in battery compartment, and an LED with a push button that turns on the pilot light and indicates what settings you are using and your current battery life.

The battery compartment (four AAs) sits flush with the body of the strobe when closed and inspires confidence

The battery compartment is machined into the body of the strobe and has a simple screw system that closes with a nice and tight double O-ring seal. It is easy enough to open and close on land, and unlike other strobes, the rings are small and impossible to pinch. When you screw the compartment shut, it sits flush with the back of the unit and gives you complete confidence no water can get inside.
Like most strobes of this size, the Retra Flash PRO uses AA batteries, which is convenient as they are available anywhere should you have issues in the field. Retra recommends that you use Panasonic Eneloop Pro batteries, so if you don't have these already, it is well worth purchasing some to ensure peak performance. The size, shape and weight of the strobe is similar to the Inon Z-series (and the previous Retra strobes), so anyone that has used those will be comfortable using the Retra Flash PROs.
The strobes are connected to the camera using fiber-optic cables, which meets the needs of many photographers, but if you require electronic sync cords, these are available on order. Connecting the strobes to my existing setup was as easy as swapping out my old strobes. No additional arms or floats were needed and when in the water, my system remained slightly negatively buoyant using two float arms, exactly how I like it.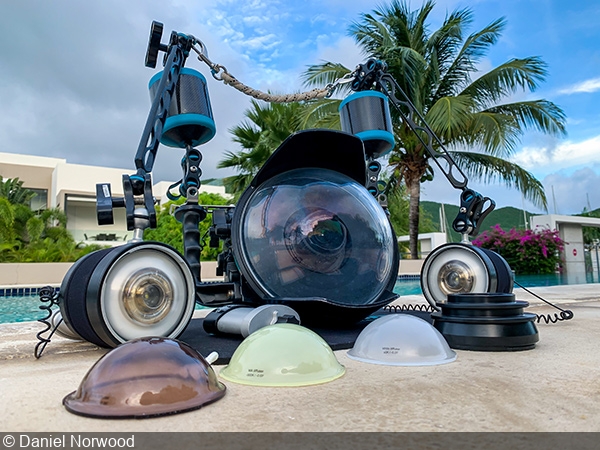 My complete rig with protective covers attached to the strobes and a selection of
diffusers and beam restrictors on display
2. Impressive Specs and Features
Thanks to the inclusion of a full circular flashbulb, the power output of the PROs (without diffusers) is an impressive 150Ws with a color temperature of 4900°K
Before discussing my experience using the Retra Flash PROs, let's first take a look at the specifications of the product and the most exciting features that may have already convinced you to upgrade.
Guide numbers are not really a true indication of a strobe's performance: What is important is the total power output and the angle of coverage of that light. Thanks to the inclusion of a full circular flashbulb, the power output of the PROs (without diffusers) is an impressive 150Ws with a color temperature of 4900°K, and the units have a soft yet wide beam of around 130 degrees, which is perfect for wide-angle underwater photography.
The importance of the circular flashbulb cannot be overstated. It's a feature normally reserved for larger and more expensive strobes, and tends to produce results far superior to the straight tubes found in other models in the same class. In the Retra's case, inside the circular flashbulb is a centrally located 500-lumen pilot light. I rarely, if ever, use the focus light of my strobes when shooting wide angle (it is not advisable to point your strobes directly at your subject after all), but for macro and snoot photography in particular, this is a handy addition.

The Retra Flash PRO has a long throw and nicely lights these two reef sharks even from a distance
(f/9, 1/320s, ISO 200)

Something I wasn't expecting—and that is completely new to the strobe market—is the ability to connect each flash to your smartphone via BlueTooth and use a dedicated app to check the status of the unit (battery life, etc.), relay shooting information, and to customize advanced settings.
With just the touch of a button on your phone, you can put the strobes into a low power mode, which may come in useful for shooting macro with open aperture settings (e.g., bokeh shots in bright sunlight). There is also a High Sync speed setting that enables the flash to fire with high shutter speeds, which is great for sunburst shots in bright conditions.
The app also features a complete user manual, something that may come in handy if you have issues when traveling, and most importantly of all, allows firmware updates, which gives Retra the ability to upgrade the strobes whenever necessary.
Screenshots of the impressive Retra app, which provides the user with control over settings and the ability to perform firmware upgrades

Diffusers and Beam Restrictors
The folks at Retra also provided a selection of different diffusers and adjustable beam restrictors to make the most of their new product. Each accessory fits easily to the strobe body bayonet system, and is designed to output the optimal color temperature and light beam depending on conditions and your chosen subject.
The first option is a White Diffuser, which does not change the color temperature but slightly softens the light and reduces light output by –0.2 f-stop. It is especially suited to green water or dives with a high chance of backscatter. A second, more-traditional Wide Angle Diffuser is designed for all types of wide-angle photography in blue water and shifts the color temperature by –500°K while reducing the light output by –0.6 f-stop. The final option, the Shark Diffuser, shifts the color temperature by –1000°K and reduces the overall output by –0.8 f-stop. As the name suggests, this is designed to prevent overexposing the white belly of sharks and other large marine life, and was my favorite and most used of the three diffusers.
Due to the bright conditions and my preference for shark dives, I left these diffusers attached to the strobes most of the time, only removing them when shooting wide-angle reef scenes or macro, when I would replace them with the supplied beam restrictors. Adding the Reduction Ring significantly reduces the width of the light beam allowing for increased control over its direction, and this can be further enhanced and reduced by adding the Macro Reduction Rings, which stack on top of one another.
Those who like to keep their equipment looking brand new would be well advised to purchase a set of protective plastic and neoprene covers, which protect the unit from bumps and scratches. Like everything else the company produces, the covers are well made and fit the units perfectly.
All of these accessories are essential for improving the strobe's usability. Kudos to Retra for understanding this and having everything ready in time for the strobe's official launch.

Using low power settings in shallow bright conditions provides comlpete control over lighting at all times
(f/8, 160s, ISO 125)
3. Putting the Retra Flash PROs to Work
The Retra Flash PRO never once ran out of juice during a dive, even when shooting at full power continuously on both dives
As discussed, preparing the strobes for a dive is a simple process, and underwater, things are also straightforward. It is also worth noting that I shot exclusively in manual mode, and as these strobes are aimed at pros and experienced shooters, I would assume that anyone using them would and should be doing the same.
The dials on the back of the unit are large and easy to use, and I had no problem adjusting the power settings or changing from manual to custom settings at the turn of a switch. The light indicator is very useful if you spend a bit of time studying the manual, as it glows a multitude of colors depending on what setting you use and how much battery life you have left. In practice, I never really used this feature as I have made it a habit to always change the batteries in any lights I use after two long dives, even if diving multiple times per day on a liveaboard trip or on assignment. Following my own two-dive maximum rule, the Retra Flash PRO never once ran out of juice during a dive, even when shooting at full power continuously on both dives, and I am more than happy with that level of performance.

When shooting into the bright midday sun, the Retra Flash PROs have plenty of power to light a wide-angle scene even when using high shutter speeds (f/8, 1/250s, ISO 200)

Shooting at full power without diffusers disperses a huge amount of light deep into a wide-angle reef scene
(f/8, 1/125s, ISO 160)

All of the diving and shooting I did for this review took place in bright sunny conditions in the Caribbean, shooting sharks, wrecks and reefs, and the upgrade in power from my old Inon Z-240s was noticeable immediately. The circular flashbulb of the Retra Flash PRO provides an impressively big burst of light at full power and images that would have previously been underexposed and unsaturated were now bursting with color. At first, it took some adjustments to get used to the increase in output, but I was soon able to fire away on full power and light up entire reef scenes better than ever before.
For these types of shots, I discovered—after much trial and error—that the strobes are best used at 75–100% power on long strobe arms far away from the camera without diffusers. Thanks to the circular flashbulbs, the strobe outputs a wide light beam that is not too harsh and penetrates far into the water column. Setting up the camera in this way requires you to properly position the strobes at the start of the dive to prevent backscatter creeping into the edges of the frame, but once you have done this, you should be good to go. Setting up your rig in this way will also create more drag, of course, so I would limit shooting like this to days when the current is mild and the water clarity is above average.
For shooting big animals such as sharks, turtles and stingrays, which often come close, I added the Shark Diffusers and brought the strobes further in towards the housing in order to properly light the subject. I found that 50% power was mostly more than enough for this technique, and adjusted accordingly depending on the reflectiveness of the subject and the dive conditions.

Turtles can be reflective when shot at such close proximity, so be prepared to dial down the power and bring the strobes closer to the housing for such images (f/8, 1/125s, ISO 100)

A Caribbean reef shark is the perfect subject to test out Retra's Shark Diffusers. They do a great job of controlling the highlights of the shark's belly and producing a nice blue water color (f/8, 1/320s, ISO 200)

My go-to settings and accessory choices at the start of each dive:
Wide-angle reef scenes: Strobes at 75–100% power without diffusers
Big animals and close-focus wide angle: 50% power with diffusers
Macro and fish portraits: 50% or less power with beam restrictors
Finally, when shooting macro, I found myself turning the power down even further to around 25% and using the supplied reduction and macro rings to narrow the strobe light and utilise creative techniques such as inward lighting. The light produced when using these accesories is not as narrow as when using a snoot, but the idea is the same and it provides more control over what is otherwise a very wide-angle light beam.
The only time I cranked the power back up was when shooting fish portraits using a 105mm lens for subjects that required more working distance. Even then, the strobes provide more than enough power to fire multiple images per second, making it much easier to capture properly lit shots of fast-moving fish and other interesting behavior. Generally, when shooting macro or fish portraits, the batteries will last much longer, and I would expect to have no issues completing four dives on one set of batteries.

Adding the beam restrictors when shooting macro images provides much more control over the direction of the light, which is perfect for fish portraits and creative macro techniques (f/13, 1/320s, ISO 100)

When shooting open aperture bokeh shots, a low power setting of 25% or below is more than enough to light super-macro subjects (f/14, 1/160s, ISO 160)
4. Speeding Up Recycle Times with the Supercharger
The Supercharger doubles the battery requirement of each strobe and halves the recycle time of the unit from 3 to 1.5 seconds
What will ultimately tempt photographers to upgrade to the Retra Flash PROs will be the quality and quantity of light available when shooting at high power. As you would expect though, this does have an impact on recycle times. A full-power dump puts a lot of strain on the batteries, and it takes around three seconds for the flash to fully recharge before it is ready to fire again at the same setting.
In order to improve upon this number and to appeal to photographers who may be concerned about slow recycle times, Retra offers an additional battery pack aptly named the Supercharger. Attached to the strobe body via the battery compartment and also coming in a brushed aluminum finish, the Supercharger doubles the battery requirement of each strobe to eight AA batteries, and halves the recycle time of the unit from 3 to 1.5 seconds.

The Retra Flash PRO with the Supercharger battery pack attached

Depending on your shooting style and subject preference, this improvement may be of importance to you, but in practice I never really had any issues with the Retra Flash PROs, with or without the battery pack. I personally find recycle times to be of less importantance than some shooters, as the type of images that require such a large amount of power do not really need to be shot in rapid succession or in burst mode.
As you would expect, the design of the battery pack is in line with the rest of the product and looks great, but it does add significant weight to the unit and may need some trim adjustment in the water. It is also a bit of a pain charging and using so many batteries, but If you are certain you need this feature and would also like to increase the overall life of the flash, then the Supercharger works exactly as advertised.

This clip shows one strobe with the Supercharger attached (right) and one without (left). When the unit is ready to shoot at full power again, the light returns to a pink color and the strobe makes a beeping sound. You can see that recycle time is more than twice as fast with the Supercharger attached
5. Putting Leak Detection to the Test!
Having raved about the quality of the battery compartment when I first got the strobe, I was shocked to receive flashing warning lights and a loud beeping sound after only my fourth dive—indicating that one of them had flooded. I was especially concerned because the pilot light on the problematic strobe turned on at full power, so I assumed I had caused permanent damage to the bulb and immediately surfaced to try and salvage the unit.
I quickly called Oskar at Retra to ask what could have gone wrong, and he explained that the pilot light turns on intentionally when a leak is detected to drain power away from the batteries and prevent corrosion—so no need to panic! On further investigation, the problem turned out to be a defective battery that had burst inside the battery compartment, and after a good clean out, the unit was as good as new. Although I was stressed at the time, in hindsight it gave me the perfect chance to test the strobe's leak detection system, and the good news is that it worked perfectly and did exactly what it is designed to do!

The reds and oranges in this reef scene are lit up even at the widest possible angle when using the strobes on full power and without diffusers (f/8, 1/125s, ISO 160)

Reflective subjects like these horse-eye jacks can be difficult to light without blowing out the highlights, but the wide beam and diffusers make it a pleasantly straightforward task (f/8, 1/125s, ISO 100)
6. Final Thoughts
The Retra Flash PRO is perfect for traveling underwater photographers, providing more power than has ever been available before from a strobe of this size and cost
After several months of constant use, I have nothing but good things to say about the Retra Flash PRO, and they have now become my go-to flashgun for the majority of my underwater photography work. They are perfect for traveling underwater photographers, providing more power than has ever been available before from a strobe of this size and cost, and also come with a bunch of accessories that make shooting almost any underwater scene or subject possible.
I did find the addition of the Superchargers a bit unnecessary. They are heavy and cumbersome to use in the water (though I confess I never really made the necessary adjustments to my system to balance the extra weight) and having to juggle 16 rechargeable batteries is probably a bit too much work for me. However, I cannot deny it did dramatically reduce recycles time as promised and will allow you to shoot bursts of images at high power if that is what you desire. It is important to note that when using the flash at 50% power or less, it fires rapidly and reliably at around four frames per second, and that is more than enough power and speed to light most images anyway.
The Flash PRO and Flash Prime represent solid advancements in Retra's strobe technology, and it seems the company has listened to feedback from photographers and improved its original Retra Flash in all the key areas, making the new models even more robust and user-friendly. Dedicated macro shooters may feel they don't need the extra power provided by the Retra Flash PRO and might consider opting for the Prime flash instead, but anyone that loves shooting reefscapes, wrecks, sharks or other large subjects should seriously consider upgrading.

Lighting a diver and shark is a breeze thanks to the Retra Flash PRO (f/9, 1/250s, ISO 200)

---
| | |
| --- | --- |
| When purchasing underwater photography equipment like the products mentioned in this article, please support DPG by supporting our retail partner—Backscatter.com | |
RELATED ARTICLES
Be the first to add a comment to this article.
Newsletter
Travel with us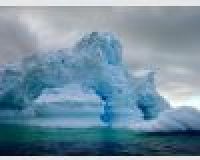 Antarctica
Plan Your Adventure >
Featured Photographer
Kim Yusuf
Photographer
In 2004 I found my passion for the 'liquid kingdom'.when a friend took me on an introduction dive in Spain. Six months later I had my certification and booked my first dive trip to Egypt. <BR>What I saw there...