Articles
Review of the Ikelite Housing for the Nikon D750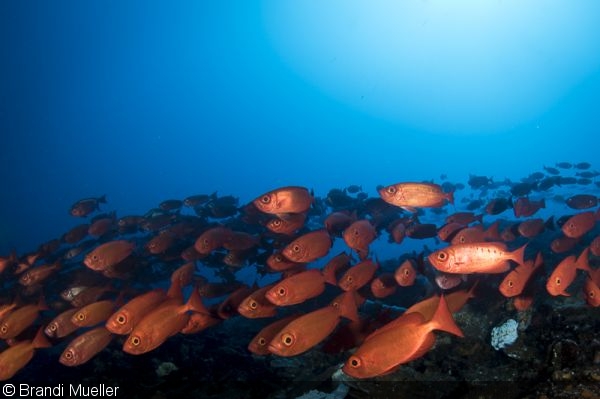 No sooner had initial impressions of the Nikon D750 come out that I clicked the "buy" button on Backscatter. After all, it's hard to ignore the post from DPReview that, "The D750 may just be the best all-around DSLR we've ever seen." I was eager to put this claim to the test, and paired up this promising camera with the Ikelite housing for a review in the far-flung Pacific archipelago of the Marshall Islands.

The Nikon D750
The D750 is Nikon's newest full-frame DSLR and is marketed to be prosumer full-framer, falling between the D610 and D810. The camera has a 24-megapixel FX sensor and can shoot 6.5 frames per second, impressive speed for such a high-resolution camera.
Although not a factor when housed for underwater photography, the D750 features a nifty tilting LCD screen. It can be maneuvered to tilt up, down, and horizontally for taking topside images at otherwise awkward angles. It also has built-in WiFi, which someday might prove useful when the ocean finally goes wireless! It's the smallest and lightest full-framer on the market (1.7lbs, 755g), significant especially when traveling to off-the-path destinations like the Marshall Islands, where baggage is often restricted or over-charged.
For shooting fast-action photography—like on a shark dive or at the surface with sailfish—the D750 has the edge with 6.5 frames per second (compared to the D810's 5fps). It also features two dual SD slots, compared to the single CF slot in the D810, and the SD card format is by far the most common in cameras and computers. There's also better high ISO performance. The improvements in autofocus in low light are particularly important for underwater shooters, as we often find ourselves in environments with less light than above water.
24.3-megapixel FX sensor
ISO 100–12,800
6.5 frames per second
51-point (3D-tracking) autofocus

Ikelite D750 Housing Overview

In the way one describes oneself as "Mac" or "PC," I'm "Ikelite." From my first DSLR housing quite a few years ago, to now where I almost have an entire room dedicated to Ikelite gear, there was no hesitation about what housing I was going to get, and lucky for me they were one of the first with a housing for the D750.
The D750 Ikelite housing was just as I expected in looks, quality, and functionality. Ikelite housings are made from a transparent polycarbonate blend, allowing users to see inside the housing at all times, all while being depth-rated to 200 feet. As well as access to all important camera functions, there's also the added benefit of built-in TTL circuitry (read more about that below).
Ikelite Housing Build
I've grown to depend on the clear housings to see inside both to check for leaks and to see my camera. This is always especially vital when getting a new camera like the D750 during the learning phase, where the buttons and layout can be unfamiliar. Even later down the road, it's helpful when you're inspired to try a new technique, but you just can't quite remember which knob actuates a rarely used button.
The housing features four locking clips to secure the port, keeping the inside dry while making it easy to change lenses. While underwater, the housing is comfortable to hold with its unique rubber grips on the handles. It's around neutral buoyancy without strobes, but is a few pounds negative with two Ikelite DS161 strobes attached.

Ikelite's clear housing is helpful when working with an unfamiliar or new camera, as you are able to see the controls from outside the housing

The rubber handles are nice and comfortable, a nice feature when sticking with a blenny for 30 minutes to nail that perfect shot
Camera ISO and Image Quality
The ISO sensitivity can be set from 100 to 12,800, expandable to 50–51200. The camera's ability to take photos at higher ISO ranges without noise and it's autofocus skills in low light make it a great choice for underwater photographers.
I did some test shots at various ISOs, converting to black and white to show the noise a bit better. As expected, there was considerable noise at ISO 12,800. What was unexpected was that by just adding a small amount of noise reduction in Adobe Lightroom, the zoomed-in plane wing looked almost the same as at ISO 320.

Image taken at ISO 12,800 shows visible noise at 100 percent crop, but after noise reduction it isn't all that different from the same image at ISO 320 (below)

Image taken at ISO 320, without any noise reduction, showing relative similarity to the image above taken at ISO 12,800

One area where the D810 beats the D750 is in true megapixel count, 36MP in the D810 versus 24MP in the D750. However, I don't view this difference as a huge issue; when was the last time you needed an image blown up that large? It's really only practical if you need to fit an image on a billboard. To be honest, having 50-percent fewer megapixels has nice side effects: It allows the camera to perform faster when writing image files to the memory card and saves significant storage space on my external hard drive.
Having said that, the image quality of the D750 is the best of any Nikon DSLR I've used to date. I was able to take a shot of a soldierfish and crop in to just its eye without significant degradation in image quality. While this is an extreme example of cropping, it does give you confidence in the image quality of the camera if you did need to crop that drastically.

Uncropped image of a soldierfish

Even when zoomed in at 100 percent, the image quality is excellent, demonstrating the overall image quality produced by the D750's 24MP sensor

Although the D810 surpasses the D750 in megapixel count, the D750 still produces excellent quality images and even less noise at higher ISOs
Autofocus
All the rage about this camera comes from its improved autofocus capabilities. The new and improved 51-point AF system took the D810's system and made it better. I decided to give it a workout by trying to chase down one of my favorite fish, the dartfish. As you can guess by the name, they like to "dart" around, and they're also very skinny and often missed by your camera's autofocus, sending the lens focusing on the sand behind. Using the selective single point mode, I was able to choose a small square to use as my focus point, line it up with the fish's eye and easily nail the focus point—so much so, it almost felt like cheating. In fact, at the end of the day, it was almost (just almost) as if I had too many photos in focus to choose from!

The D750's 51-point autofocus system is a noticeable advantage, especially when trying to frame difficult, skittish subjects, like this dartfish

Fathoming the multitude of autofocus modes means heavy use of the camera's user's manual (which could be used as an extra dive weight!). The different modes include contrast detect, phase detect, multi-area, center, selective single point, tracking, single continuous, face detection, and LCD Live View.
With so many options to try, I only got around to testing a few for this review. For macro photos, I found using a selective single point to be my favorite. It's very easy to choose one of the 51 points and move it around to a certain point and then use that to set up where you want the photo focused (eye, rhinophore, etc.). For wide angle, I set a group of movable points, so instead of moving just one point, it moved a group. It did a good job of focusing on what I wanted and holding that focus even when my subject or I moved.

Often, I only set a single point of focus when shooting still macro subjects. However, for larger, wide-angle subjects, I prefer setting a group of multiple points

The Live View on the LCD screen is high resolution and great for reviewing photos. It can also be used while taking photos but like most DSLRs with the option, focus speed slows considerably when using Live View, so it's best to only use it for video.

Housing Controls
The D750 housing has access to the majority of the camera's buttons, but not all. Perhaps the most noticeable omission is the Fn button. Personally, I rarely use this "function button," but those who choose to customize it as a shortcut to menu items may be disappointed. The shutter and aperture controls are big knobs with deep grooves, while the other buttons are easy to press and the two-stage shutter contributes to an overall ease of use even with thick gloves.
As cameras become more advanced, housings are becoming more and more complex to accommodate all those addtional knobs and buttons. I found it a bit of a puzzle getting the camera in and out of the housing by having to move some knobs around to make it fit. This was awkward at first but easy after doing it a few times—and worth it to have access to so many of the camera's buttons.
The comfortable handles made it easy to hold the camera steady while accessing most of the important functions without having to move your hands off the handles. Large knobs of different sizes and buttons of different heights help to allow you to control all functions by feel, without looking at the camera—a real plus when you have a tricky subject that requires all your concentration.

Having large, easy to move knobs is critical: It allows me to adjust shutter speed and aperture without having to remove my eye from the viewfinder
TTL Capabilities and Controls
Like all Ikelite DSLR housings, the D750 also has built-in TTL circuitry. This helps to automatically adjust for proper strobe exposure more accurately than slave TTL strobes and quicker than fiber-optic slave flash systems that have a short lag time waiting for the camera's flash to fire before getting the signal. Ikelite's TTL system also negates the use of the camera's flash, which can drain your battery and build up heat in the housing.
Even if you are committed to shooting strobes manually, having the ability to manually compensate strobe output from the back of the housing is much more convenient and efficient than having to reach for your strobes in between every shot. Alternatively, the back of the housing also has a large and easily accessed TTL adjustment knob, allowing for slight adjustments in the TTL exposure. If you want further proof of how well this system works, check out the recent news of the partnership with Aquatica to use Ikelite's TTL capabilities in their housings as well.

The ability to control strobe output from the housing is a great option when changing settings on the fly
Video
I'm not a videographer and I tend to only remember I have video capabilities when I'm back on land asking myself why I didn't attempt to get that awesome [insert cool marine animal here] on video. But the D750 definitely has the capabilities for great video and shoots full HD at 60, 50, 30, 25, and 24 frames per second.

Who Should Consider the D750 and Ikelite Housing?
This is a great setup for both new and advanced DSLR shooters. A new photographer can't go wrong with the potential of the D750 and the ease of use and durability of an Ikelite housing. As an upgrade, the D750 is one of the best mid-range full-frame DSLRs on the market in both capacity and price range, and Ikelite is always a great brand to take underwater.


Note: A flare issue has been noticed with some D750 cameras due to the position of the AF sensors. Nikon has acknowledged the problem and as of January 15th have released a statement that they will service and fix the problem for all affected cameras free of charge. Cameras produced after this date do not have the issue.
RELATED ARTICLES
Be the first to add a comment to this article.
Newsletter
Travel with us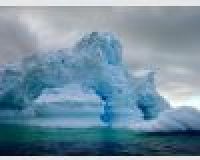 Antarctica
Plan Your Adventure >
Featured Photographer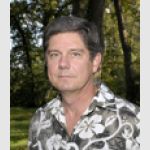 Ricky Ferguson
Photographer
For the most part, my style is \"up-close and personal.\" I am mostly interested in the macro world because it enables divers, and non-divers alike, to see what\'s hidden within the big picture.