Articles
Review: "H2O" by Howard Schatz
By Matt Weiss, October 17, 2007 @ 02:00 AM (EST)
Underwater photography is comprised of many sub-segments, one of which being fashion and commercial photography. On top of this pile stands Howard Schatz.
H2O can be easily summed up in one word—stunning—or breathtaking—or [insert the adjective that best describes your mind being blown away, here]. Shot in his customized "pool studio", Schatz's work represents some of the most unique underwater imagery you'll ever see.
H2O takes you on a great journey through the eyes and lens of world renowned photographer Howard Schatz, whose images have graced the pages of many of your favorite magazines, and adorned the walls of museums and photo galleries internationally.
In H2O (Bullfinch Press/November 2007/hardcover), Schatz's seventeenth book, he draws on the worlds of fine art, fashion, mythology, pop culture and literature to capture a dazzling variety of subjects (from Cirque de Soleil performers to corps de ballet members to synchronized swimmers) in ways we have never seen before.
The creative and art direction, colors, textures and patterns are exquisite - and uniquely Howard Schatz. His use of water as both a primary and supportive element along side its counterparts of light, shadow, and reflection, is executed with a level of artistic perfection like no other in the world. Combine this artistic and technical perfection with beautiful dancers and models, and the outcome is a book worthy of every diver's collection.
I have had the pleasure and honor of meeting with Howard on a few occasions, and he is equally as amazing a person as he is a photographer. I learn something every time I see him, and I can tell that he enjoys when others can share in his passion and quest to create emotive, special images. His focus on creating great images from preparation, to capture to production, yields unique results and special moments captured in time. H2O is the culmination of seventeen years of pioneering a very unique form of underwater photography. It will be the centerpiece of my coffee table for some time to come.

Available November 2007. You can order through Amazon or any other bookstore.
More: www.howardschatz.com.
RELATED ARTICLES
Be the first to add a comment to this article.
Newsletter
Travel with us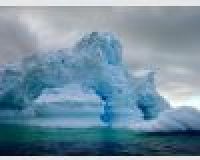 Antarctica
Plan Your Adventure >
Featured Photographer
Stephane Bailliez
Photographer
I started doing underwater photography while on a 1-year round-the-world diving/backpacking trip in 2003, shooting with a P&S Olympus C4000/C5050 in a Olympus housing. I'm only shooting DSLR since 2008 and 1 trip a...