Articles
Review- Xit 404 Tripod
By Steve De Neef, February 9, 2012 @ 09:00 AM (EST)
By Steve De Neef
As underwater photographers we all love our gadgets. So when we hear about a shiny new accessory like the Xit 404 Tripod it doesn't stay dry for long.
Having recently dived into the world of shooting video with my DSLR, I am always on the lookout to improve my footage. One big problem with SLR housings is their instability underwater, making handheld, smooth video footage difficult. After experimenting with various methods to get smoother footage with limited success, I turned to this tripod designed specifically for DSLR underwater housings.
Overview of Xit 404 Tripod
Xit 404's tripod brackets come in two basic versions-- one for mounting SLR housings and one for mounting camcorder housings. Additionally, the tripod can be customized for attachment of Light & Motion battery pods.
The brackets are designed to provide a wide, low profile footprint with legs attached. Overall, the bracket adds less than an inch of height to your housing. Leg attachments are industry-standard 1" diameter ball adaptors, so feel free to combine these brackets with legs sold by Xit 404 or others to add the stability and versatility you desire to your shooting.
The bracket can be easily attached with one or two screws depending on which housing you are using. When attached with one screw you will also need to attach an anti-rotate plate to prevent the housing from coming loose and spinning, which is so common when using traditional tripods underwater. With my Nauticam housing, the combination of one screw and anti-rotate plate works flawlessly.
The tripod bracket and anti-rotate plate for a Nauticam housing

The legs come with either a ball head or twist clamp. The ball head version attaches just like any normal strobe arm, while the twist clamp can be truly adjusted with one hand just by turning the leg to the right to tighten and left to loosen. The twist clamp allows you to easily change the angle of the legs when you loosen it up a little bit without the hassle of a traditional ball clamp.
The legs come in three segments and can be further extended if needed. Expanding the legs is as simple as loosening the knob, sliding out the segment of the leg, and then tightening the knob again. This way of controlling the length of the legs makes for a very adjustable tripod underwater.
Xit 404 Tripod- More than Just for Video
The name tripod probably makes you think that the only way to use this product is by putting the housing on the bottom to create static, stable footage of either macro subjects or seascapes. While this tripod is certainly built for a sedentary lifestyle, it also proved great for the "on the go" pace of shooting wide-angle subjects.
By bringing two arms together (for example the back and left one) and putting one arm up (right one) you create a setup that will make your footage much smoother. By holding onto the arms instead of the camera housing you won't see the quick jitters that are so common with DSLR video footage. Creating smooth horizontal or vertical movements, or panning, becomes a lot easier and even some handheld macro shooting is possible, although for the real small stuff you'll have to put the housing down.
Creating seascapes
If you're into landscape photography chances are you've spend plenty of time with your camera on a tripod. When using this tripod underwater you can also create nice seascapes and be very precise with your composition. I've tried using it while shooting with live view and found that you can really take your time composing your image just like a landscape photographer does. Another way to get creative with your seascapes is by using slow shutter speeds, the tripod is very stable so the reef will be in focus but everything that moves around it gets blurry.
Macro
Macro photography and videography is where this tripod truly shines. The legs are very easy to adjust with one hand, and the wide base of the tripod bracket makes it extremely stable even in a bit of current. Most tripod legs leave from one center point, this is quite different with the Xit404 one as the base is as wide as your housing and the legs are attached to the left, right and back of the bracket, which increases the stability a lot. The legs are individually adjustable on both angle and length so it doesn't matter if you're on a steep slope or flat surface, you'll find a position that works.
Conclusion for the Xit 404
If you are looking to increase the quality of your HDSLR footage and better manually focus on minute macro subjects, then Xit404's tripod is a very useful tool. It has certainly proved to be much more then "just a tripod."
---
When purchasing underwater photography equipment like the product mentioned in this article, please support DPG by supporting our retail partner -- Backscatter.com.
RELATED ARTICLES
Be the first to add a comment to this article.
Newsletter
Travel with us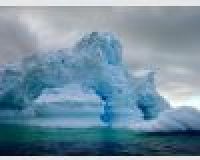 Antarctica
Plan Your Adventure >
Featured Photographer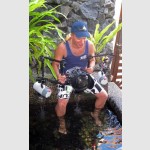 Dave Harasti
Expert Photographer
I'm a marine biologist based in Nelson Bay - Australia working fulltime as the Research Scientist for the Port Stephens-Great Lakes Marine Park. My PhD is on the conservation of seahorses with particular focus on the...