Articles
Quick Tips for Photographing Oceanic Whitetip Sharks

Oceanic whitetips have burst onto the underwater imaging scene as one of the most sought-after photographic subjects. This pelagic species of shark is one of the most threatened, and until recently has been very difficult to find. But in recent years, operators in Cat Island, Bahamas and the Red Sea have produced regular encounters with this majestic species.
If you are fortunate enough to find yourself in the water with a camera and an oceanic whitetip, here are six quick tips for capturing top-notch shots:

1. The first general rule of swimming with sharks, whether you have a camera in your hands or not, is to keep your eye on our silvery friends. This is somewhat easier said than done, especially if there are multiple animals around, and even more tricky if you are in open ocean; however, maintaining a conscious awareness of your surroundings is crucial.

Rule #1: Keep your eyes on the sharks. Mindless killers they are not, but they can be curious, and keeping your head on a swivel will keep you safe

2. Oceanics are extremely curious sharks. They have no qualms with coming straight up to you and nudging you with their noses or brushing you with their fins. Maintaining a calm demeanor is important. And while your skin and wetsuit will be more forgiving to contact with their rough scales as they swim past you, your dome port may not take the impact so kindly. If you are using an acrylic dome, prepare yourself for the possibility of needing to buff small scratches out when you get home.

Oceanics are among the most curious of shark species, so it's important to be ready to get nudged and bumped—and maintain your composure

3. You can both scuba dive and freedive with oceanics, and there are perks and downsides to both. On breath hold, the sharks seem to get closer, as they are less disturbed by your bubbles, but the downside to breath hold is surface current. On scuba, you can relax, set up your intended shots with a bit more ease, and get creative with different shots like silhouettes, sun balls, and even reef if it is around. The downside is that the time you can spend is ultimately limited.

Scuba diving provides the opportunity to spend more time on thoughtful composition and creative techniques

4. When shooting oceanics, you can make use of strobes or go without. Near the surface, strobes are a bit more bulky, but not impossible. Lighting up the underside of the shark, and aiming for a darker exposure is a nice use of strobes near the surface, especially if you want to achieve a rich blue background, and capture shallow light rays. Going without a light source is a good way to shoot from above down on a shark.

Shooting down on a shark reveals stunning light rays, while shooting eye-to-eye might be made easier by using strobes to eliminate shadows on the bottom side of the subject

5. Get your friends involved and add a human element. The extra "wow" factor becomes ever more present when you add a person to a shark image. It sparks conversation about how dangerous swimming with sharks must be, and makes people engage at a deeper level. Plus it adds the illusion of scale. And if you foreshorten the shark with the human in the background, you can achieve a much more dramatic effect.

Man and shark: Including a human element in your image helps gets the discussion started

6. Use the lens for conservation. There are researchers who track oceanics for data collection, so you might notice tags on some of their dorsal fins. Also present are scars from interactions with humans. In the Bahamas, there is a conflict between fisherman and oceanics, especially around fishing competitions, where if a shark bites their catch, the fish is disqualified. So it is not uncommon to see a shark with a bullet scar in its head. But telling their stories through images, and contributing to databases helps to fight for their protection.

Remember, your images tell a story. Help out the researchers and activists trying to protect this species by telling a story of conservation and positive interaction
RELATED ARTICLES
Be the first to add a comment to this article.
Newsletter
Travel with us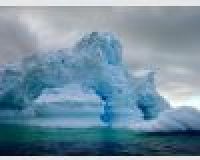 Antarctica
Plan Your Adventure >
Featured Photographer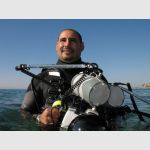 Noam Kortler
Expert Photographer
Noam Kortler is connected to the sea since he can remember him self. he was born on the coast of the Mediterranean sea of Israel and was diving and surfing when ever he could He moved to Eilat, the south popint of israel to...