Articles
Quick Tip: Selective Color Adjustment for Great Blues in Underwater Imagery
Selective Color adjustment is a great way to fine-tune the background blues in your image

If the blues in your underwater photos are giving you the blues, then you're not alone. While strobes bring incredible color to the foreground of an image, and white balance in post-processing helps to correct overall color, getting blues that you're proud of is quite the challenge. And while there are many ways shooters edit their blues, one of our favorite methods is Photoshop's Selective Color adjustment.

What Is Selective Color?
Photoshop's Selective Color adjustment allows the user to change each color in an image individually: reds, yellows, greens, cyans, blues, magentas, whites, neutrals, and blacks. Within each color, you can modify the percentage amount of four primary tones: cyan, magenta, yellow, and black.

You can find Selective Color in Adjustments under the Image menu tab, or by a quick search

For example, if you have an image of a yellow subject such as a boxfish, which after setting white balance in post-processing still appears more greenish and cyan than a rich, warm yellow, you can use Selective Color adjustment. Under the Image tab, choose Adjustments, and find the Selective Color option. Then, choose "Yellows" in the drop-down Color menu, and decrease cyan while increasing magenta and yellow.
Other image editing programs have ways to achieve a similar effect. For example, Lightroom and Camera RAW have a menu where you can adjust the Hue, Saturation, and Luminance. While this is a good option for adjusting individual colors in an image, Photoshop's Selective Color adjustment really stands out. It should be noted that while Selective Color adjustment is useful for tweaking coloration, it's no substitute for balancing proper foreground exposure with strobes and the ambient light background.

Adding magenta and removing cyan from the "Yellows" in the Selective Color panel made the yellows richer in this image of a boxfish
Why Use Selective Color for Background Blues?
Strobes are invaluable tools for bringing out color in the foreground, and setting white balance in post-processing helps fine-tune coloration in the image. But often times, even after these two processes leave the foreground subjects looking colorful and bright, your blue water background can still remain lackluster.
While Selective Color adjustment is useful for meddling with other colors within the image, it's truly invaluable—and the go-to tool for many pros—when tweaking the blues in wide-angle images. The knowledge that you can address the blues in the image on their own lets the underwater photo editor focus solely on the coloration of the foreground and worry about tweaking the background later. This editing technique also works well for macro images where you've decided not to opt for the popular black backgrounds but get creative with blue background macro underwater photography.

While the converted RAW file had proper colors in the foregroud (left), it took adjusting Selective Color to really make the blues pop (right)
Tips on Using Selective Color for Underwater Images
There are two main colors in the Selective Color adjustment panel that will impact the color of the water in the background of your image: cyans and blues. Cyans tends to target areas of the background towards the surface, while the Blues option primarily impacts the mid-water column towards the depths. For most images, you will want to adjust both the Cyans and the Blues, as the combination of the two will impact different areas of an image. In the example below, the surface of the image was a proper blue, while the mid-to-deep water column was a bit "teal" for my taste. Changing the Blues to include more magenta and less yellow produced a more desirable tone.

This manta ray was photographed in shallow waters, so Selective Color adjustment was used to make richer blues by increasing cyan, magenta, and black, while decreasing yellow

Selective Color adjustment benefits users by showing a real time preview. That means you can play with the sliders and immediately see the final impact on the image. Generally, you'll be starting with an image that has a flat, dull, and possibly greenish blue, which you want to make pop. Here's how to fix that:
1. Somewhat increase cyan (+ 15–30 percent)
2. Moderately increase magenta (+ 25–40 percent)
3. Significantly decrease yellow (– 30–45 percent)
4. Minimally increase black (+ 5–15 percent)
Again, how much you modify these tones depends on the original image, any previously-made post-processing edits, and your personal preference. But you'll find these settings are a good place to start for creating blues that you're proud of—and then make adjustments to fine-tune to taste.

Selective Color adjustment only impacts the negative space in the image, and not the foreground
Final Thoughts
The final blue background you want to appear in your image is a highly personal, artistic choice. While there are many underwater photography elements that can be technically either right or wrong, the blues in your images are a matter of preference. Some prefer a rich, royal blue (increase magenta and black, while decreasing yellow). Others dig the turquoise, tropical look (increase cyan and yellow, while decreasing magenta and black). And then some prefer the lighter, less rich hazy-blue (increase magenta and cyan, while decreasing black). No matter which you choose, Selective Color adjustment gives you handy control over your blues.

Blues are a personal choice: You can use Selective Color adjustment to make a blue background that fits your taste without altering the foreground
RELATED ARTICLES
Be the first to add a comment to this article.
Newsletter
Travel with us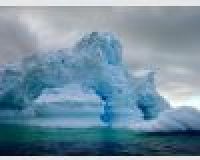 Antarctica
Plan Your Adventure >
Featured Photographer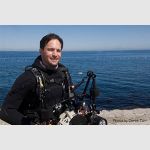 Matthew Meier
Expert Photographer
Matthew Meier is a freelance photographer living in San Diego, CA. He has been diving since the mid 90\'s and shooting professionally since completing his coursework towards a Masters degree in Photography at the Brooks...