Articles
Pygmy Pipedragon Bokeh
March 23, 2010 @ 09:53 AM (EST)
This shot is one of my favorites from 2009. It shows the delightfully tiny and fragile Lembeh Sea Dragon (Kyonemichthys Rumengani) A relatively new discovery in Lembeh, this little blighter is a kind of Pygmy Pipedragon, a close relative of the Pygmy Pipehorse and in turn the well loved Pygmy Seahorse. The millimetres thick tail extending out of shot is attached to it's home of algae growing on the wall of a dive site known as Nudi Falls in the Strait of Lembeh, North Sulawesi, Indonesia.
Location: Lembeh Strait, North Sulawesi, Indonesia. Equipment: Nikon D300, Nikon 105mm VR, Subal ND30 Housing and Port. Settings: ISO 400, 1/125th, f10

The Idea

I am a big fan of the whole Bokeh blur effect and to make my life difficult I spent most of the time shooting in Lembeh with my aperture as wide as possible. Bokeh is a Japanese term for the aesthetic quality of the out of focus areas of an image. I decided I would try to shoot the Pygmy Pipedragon using the Bokeh technique.
Editor's note - You can read more about how to achieve Bokeh images in our guide to Bokeh underwater photography written by Martin Edge
The Shot
The Nikkor 105mm VR does Bokeh very nicely. As you can see in this shot the background detail is lost in a pleasant blur of color. In order to camouflage with its surroundings, the color of the animal matches its habitat. As a result, the blurred background complements the color of the critter nicely.
Now the problems with taking a shot like this are many. As the creature is extremely small, less than 2.5cm long, and it happens to look like any other whispy bit of algae on the wall, you need a good guide to help you find it. Thankfully this is what Indonesian guides do best. Their level of patience and eye for detail is astonishing. A good guide is a must for the diving photographer, particularly in Lembeh.
Once you have the little guy (or girl) in your sights you need to keep it there. I had the 105mm set at minimum focus distance and used it as a magnifying glass of sorts to help frame the shot. As you can see in the image, the field of focus for this shot is not that deep. I was shooting at a relatively wide aperture of ƒ10 and this made nailing correct focus extremely difficult.

The spot where we found this dragon living was on a wall roughly 2.5m above the sand bottom. Keeping something this small, at such a high level of magnification, in focus while floating in mid water is no easy task. Add water movement to the mix, there was a slight current running, and you have an extremely difficult shot to make. You need perfect buoyancy. Seeing photographers sprawled out on the reef is one of my pet hates and I take great care not to do the same, quite often this means a shot will be a lot harder to make, if not impossible. But I digress...
So the moment of truth...
I held onto the wall with two fingers on my left hand, and supported the camera with the right hand, index finger on the shutter release. I controlled my breathing in and out to adjust my vertical position and pushed my slowly deadening camera holding arm ever so slightly backwards and forwards to achieve correct focus and composition... all this with one eye closed peering through a viewfinder, while I finned to maintain position against the current, gritting my teeth, trying not to curse this lovely little critter's habit of wafting back and forth all over the bloody place. I waited till the image in the viewfinder looked good and fired away. Needless to say it did not come out right the first time. Or the second. Or the third. Eventually though everything came together and there you have it.
A note on my settings:
The instantaneous nature of the strobe was easily fast enough freeze any movement and the combination of a shutter speed of 1/125 and a reasonably high ISO of 400 allowed a decent exposure of the background, giving the pleasing wash of color a chance to appear in the final shot. A faster shutter speed or lower ISO would have resulted in a darker background. Like all photography it's about balance. Control each light source, natural and artificial, with the settings available, to get the effect you want.
RELATED ARTICLES
Be the first to add a comment to this article.
Newsletter
Travel with us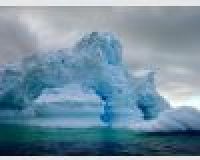 Antarctica
Plan Your Adventure >
Featured Photographer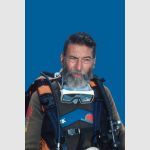 Jack Jackson
Expert Photographer
An award-winning photographer and author JACK JACKSON has written 18 best selling books, most of which are on underwater subjects. A further book is due out in 2009. A professional underwater photographer since the early...