Articles
Pushing the Limits: Extreme Underwater Photography in the Polar Circle

As the head of the scientific divers team at the White Sea biological station of Lomonosov's Moscow State University, I know a little bit about harsh working conditions.
Our team works mostly at the edge of the Polar Circle during the "summertime" months. And by summer, I mean the only five months of the year when the sea isn't too thickly covered with ice. After months of darkness, you may just have some hours of sun at the end of a long polar night. Then it's time to get to work.

Demanding Conditions
As a team of scientists, we not only collect samples, but also shoot photos and videos of marine life in all sorts of situations. At the White Sea station, we dive in quite cold water all the time: The average water temperature sits just around freezing (32°F/0°C), and can drop to around 29°F (minus 1.5°C) in wintertime, from November through June. Still, in winter, it can actually feel like a hot tub, when the average temperature above water is minus 4–22°F (minus 20–30°C)—and can easily plunge to minus 50°F (minus 45°C). At this time of year, it's much better to be underwater.
Working in such conditions is lots of fun, but it's a bit challenging at the same time. Example: Never try to breathe before you put your head underwater, or your first stage will freeze in an instant! Every drop of water will freeze too, and all poorly dried buttons on your equipment will stop working as well.

Alexander Semenov and a "not-so-giant" giant Pacific octopus (Enteroctopus dofleini), Sea of Japan

As a result, it's important that we use only the best diving equipment—Cordura/Softdura suits from Ursuit, Weezle Extreme Plus thermal underwear, never-freezing Aqualang Legend Glacia regulators, and powerful Seawing Nova and Jetfins from ScubaPro to struggle with the current.
When it comes to taking our prized cameras into these unforgiving conditions, selecting a rugged, reliable housing is paramount. At our research station, we work with Subal, an Austrian manufacturer of bulletproof armor for all professional cameras. I have used Subal housings for the last eight years, and accumulated four different camera models along the way. I love my Nikon D810/Subal ND810 setup for blowing up details in images of miniscule cold water critters. My Nikon D750/Subal ND750 is an impressive tool for capturing scientific video.

One of my Subal housings taking a rest after an ice dive—as the snow was falling in March
Underwater Photography Equipment for the Harshest Conditions
I know that not everyone reading this article will ever dive in conditions as rough as the White Sea in the dead of winter. While we struggle with extreme cold and the threat of dropping cameras onto the ice, even traditional tropical diving can demand a rugged housing—coconuts can cause a bunch of damage! The following are some of the things I look for when selecting a housing for harsh conditions both underwater and on land.

Team member Dmitry Ozerov emerges after a dive

1. Glove-Friendly Controls
Most underwater camera housings nowadays have ergonomics that are acceptable for use with bare hands. But as photographers diving in sub-zero conditions or around sharp rocks, bare hands is not an option. We need housings that can easily be used while wearing thick gloves.
With all of my Subal housings, I've found controls easily accessible, even with the thickest of drysuit gloves. I can switch easily between autofocus and manual focus, shoot a time lapse sequence, change white balance, or frame rate without a struggle. If you're going extreme, make sure the housing you're considering has been designed with gloves in mind.

Team member Fedor Bolshakov poses with our custom stabilization system for shooting macro videos of tiny planktonic creatures

2. Aircraft Grade Materials
Another key quality is having a housing made from a solid piece of metal that has been chemically hardened during production. This really prevents, or limits, damage that might otherwise be catastrophic.
My friend and famed cave diver Viktor Lyagushkin has a Subal housing marked with deep scratches from years of use, but never once has it leaked. During the winter, we often dive from the shore, breaking ice with our own weight. Sometimes, you just fall down because of all the weight and bulky gear!
Sea ice is not rock-hard, but sand particles or small stones frozen inside may still damage less rugged housings. We tend to break part of ice with the metal bottom of the housing and then put it underwater slowly. The summertime procedure isn't necessarily easier: After a very rough journey to the dive site on my snowmobile, my viewfinder was a bit damaged—but Subal changed it, no questions asked.

Dmitry Ozerov trying to go backwards through the ice

White Sea videographers prepare for a dive from the shore

3. Trust in Your Manufacturer
The last tip I'd give for anyone considering buying a housing for ultra-rough conditions is to think of your manufacturer as a partner. After years of putting my housings to extreme use, I decided to visit Subal's factory and meet the manufacturers in person.
Subal comes across as a small company of enthusiastic professionals, not a "factory" with conveyor production. It's a pleasure just to observe this level of work. And it's a great sign to see your housing manufacturer taking into account suggestions from its users for innovations and improvements. What's more, I was delighted to learn that most of the engineers at Subal were underwater photographers themselves, so they understand our needs very well. I asked for custom focusing gear for the new Zeiss Milvus macro lens (it has only manual focus), and they made it in an hour! Now, I'm constantly using this amazing lens underwater. That's what having a relationship is all about.

Alexander Semenov with Subal owner Harald Karl and brand new housing for the Nikon D5
Final Thoughts
It's great when you can rely on your equipment, and can feel at ease because you're always sure that your super-expensive camera and awesome lens will not sink or crack after a deep freeze. Even professionals make mistakes: But when working in harsh conditions, having the gear and manufacturer you can trust in can make the experience a bit more bearable. Even when you're frozen to the bone.

Dmitry Ozerov filming a nude (without tentacles) lion's mane jellyfish (Cyanea capillata) in the icy waters of the White Sea
RELATED ARTICLES
Be the first to add a comment to this article.
Newsletter
Travel with us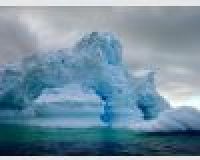 Antarctica
Plan Your Adventure >
Featured Photographer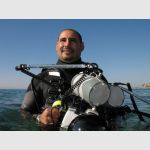 Noam Kortler
Expert Photographer
Noam Kortler is connected to the sea since he can remember him self. he was born on the coast of the Mediterranean sea of Israel and was diving and surfing when ever he could He moved to Eilat, the south popint of israel to...