Articles
Photographing Polar Bears with Amos Nachoum
Editor's Note: This article has been updated following the completion of the movie documenting the realization of Amos' dream to photograph a polar bear underwater—Picture of His Life. The film's premiere was at the Tel Aviv International Documentary Film Festival on May 23rd, 2019, with the U.S. premiere at the San Francisco Jewish Festival on July 25th, 2019.


Late into August in the Canadian Arctic, professional wildlife photographer Amos Nachoum scans the large swaths of dark blue water separating the remnants of the once-prominent icy landscape. He's looking for swimming travelers between what's left of the land and ice—Ursus maritimus. Translated from Latin to mean "sea bear," this animal grows to 1,000 pounds and has only been photographed in the water by one or two lucky photographers. Oh, and it's better known by its common name: polar bear.
"We see the blurred but unmistakable image of a polar bear slip into the water," recalls Amos. "We have to time our entry just right and it's almost the perfect moment to submerge ourselves in the frigid polar waters to fully experience the marine world of these 'sea bears.'"

A polar bear mother and her offspring
Diving with Polar Bears
This trip to photograph polar bears in the Arctic is a project more than a decade in the making. Amos is one of just a handful of photographers (fewer than five) to swim with and photograph polar bears—indeed, more people have landed on the moon. During his first visit to the Arctic, 11 years prior, a polar bear chased him down to 70 feet underwater. That encounter was purely accidental. The one he experienced late in the Arctic summer just months ago was thoughtfully planned, prepared and executed.
"To get to our location, I had to charter two small planes, one to get 2,000 gallons of fuel to the site and another plane to carry us, the team, compressor, generator, scuba gear, food and photography gear," says Amos.
The support team for Amos' expeditions also includes famed filmmaker Adam Ravetch (Disney's Arctic Tale) and a team of Inuit guides, who are the first safety measure when navigating the remote waters and approaching 1,000-lb. predators. "They know the land, the water, the weather and polar bear movement and behavior better than anyone else," says Amos of the guides.

A mother polar bear hides her young behind her leg as Amos swims underneath

A junior bear shows off his claws, which he will one day use to hunt

Precaution and vigilance are critical in all big animal shoots, but even more so when you're trying to capture images of such a rare animal. It makes it all the more difficult to call off an encounter—an option Amos exercised when a large male bear approached the photographers too quickly. In fact, the shoot is so demanding and risky that Amos wants to keep many of the planning details close to the vest: "The location needs to remain strictly confidential to avoid unprofessional copycat and accident," he states adamantly.
What he can share are the amazing in-water encounters experienced during the trip. On one memorable occasion, the Inuit guides found a female with two cubs swimming between the ice. Amos and Adam Ravetch dipped into the chilly water 200 yards away. The trio of bears continued to swim directly at the photographers, undeterred by the bulky drysuits, scuba gear, and cameras.
Once the bears were less than 20 feet away, Adam and Amos descended under the surface, going for a silhouette image. They expected the family to just pass overhead. What happened next was worth the 11-year wait: "The family was just passing by when one of the young ones broke the formation and, likely out of curiosity, dived down to just a few feet from me and looked me in the eyes before returning to the surface," recalls Amos. "How cool is that? Very!"

It's quite an operation to get all the required gear to the middle of the Canadian Arctic

The preparation to swim with and photograph polar bears in the wild took Amos nearly a decade to realize

A family of polar bears swims at the surface as the divers look up from underneath
Amos on the Big Screen
Amos offers these "very cool" encounters to experienced photographers through his BigAnimals expeditions. But even if you're not able to fly to the remote Arctic to hop in the water with polar bears, you may soon be living the experience vicariously on the big screen.
The cost of last August's expedition was largely financed through an IndieGoGo campaign to support Picture of His Life (originally titled AMOS: The Movie). Directed by independent filmmakers Dani Menkin and Yonatan Nir, the film documents Amos' ascendance to the height of wildlife photography—a journey of dedication, sacrifice and personal redemption. They chose to highlight Amos' photography of the polar bears to help raise awareness for much-needed conservation efforts. Canada's Western Hudson population of polar bears has fallen 22 percent in the last 30 years, in part to receding sea ice habitat and trophy hunting.
"My desire is to show that when we apply and use wisdom, passion, and patience in the wilderness, the apex predator ... is not aggressive towards humans," says Amos, who has long fought popular media misconceptions surrounding predators, including a powerful talk at TEDx.

Amos gets up close and personal with polar bears more than 10 years after his first encounter

In many ways, the latest Arctic shoot is a microcosm of Amos' uphill battle and a project only to be accomplished by someone with the respect and experience that accompany a 35-plus-year career. In fact, Amos' relationship with a local elite team that has worked to arrange filming logistics for the likes of BBC and National Geographic made the whole thing possible.
"I've happened to know them for years," says Amos, who has built quite a Rolodex of contacts to photograph in the most remote locations. "Only now are they are opening a window of opportunity for wildlife photographers like myself to join the search."

The photographers-turned-explorers used a combination of snowmobiles and slow crawling to approach the polar bears
Hitting the Ice: The Polar Bears of Svalbard
The experience required to find and photograph polar bears extends from the chilly waters of the Canadian Arctic to the fjords of Norway, where Amos also traveled to photograph topside behavior of these powerful predators. The Svalbard archipelago is one of the northernmost inhabited areas, offering a landscape of rugged tundra and glaciers.
Amos and his team climb to the highest points Norway's glacier valleys in search for a clear view of the horizon. Using powerful binoculars, they scan for a slight yellow stain on an otherwise unflinchingly white horizon—a polar bear. It's no easy task: In a matter of moments, temperatures can drop well below freezing and visibility can quickly fall from miles to meters.
After hours of searching, they've found a suitable pair of bears traversing the ice. The photographers use snowmobiles to get closer, monitoring the wind, ice thickness, and bears' movements on their circuitous route. The snowmobiles drop off Amos and his gear less than a mile away from the bears, where the photographers can wait for the animals to approach.

A polar bear nicknamed "Prime" springs into action, looking for food

Success! A polar bear successfully hunts a ring seal

"Often, it takes hours of waiting in one place on the ice behind the camera in absolute silence waiting for the bear movement," says Amos, who uses a powerful 600mm lens with a 1.4x teleconverter to avoid disturbing the animals. "If we are not frozen when the animals start to move, that's when the action starts."
The daily routine can appear a bit monotonous: Mornings are spent monitoring the ever-changing weather conditions and using the guides' expertise to track the bears' movements. Once they've found suitable subjects from high ground, the team approaches within one mile of the animals. They exchange their seats on the snowmobile for the solid camera cases. Slowly, they inch forward with their massive cameras and tripods in hand.

The polar bear photographer's greatest asset? Patience

A trio of bears moves across the ice, as Amos' long lens captures the behavior from afar

It's a slow, harrowing process that can drain a photographer's patience and energy. Sometimes, hours of inching produce no results. Then it's time for a quick lunch—whatever they can carry in thermoses—before moving on to search for another party. At night, accommodations range from remote mining villages to local hunter huts.
But the dedication is worth the wait. During the trip to Norway, Amos photographed a variety of polar bear behaviors. On occasion, mothers nurse one, two, and even three cubs at a time. Other times, the action is a bit less serene: Working in teams, young and old bears team up to catch ring seals hiding in ice holes.
As for photographic advice for such difficult conditions, Amos says, "It takes a lot of passion and patience to accept that every moment in the wilderness is an adventure."

Amos, along with DPG contributors Ellen Cuylaerts and Michael Maes, try to warm up a bit between polar bear shoots

---

About Amos Nachoum: Amos is the President of BigAnimals Expeditions, but first and foremost an explorer and a guide. His photos and essays have appeared in hundreds of publications around the globe, including National Geographic, Time, Life, The New York Times, Condé Nast Traveler, Le Figaro, Terra Sauvage, Airone, Mondo Somerso, Der Spiegel, Unterwasser, and many more. His work has also been included in the books The Living Ocean, The World of Nature, and Oceans. He has been profiled in television appearances on National Geographic Explorer, Today, and Good Morning America, as well as featured in People, Esquire, and Money magazines. Amos's photography has won Nikon, Communication Arts, and BBC Wildlife Photographer of the Year awards.
RELATED ARTICLES
Be the first to add a comment to this article.
Newsletter
Travel with us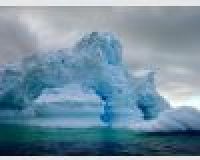 Antarctica
Plan Your Adventure >
Featured Photographer
Andy Murch
Expert Photographer
I am more or less a full time shooter. I also run photography expeditions and pilot the occasional research sub. I specialize in shark and ray photography and spend a lot of my time chasing species that have not been...